It's almost that time of year for gift-giving, family-reuniting and holiday cheer. Which means it's almost that time for long lines, heavy traffic and restless crowds.
And then there's the travel. According to a recent survey from Wakefield Research, "44 percent of respondents [said they] lost their tempers, one-third have yelled at a stranger during past trips, and nearly one-quarter cancelled travel all together to avoid stress."
Thanksgiving is one of the most travel-heavy times of the year, according to a survey roundup compiled by Nationwide. During that time of concentrated migrating, more than half of those traveling by car will log at least 100 miles, and 24 million people will opt for air travel.
But that doesn't mean they have to like it: nearly three-quarters of respondents in the Wakefield study said they would shoulder the burden of providing all holiday meals if it eased the inconvenience of holiday travel.
Unfortunately for many of us, it's a necessary evil, but we've gathered a handful of experts to let us in on some tips to make this year's trip a little more enjoyable.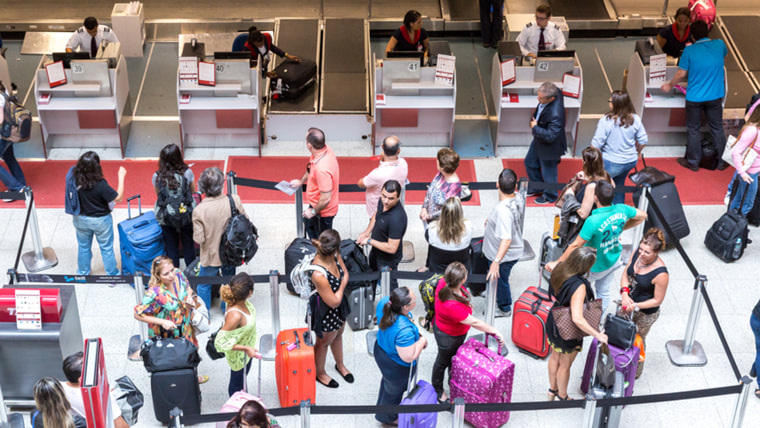 1. Fit it all into a carry-on.
The good news is the rate of mishandled luggage has decreased 61 percent in the last eight years. But lost luggage still happens, and the busy holiday travel season means there are more chances for bags to go astray.
"The only surefire way to avoid lost luggage is to stick to a carry-on and a personal item," Christine Sarkis, Senior Editor at SmarterTravel.com told TODAY. "But if you need to check bags, buy a brightly colored suitcase that stands out, and take a photo of it that you can show to the airline in case it gets lost. Put a copy of your itinerary and your destination address inside each checked piece of luggage so that they can be forwarded to your hotel easily."
"And if you're really worried about your bags being lost, consider shipping it ahead to your destination, then travel light through the airport."
RELATED: 17 exceptionally easy ways to relax — from people who know how to chill
2. Get to the airport early.
This one may sound like a no-brainer, but the problems that can arise when you cut it too close abound, from overbooked flights to long lines to missed connections.
"In light of recent terrorism events around the world, many airports are increasing security screenings, so you'll want to budget more time than usual to get through the process," Sarkis said.
International travelers should consider applying for Global Entry ($115 for five years), which qualifies members for TSA Precheck and allows them to bypass the winding lines at customs.
Those who must make a connection should choose an itinerary that allows plenty of time between flights.
"It's better to wait an hour or so extra rather than missing your flight," George Hobica, founder and president of Airfarewatchdog said. "It's stressful arriving at the airport minutes before the gate closes! Connect through warm weather airports like Phoenix rather than Chicago (fewer snow delays and cancellations) if you must connect."
3. Wash your hands.
No one wants to arrive home for the holidays with a cold or a flu, but travel puts passengers in close contact with other sick passengers and bacteria-coated surfaces.
"At the airport, wash your hands or use hand sanitizer after touching handrails, security screening bins, touchscreen kiosks and other high-touch zones," Sarkis said.
"Once you're on your flight, wipe down your tray table and arm rests with a bleach wipe, don't use the seat-back pocket if you can help it, and wash your hands twice as well as usual after using the airplane bathrooms."
Off the plane, wipe down door handles, TV remotes and light switches in hotel rooms — and avoid water fountains which tend to be "dirtier than public toilets," Sarkis said.
4. Take the comforts of home with you.
Traveling is stressful so bring tools to nurture yourself, suggested Kathleen Hall, Founder and CEO of The Stress Institute and Mindful Living Network.
"Pack your favorite blanket, pillow and soundproof earphones," she saids. "Download movies, books, or material you enjoy on your tech device, like guided imagery or meditations from the app store." (Check out a list of suggested meditation apps here.)
Hall also encourages travelers bone up on stress management practices beforehand. "Surrender to your holiday travel as a classroom, not a prison," she added. To really unwind, check to see if your airport has a spa facility like XpresSpa or, if you're really lucky, napping accommodations.
RELATED: Travel apps that will save you money on the road
5. Eat smartly.
Overindulging goes hand-in-hand with the holidays. Large family meals and eating on the go can wreak havoc on your diet and make you feel even more stressed out.
"The healthiest option is always to bring your own travel snacks," said chef Robert Irvine. "Prepare individual servings of dried fruit; be sure to follow the serving size on the label. For car travel, bring a cooler with fresh fruit that's easy to pack, such as apples, bananas or grapes. Avoid salty snacks, which dehydrate you in the already dry cabin air. Also beware of high-sugar, high-fat treats that pack the equivalent of a meal, but leave you feeling unsatisfied."
Drinking plenty of water is also key: not only can dehydration make you sluggish and irritable, but it weakens your immune system.
RELATED: Secrets of travel agents: Experts share insider tips for your next vacation
In addition to healthy snacking, it's important to stay on track with exercising, notes Irvine. "When you are stuck at an airport, exercise," added Hall. "Walk up and down the concourses and get walking. This produces endorphins, calming hormones in the brain. You can do yoga stretches, tai chi or chi gong. These are incredible tools for reducing stress while traveling."