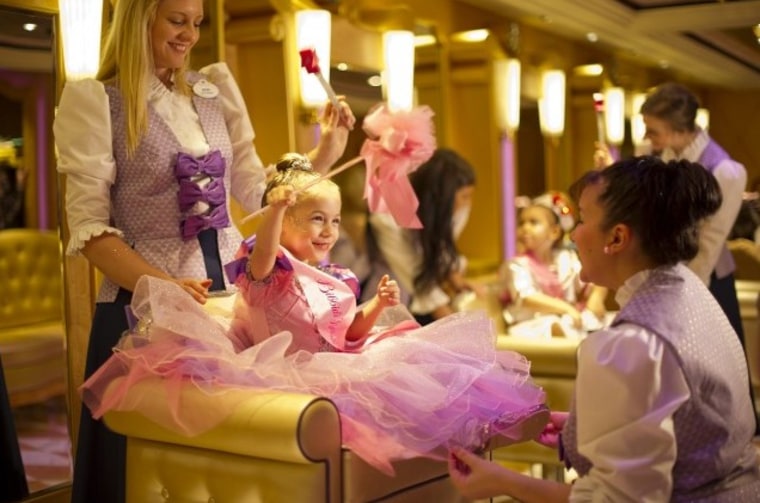 NEW YORK — The Disney Fantasy, a 130,000 ton, 1,115-foot-long addition to the Disney Cruise Line, arrived at Manhattan's Terminal's Pier 88 last week from Germany, where the ship was built.
The christening was held on Thursday night. Actor Neil Patrick Harris hosted the evening, leading the ship's production cast in several song and dance numbers that poked fun at Disney's over-the top tendencies and commercial prowess. The lyrics "Supercalifragilisticexpialidocious," from the classic "Mary Poppins," song were replaced with "super splashy synergistic glitzy celebration." Another song "At the Buffet" was sung to the tune of "Under the Sea."
An opening film sequence was a tribute to the long-standing Disney-New York connection. (Mickey Mouse was first introduced to the public in New York in 1928, and the song "It's a Small World" debuted at the World's Fair here in 1964.) Actors sported T-shirts with the heart in the "I Love New York" slogan replaced by a red Mickey Mouse-shaped heart.
Comedian Jerry Seinfeld delivered an edgy, self-effacing, New York-centric, Jewish humor-laced monologue. "Oh my god, I'm on a boat. Finally, I get to see what the end of my career will be like. It's not so bad," he said, joking about his future retirement. 
Harris worked the crowd, which included Mayor Michael Bloomberg. "I want to take a cruise, but I can't afford it," Bloomberg joked, because his salary is only $1 dollar a year. After the show, singer Mariah Carey (assisted by Mickey Mouse), led the christening. A human-size faux champagne bottle was popped, dispensing confetti to the crowd.
The Disney Fantasy, the line's fourth ship, is similar to sister ship Disney Dream, which launched in early 2011. But how different are they? The ships are the same length and footprint, with 1,250 staterooms and suites and a capacity for 4,000 passengers. They share many features, like "rotational dining," during which servers stay with families throughout the voyage as they change restaurants. But many enhancements — everything from entertainment and expanded kids' programming to dining and nightlife — are new on the Disney Fantasy.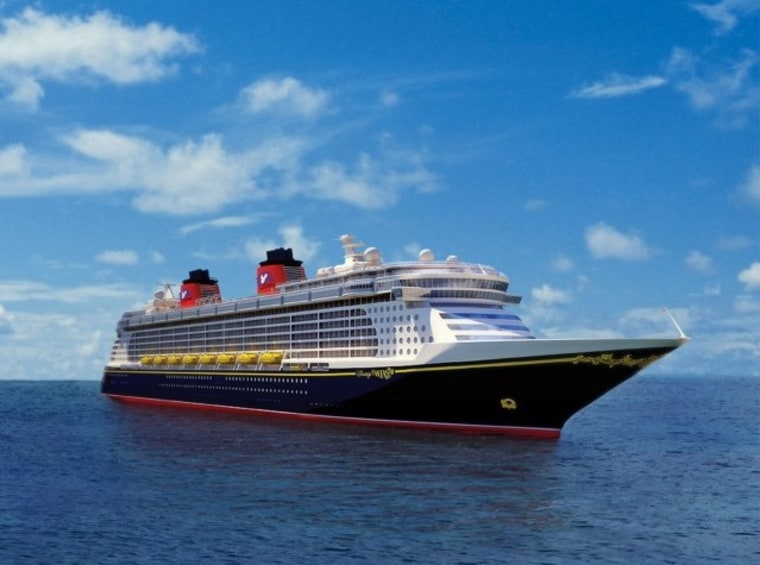 Here is an overview of some notable differences:
Itinerary 
The longer cruising time of the Disney Fantasy, which sails for seven days compared to three- and four-day cruises on the Disney Dream, is a main difference. More time on the ship allows guests a greater opportunity to do more activities, which is why the creators have enhanced a number of features. 
Atrium
One of the main differences is the overall design concept, said Joe Lanzisero, senior vice president, creative, for Walt Disney Imagineering, who oversaw the design elements for both ships. Art deco is the main decorative theme for the Disney Dream, while it is art nouveau for the Disney Fantasy. The style is the connective tissue throughout the ship and strongly reflected in the ship's three-deck open atrium, where peacock-inspired designs and colors — blue, green, pink and gold — appear in the chandeliers, tiles, carpet and other details.
"It's a balance of Disney whimsy and elegance," said Lanzisero. "No detail was overlooked." The art nouveau colors, soft shapes and motifs are subtle and layered, he said. "They do not jump out at you; the deeper you dive, the more you see." 
Dining
The Royal Court, a new restaurant, serves French continental cuisine and features décor elements inspired by a number of Disney films. The chandeliers, chair backs and columns are inspired by "Beauty and the Beast," and the main chandelier, wall scones and decorative patterns of the bread baskets, throne-style chairs and circular floor plan are modeled after the coach in "Cinderella."
The Animator's Palate includes a new dining experience called "Animation Magic," during which guests become animators for the night by drawing their own characters on placemats, which are taken by the staff. Later in the evening, each drawing becomes animated and incorporated into the presentation shown on a number of screens throughout the dining room.  At the end of the show, each guest name appears in the credits.
Europa entertainment district
In this European-themed, adult-only nighttime entertainment area, a collection of clubs, pubs and lounges — each named and decorated in honor of night spots in Italy, France, Ireland and London — provide adult-only escapes. Ooh La La, an elegant French champagne bar inspired by a jewelry box and decorated like a boudoir from Versailles, with velvet-tufted walls and ornate mirrors, serves a private label champagne by Taittinger. The Tube, a London underground-themed nightclub, recalls the city's mod and pop-culture period. At Skyline, the bar has windows with changing views of nine city skylines on 65-inch LCD screens.
Water activities
Like the Disney Dream, Disney Fantasy has the AquaDuck, a 765-foot water coaster that is cantilevered over the edge of the ship, but it also has several new elements including AquaLab, a 1,800-square-foot water play area for families boasting pop jets, geysers and bubblers, and Satellite Sun Deck, an adult-only area with Satellite Falls, a water feature with a circular splash pool with benches and a rain curtain.
Entertainment
Two new original live stage shows will be performed in the 1,340-seat Walt Disney Theatre: "Wishes," a short musical about three best friends and the importance of staying connected to one's inner child, and "Disney's Aladdin — A Musical Spectacular," based on the animated film "Aladdin."
Bibbidi Bobbidi Boutique
Children can be transformed into princesses and pirates at this new feature. 
Enchanted Art
A new interactive scavenger hunt, detective-type, self-paced game, "The Case of the Stolen Show," featuring The Muppets, can be played through Enchanted Art — wall art that animates when guests approach. As guests move around the ship, they uncover clues via more than a dozen pieces of Enchanted Art and physical "evidence."
In some circles, the new ship seems to be garnering a warm welcome.
"Disney ships are considered among the most attractive cruise ships afloat," said Dennis Nienkerk, a luxury cruise specialist with Strong Travel Services in Dallas, "reminiscent of true ocean liners of years gone by." 
And the Disney Fantasy "is a natural evolution of the Disney quality and theme," Nienkerk said. Along with the Dream, it will "set a new standard for family cruising. There really isn't anything quite like it. They eclipse all other cruise lines when it comes to extensive programs for kids," devoting more space — by a wide margin — to activities for children and teenagers.
In recent years Nienkerk said he has seen a steady increase in the demand for Disney cruises. "They offer very high-end service that keeps children fully occupied and enthralled, and parents can escape all day if they wish" he said, adding that the cruises are ideal for family and even multigenerational bonding. "They cost a little more, but parents feel it is worth every penny."
Taking a Disney cruise "is a wonderful experience for adults. It's not just for children," said Kimberly Wilson Wetty, co-president of Valerie Wilson Travel in New York. Some couples will take a Disney cruise and leave their kids at home, she said, crediting the company's constant innovation and penchant for "transporting you to a happy place." 
"I think what Disney does so well is that they always want to improve the experience. Disney truly listens to what customers want," said Wetty. "Each ship has gotten a little bit better."
The Disney Fantasy's maiden voyage is scheduled for March 31, from Port Canaveral, Fla., which will be the home port. Itineraries will alternate between eastern and western Caribbean destinations. Rates start at $959 per person for a standard inside stateroom. The Disney Cruise Line recently announced that cruises will be sailing from new ports, including New York, Galveston, Texas, and Miami, and new itineraries and destinations, like Venice, Italy, and the Greek Islands, will be offered. 
More on TODAY Travel