Transportation analysts expect a record number of people in the U.S. to travel during the Independence Day weekend. The travel group AAA says almost 43 million Americans will take trips to destinations at least 50 miles from home during the holiday period, which it defines as Thursday, June 30 to Monday, July 4.
The projected travel volume is the highest on record for the Fourth of July and surpasses this year's Memorial Day period by 5 million travelers. The main reason for the surge: the lowest seasonal gasoline prices since 2005.
While gasoline prices have gone through seasonal increases recently, they are still relatively low. The average price of a gallon of regular gas in the U.S. is $2.31, or 47 cents less than it was a year ago. AAA said drivers in the U.S. have saved about $20 billion on gasoline so far this year compared with 2015.
RELATED: Here are the top 10 amusement and water parks in the US
But there is a downside to the boom in holiday travel: July Fourth is the deadliest day of the year for drivers, according to the Insurance Institute for Highway Safety.
The safety-research group, which is funded by the insurance industry, says that on average, more people die in motor vehicle crashes on July Fourth than any other day of the year, based on the group's analysis of the five most recent years of available fatal-crash data.
From 2010 through 2014, the IIHS said, an average of 118.4 people died in car crashes on July Fourth compared with an overall daily average of about 90 fatalities. New Year's Day was the second worst day for motor vehicle crash deaths during the same study period, with an average total of 118.2 deaths.
The IIHS said motorcycle crashes and driving under the influence of alcohol are major contributors to the high frequency of road fatalities on Independence Day. But there are other factors that make traveling during this and other holidays especially dangerous.
RELATED: Top 10 best states for a road trip
"In general, there are more people on the roads, and drivers may be navigating areas beyond their regular commuting routes," said Chuck Farmer, the Institute's vice president for research and statistical services.
So before hitting the road this weekend, here are some tips to minimize your risk:
1. Follow basic safety practices.
"If everyone buckled up, didn't drink and drive and obeyed the speed limit, July Fourth would be a lot safer," IIHS spokesman Russ Rader told TODAY. And it may sound obvious, but if you're riding a motorcycle, always wear a helmet. "Motorcycle crashes also play a significant role in the deaths that occur on the Fourth," said Rader. "If you're considering buying a bike for the first time or getting a new one, make sure it has antilock brakes, which are increasingly standard on motorcycles. ABS can reduce your risk of dying in a crash by nearly a third."
2. Take preventive measures.
Have a trusted mechanic check over your car before a long road trip or at least check your oil level, tire pressure and make sure your coolant level is correct, since cars can overheat when stuck in traffic.
3. Play around with your trip's timing if possible.
While the days around July 4 are also dangerous, it is a bit safer to travel a few days before and after July 4 than on the day itself. TODAY's Dylan Dreyer recommends leaving Friday before 7 a.m. or Saturday before 11 a.m. According to traffic and navigation app Waze, the worst time to travel is Thursday and Friday between 3 p.m. and 8 p.m. And for the return trip, avoid driving Monday from 6 p.m. to 10 p.m.
4. Mind the gap.
Use the 3-second rule to establish a safe following distance from the car in front of you.
5. Keep your eyes (and mind) on the road.
Try to minimize distractions in the car, from family disputes to loose items like sunglasses, phones and other items left on the dashboard, which can obstruct the driver's view or fall startlingly to the floor.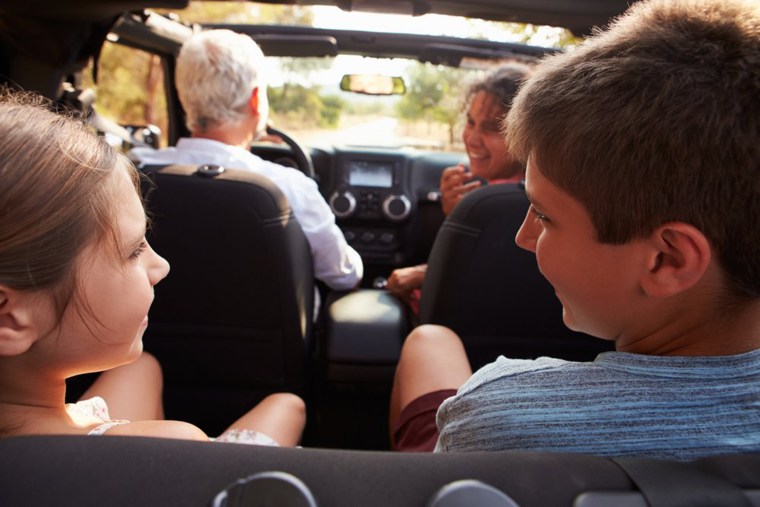 6. Know where you're going.
Familiarize yourself with the route by checking the map and printing directions ahead of time. During the drive, have a capable passenger alert the driver to turns, exits and the like to minimize distractions. Avoid gazing at directions on the phone while driving.
7. Get plenty of rest.
Perhaps you've been burning the midnight oil to wrap up projects before your vacation. But while a long car ride may mean a chance to recover as a passenger, it's no place to let your guard down when you're behind the wheel. Plan on taking frequent breaks, and rotating drivers whenever possible.
Below are additional IIHS charts showing data on motorcycle-crash deaths as well as alcohol-related accidents: