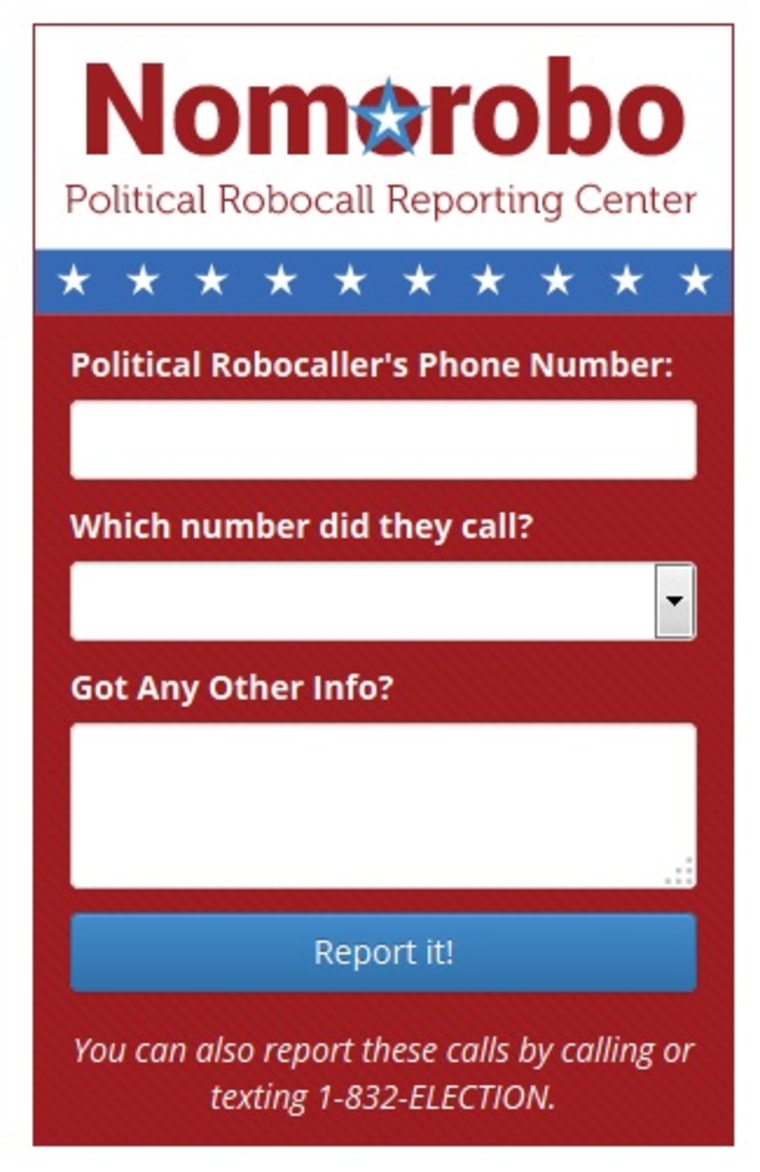 The fall campaign season is under way, and that means those dreaded political robocalls are about to start again.

"People hate them. They're annoying and a real pain in the butt," said Shaun Dakin, a digital marketing and communications consultant who started The National Political Do Not Contact Registry in 2007.
But political robocalls to landline phones are perfectly legal — even if your home phone number is on the National Do Not Call Registry.
"The Federal Trade Commission's telemarketing sales rules only govern calls that are trying to sell you something, and since political calls aren't trying to sell you anything, those calls are not subject to the do not call rules," explained Bikram Bandy, who oversees the FTC's Do Not Call program.
That means political parties, campaigns or political action committees are not required to maintain an internal do not call list and do not have to stop calling, even when you ask.
"Nobody likes these calls and everybody wants to get rid of them," said Aaron Foss, who runs the website Nomorobo, which offers a free robocall blocking service for VoIP telephone customers.
Nomorobo already stops some political robocalls. Its call screening computer algorithms don't consider the content or the sender. But Foss never advertised that fact because he wasn't sure how politicians would react.
This week, Nomorobo made it possible for users to report political robocalls, so those numbers can be tagged and added to the company's database. Subscribers who want to receive these calls can opt-out of political robocall blocking.
"We did a lot of research and determined that it's legal for the politicians to make these calls to a landline and it's also legal for their constituents to decide they don't want to get them," Foss told TODAY. "So, I don't think there's going to be a problem, but we'll see."
The rules are different for cellphones
Federal Communication Commission (FCC) rules prohibit all non-emergency robocalls to cellphones — including political ones — unless the owner specifically agrees in writing to accept them.
Despite this prohibition, these calls, often placed by third-party telemarketers, still go out to wireless devices. Last year, the FCC cited two telemarketing companies for making nearly 6 million illegal political robocalls during the 2012 election cycle.
Call-screening apps, such as Truecaller, PrivacyStar and WhitePages Current ID, already screen or block suspected robocalls placed to cellphones, so they would catch most political ones. These companies say that they plan to do even more as the mid-term elections approach, such as solicit feedback from subscribers to help flag political robocalls for everyone who uses their service.
Don't politicians get it?
People hate robocalls. The FTC receives around 145,000 robocall complaints a month.
A survey done by Truecaller during the 2012 election season found that 93 percent of its subscribers did not want to receive any type of campaign call in the next election.
And yet, the phones keep ringing.
Political consultant Ron Dotzauer, co-founder and CEO of Strategies 360, says politicians are well aware that no one likes these calls, but they feel obligated to use them.
"It's the most efficient and cost-effective thing you can do to get out the vote, especially in the last few days of the campaign," he said. "No one knows how effective they are, but it makes the campaign feel like they're doing something."
David Nickerson, an associate professor of political science at the University of Notre Dame, believes most political robocalls are a waste of money.
"Robocalls have not been shown to be effective at all in creating voter turnout," Nickerson said. "The backlash is real in terms of people being upset, but there's no evidence that this causes someone not to vote for your party or candidate. So, there seems to be a limited political downside for the campaigns."
Herb Weisbaum is The ConsumerMan. Follow him on Facebook and Twitter or visit The ConsumerMan website.