Intrepid travelers like to push their limits—they'll test their stamina, language skills and culinary daring in far-flung destinations around the globe. But we don't like to see anyone risk their personal safety on an ill-researched sojourn. So, each year Budget Travel gives you the lowdown on some spots that should, at least for the near term, stay on your "don't bother" list, some that are a definite "maybe" and a few that you may be surprised to hear get a definite "yes."
Slideshow: 10 controversial destinations
Jersey Shore
Sure, you know that Superstorm Sandy hit the New Jersey coastline last fall, tearing up boardwalks, hotels, vacation homes and beaches. What you may not know, however, is that "the shore" will be open for business this summer. In fact, Lori Pepenella, Long Beach Island's destination marketing coordinator, recently told the Newark Star-Ledger, "As businesses are investing and rebuilding, we're getting the message out that we're open right now." While rebuilding post-Sandy is a challenge -- especially for areas such as Seaside Heights, whose boardwalk sustained serious damage -- New Jersey's $38 billion hospitality industry depends on a thriving shore and everyone is sprinting toward a successful Memorial Day weekend. For those of you who thought this might be the summer to skip New Jersey's miles of family-friendly beaches, legendary boardwalks and amusement parks, and notorious party scene, local boosters are working hard to change your mind: Atlantic City is telling anyone who will listen that contrary to rumor, its boardwalk was not destroyed by the hurricane, and Long Beach Island has produced a video to promote its open-for-business status at visitlbiregion.com. There's no quick fix, and the reopening of seaside businesses is only part of the to-do list (for the shore to truly roar back, neighboring vacation homes and hotels will have to be in good repair as well), but if optimism and hard work can carry the day, you should probably start making your Memorial Day weekend reservations... now!
To go or not to go: Go.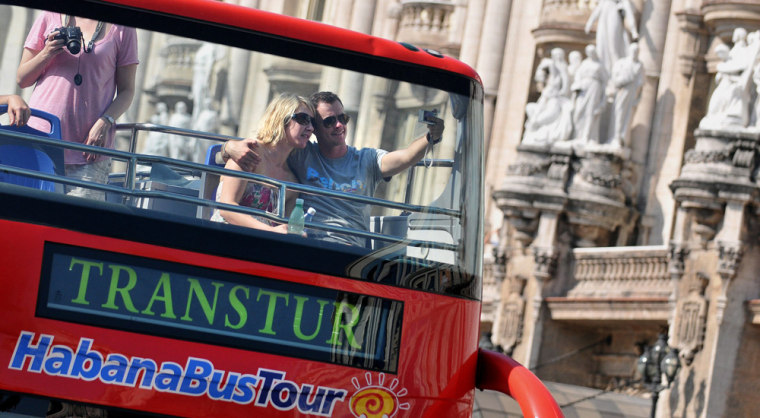 Cuba
For those of us who grew up during the Cold War, the question may still seem fanciful: Want to visit Cuba? But whereas the Caribbean island was once off-limits except to the most adventurous of American travelers (who would typically enter Mexico or Canada before flying to Cuba), it is now possible for U.S. citizens to see this amazing country by booking with a licensed tour operator that performs "people-to-people" trips. A package will include interaction with Cubans and classes in Cuban culture and history and should also include a visa, airfare, hotel, meals and an experienced tour guide. They don't come cheap—weeklong trips are often more than $2,000 per person—but are the best way to ensure that you comply with U.S. law and that you see the island in the safest way. While accurate crime statistics are not available from Cuba yet, the U.S. Department of State cautions visitors to be alert for pickpocketing, purse-snatching and burglaries, but traveling with a licensed people-to-people tour guide will help minimize any danger.
To go or not to go: Go, if you can afford a U.S.-approved people-to-people tour.
Spain
It's a sign of the economic times that a nation of Spain's stature could even make our list of questionable destinations. The final quarter of 2012 saw Spain's economic output drop 1.8 percent compared with last year, its worst performance since the global economic meltdown of 2009. As the country embraced an austerity program to bring down its budget deficit, demonstrators took to the streets, often meeting an aggressive response from the police. In Barcelona, some demonstrators even demanded independence. It's important to keep all this in perspective, though: The U.S. Department of State has not issued a warning against visiting Spain, and the country still poses only the crime threats one might expect in any developed region: You need to be as aware of the potential for pickpocketing, mugging and break-ins as you would when visiting, say, Italy or France. In addition, some of the advice the State Department has issued for visiting places like Greece and Israel, where the potential for spontaneous public demonstrations is high, should be heeded when visiting Spain: Stay away from demonstrations (they are not spectator sports, and passersby have been swept up in police actions in Barcelona), and check with your hotel's concierge for updates on the potential for unrest in your destination.
To go or not to go: Go.
Israel
With some of the world's holiest sites, sacred to Jews, Muslims and Christians alike, Israel is a one-of-a-kind destination. From the ancient streets of Jerusalem to the nightlife of Tel Aviv, this is a place where the past rubs elbows with the present like no other. Unfortunately, all that elbow-rubbing comes with a downside, and Israel has been the scene of religious tension, terrorist attacks and flat-out war over the course of its 60+ years. The U.S. Department of State strongly warns Americans not to visit the Gaza Strip and most areas of the West Bank (other than Jericho and Bethlehem), due to ongoing tensions and risks that can range from rock-throwing to rocket fire. On the other hand, major cities such as Haifa and Tel Aviv are as safe as any in the world, and Jerusalem, as long as you observe some common-sense rules, is an unforgettable experience that shouldn't be missed. While in Jerusalem, avoid street protests and approach religious sites with caution on holy days, Fridays, Saturdays and Sundays because of potential congestion and security restrictions. As with any troubled region, you will feel most supported and informed if you travel with an experienced tour operator and stay in touch with the staff at your hotel about the potential for political and religious demonstrations.
To go or not to go: Go, but avoid the West Bank and Gaza.
Mexico
Yes, millions of U.S. citizens visit Mexico safely each year, but as the U.S. Department of State points out, it's best to stick to major cities such as Mexico City and popular resort areas such as Los Cabos and destinations in Quintana Roo such as Cancun, Cozumel, Playa del Carmen, Riviera Maya and Tulum, where the crime rate can actually be lower than in some U.S. cities. But more adventurous travelers should spend some time at state.gov reviewing the warnings about visiting border regions and some Mexican states (including Tamaulipas, Michoacan, Sonora, Chihuahua and others) that have seen heavy drug-trafficking activity, including daytime gun battles, carjackings and kidnappings. Regardless of where you travel in Mexico, be prepared for the same risks you might encounter when visiting any American city.
To go or not to go: Go, but only to major cities and resort towns.
Japan
2012 saw an increase of 30 percent in tourism to Japan over the preceding year, according to the Japan National Tourist Organization. It's no wonder people stayed away in 2011: In March of that year, the nation was rocked by the largest earthquake in its history, a magnitude 9 quake that destroyed buildings and triggered a tsunami on the island's northeast coast, causing the deaths of thousands and a meltdown at a major nuclear-power plant, including a release of dangerous radiation. But millions have returned to Japan in the past year, buoyed by the nation's swift recovery efforts. Today, major destinations such as Tokyo are completely safe and 2013 may even set a record for visitors.
To go or not to go: Go, as long as you avoid the area around the Fukushima Daiichi nuclear-power plant.
Egypt
The political unrest that rocked Egypt two years ago, including public uprisings against then-president Hosni Mubarak, certainly put Egypt front-and-center on the world stage, and inspired some to delay travel plans to the north African nation. But sites such as the pyramids and Great Sphinx at Luxor, museums and historical sites in Cairo and the beauty of the Lower Nile (now enjoying a resurgence in river cruises) still inspire waves of visitors, and the U.S. Department of State does not explicitly warn Americans away from Egypt. It does suggest that you stay away from public demonstrations, which can be unpredictable and sometimes turn violent. Visiting Egypt with an experienced tour guide, or staying in a major hotel whose concierge regularly monitors the potential for unrest, is your best bet.
To go or not to go: Go, but, for now, stick with well-trod tourist sites such as Cairo and Luxor.
Greece
There's no sugar-coating it: The economic downturn and austerity measures have inspired strikes and public demonstrations in Greece, especially in major squares in the capital city of Athens. While they are usually peaceful and pose no threat to the democratic government, some demonstrations have turned violent, including fire-bombings and vandalism. It's best to avoid ogling demonstrations because of their potential to turn ugly. Americans visiting Athens should be aware that anti-migrant sentiment can make some visitors targets of aggressive behavior—and even police sweeps. The U.S. Department of State especially cautions Americans of African, Asian, Hispanic and Middle Eastern descent to be on guard because they may be mistaken for migrants. All Americans should carry a copy of a passport or photo ID at all times. That said, tourism to Greece is still a booming business—major hotels in Athens, resorts on the islands and other destinations with knowledgeable staff and on-site security are not only safe but among the most rewarding vacation spots you could choose.
To go or not to go: Go to the islands, stick to the beaten path in Athens.

Haiti
When we say a travel destination "has it all," we usually don't mean crime, cholera, damaged infrastructure and limited police and medical resources. Unfortunately, that is the situation in Haiti three years after a magnitude-7 earthquake demolished much of the already-impoverished nation (which shares the island of Hispaniola with the Dominican Republic), killing more than 300,000 people. While Haiti has spent billions just to maintain basic services, risks are high and resources for visitors are slim—traveling there as anything but a volunteer will only add to the strain. The U.S. Department of State warns that Americans have been victims of murder and kidnapping, including attacks on arriving visitors that have occurred right outside the Port-au-Prince airport.
To go or not to go: Don't go.
Syria
Sure, Syria boasts some of the most dramatic ruins and landmarks in the Middle East, but this one's a no-brainer: "No part of Syria should be considered immune from violence," reports the U.S. Department of State, warning Americans not to visit the troubled nation (and those Americans who remain in Syria are urged to leave immediately). Anti-government activity and the Syrian government's use of deadly force—including aerial bombing of civilian areas, armed clashes between government and opposition groups, and the arrest, detention and torture of individuals—have made Syria one of the most dangerous places on earth. And once inside, it can be difficult to get a flight out or to cross the border into neighboring countries, which include Iraq, Jordan, Lebanon, Turkey and Israel.
To go or not to go: Don't go.
More from Budget Travel: