Michael Jordan once famously told everyone, "You better eat your Wheaties," but what about drinking some out of a beer mug instead?
Wheaties parent company General Mills just announced a creative partnership with Minneapolis-based craft brewer Fulton to produce HefeWheaties. Beer connoisseurs are familiar with Hefeweizen, a south German beer that is usually brewed using over 50 percent malted wheat, while Wheaties — well, that's fairly self-explanatory. Combine the two and voila! It's an iconic mashup that's sure to generate some buzz.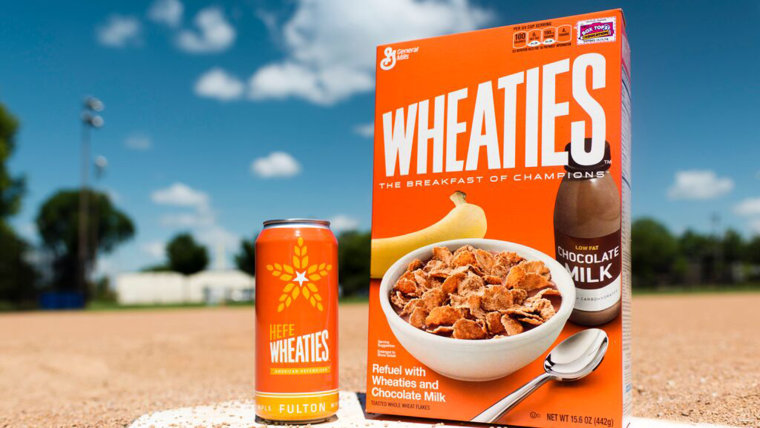 The breakfast cereal is synonymous with starting one's day on the wholesome, healthy track, so plenty of "hair of the dog" jokes might spring to mind at first blush. But, David Oehler, marketing manager for Wheaties, said the inspiration for this beer lies elsewhere.
RELATED: No beer in Popeyes' Beer Can Chicken? 5 foods that lack namesake ingredients
"[We think that] the celebration after a sporting event is just as important," he told TODAY. "Beer is an integral part of the celebration for those over the age of 21."
Oehler says the target demographic is the millennial male who loves what Wheaties stands for, who'll be "continuing to love it in a different space."
The product is currently in production and is the first of its kind for Fulton, which was started by four home brewers in 2006. Oehler has yet to taste the final product, but he said he has done plenty of tasting along the way to ensure that the "beer of champions" delivers plenty of suds.
RELATED: Beer is showing up in the coolest new recipes and cocktails
Although HefeWheaties has limited availability (while supplies last starting on Aug. 26 in the Twin Cities at select locations), Oehler said that the product could grow, depending on interest. "We will determine if we should do this on a bigger scale with Fulton," he said.
Cheers to that!