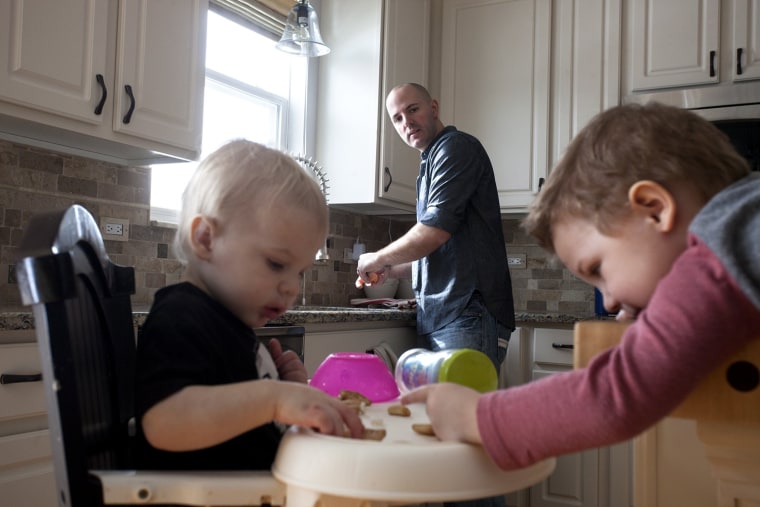 Few people still think women should just be barefoot, pregnant and in the kitchen. Men are having a tougher time shedding the stereotype that they should be the big breadwinner.
While only one in four working-age people now say a woman's primary duty is to be a full-time caretaker for her family, new research finds that nearly one in two believe a man's primary duty is to provide financially. That's even though about half of working-age American adults think traditional gender roles no longer apply in today's world.
"The most interesting thing we've seen is that there's more permission for women to shift outside of their traditional roles than there is for men," said Tinesha Craig, division director for Insights in Marketing, the consulting firm that conducted the survey of 3,600 men and women between the ages of 18 and 67.
That doesn't surprise Dave Juip.
The 33-year-old father of two said he had no problem trading his stressful operations management job in the construction industry for the diaper duty, endless laundry and infinite patience that comes with being a stay-at-home dad.
"I'm not a hippie, but I really cherish every day that I get to do it," he said of spending his days with his two boys, who are 1 and 3.
The harder part: Dealing with the judgment he sometimes feels – including from some of the stay-at-home moms. Instead of kudos or even questions, he said the response can sometimes be more like, "Oh, I'm sorry you couldn't get a job."
In general, Juip said he's surprised by how often men and women ask him if he's home with the kids because of the weak economy.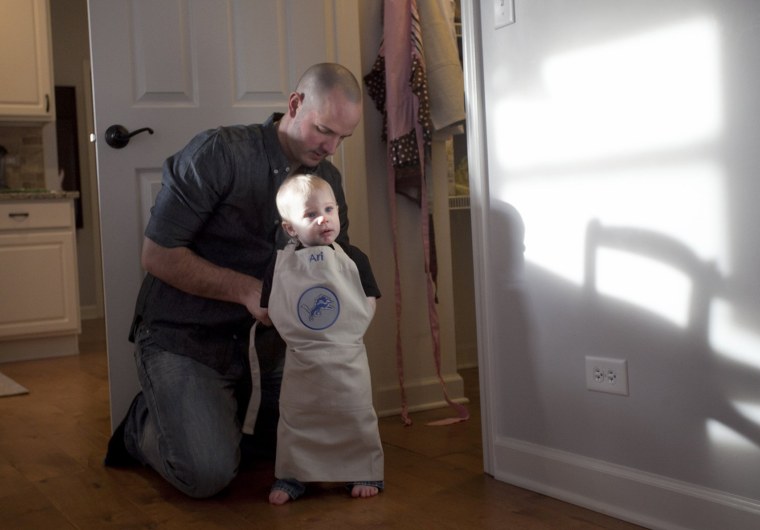 Juip and his wife, a digital marketing account executive, made a conscious choice for him to give up a lucrative but high-pressure job so one of them could be home full-time with the kids. It's a decision he's never regretted, and he has no immediate plans to go back to full-time work.
"I definitely feel like this is what I was meant to do with my life," said Juip, who lives in the Chicago suburb of Wauconda, Ill.
Stay-at-home dads like Juip are still a rarity in the United States. There were just 214,000 full-time, married stay-at-home dads in 2013, according to the U.S. Census Bureau, compared with about 5.2 million married stay-at-home moms.
The vast majority of married moms and married dads with kids under 15 are working outside the home, according to Census data.
As more couples juggle both work and family obligations, researchers have found that dads have gotten busier, taking on more child care and housework than the prior generations.
Researchers say that's not just because moms are more likely to be working – dads also want to be very involved in home and family life.
The Insights in Marketing research found that about three-quarters of the men surveyed said their first obligation was to home and family. About half said their careers give their life purpose.
Still, both moms and dads say it can be stressful to "have it all." The researchers found that 40 percent of men and 51 percent of women said the pressure to balance both family and work has led to increased stress.
Brian McKibban, 35, and his wife both work full-time in demanding jobs, and they also are raising 2- and 4-year-old children.
McKibban, who is the minority owner of a financial planning firm in suburban Des Moines, Iowa, said they make it work by divvying up responsibilities such as cooking dinner and picking up the kids based on who has the work flexibility that day. They also both try to put their work phones down between 5 and 8 p.m. so they can focus on family time.
After the kids go to bed, McKibban said household chores like laundry and dishes get done based on which one of them has more work to do, who has the energy to do housework – and whether either one is annoyed enough by the mess to get motivated.
"At best it's organized chaos," McKibban said.
Some days, it looks like a tornado struck the house. And some nights, exhaustion trumps all else.
"It's 8:01 and we're both in bed and nothing gets done," he said.
McKibban said he and his wife have both come to realize that a few toys on the floor or unwashed dishes in the sink aren't a big deal in the scheme of things.
"We both have to (learn) to not worry about the small stuff so much," he said. "You just have to learn that's not what's important."
McKibban and Juip are hoping to take on more parenting responsibilities in the future: both said they are talking with their wives about having more children.

Allison Linn is a reporter at CNBC. Follow her on Twitter @allisondlinn or send her an e-mail.