Many people wait until retirement to save enough money to travel. Meanwhile they work every day to make ends meet. A Canadian couple, Nick Wharton and Dariece Swift, had a different plan. While still in their 20s, they gave up everything and began a traveling adventure most others can only dream about.
In 2007, the couple had only been together a year when they went on an all-inclusive trip to Mexico and the tropics. After their weeklong vacation, it was back to paying bills and working long hours. Wharton, who worked as a printing press operator and on oil rigs, and Swift, who was a real estate paralegal, roughly earned over $100,000 Canadian dollars a year.
RELATED: Woman quits $95,000 job to move to island and sell ice cream, the Internet cheers
After a particularly rough day, Wharton came home, and his wife asked him if they could travel again, where would it be? The couple settled on Southeast Asia.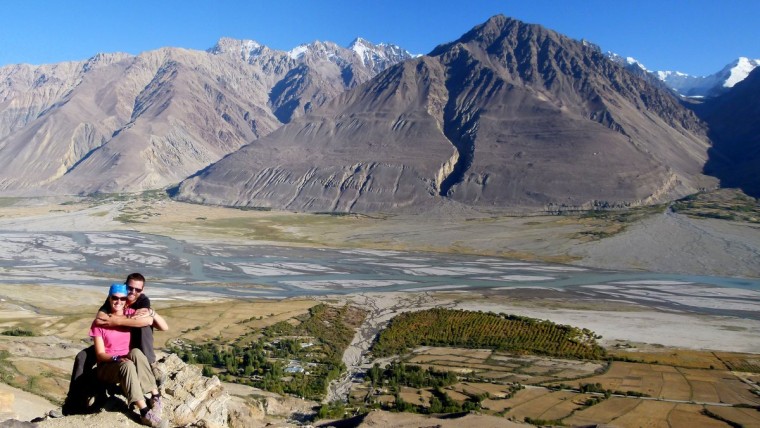 They did their homework: determined what it would cost them to go, how much it would cost them every day, and they came up with a plan to go on an extended trip eight months later.
The couple began working extra hours at work. Swift got a second job and they took on a roommate to fund their trip.
"We decided that we wanted experiences rather than stuff," Swift told TODAY in a phone call from their apartment on the Mediterranean island-nation of Malta. "Every time we thought about buying a coffee, we calculated that for the same price we could stay in a nice hut on a Pacific beach."
The couple eventually sold most of their belongings, including their house, and flew to Southeast Asia.
RELATED: 2016 Rio Olympics travel on a budget: 7 tips to save money
"Our family was supportive," Wharton told TODAY. "They thought we were a little crazy for traveling so far, since the only place we had been outside of Canada was Mexico. Our parents expected that we were going to run out of money and return home quickly."
The couple was able to stretch their money and stayed for 13 months. They got jobs teaching English in China, and began developing their now popular travel blog, Goats on the Road.
"We received offers from direct advertisers to review travel products and services," said Wharton."We only made $500 the first month, but it began to increase to $1,500 a month very quickly."
Today, the couple says that Goats on the Road generates an income of $6,000-$10,000 a month. For additional income, they are now teaching others to do what they do with blog entries like "How To Start a Travel Blog" and "Sustaining Travel."
The couple, now both 31, stays in furnished apartments when they travel. They explore a particular region for a few months before moving on to their next destination, which they choose very carefully with the flip of a coin.
RELATED: Lonely Planet's top travel destinations for 2016 include Transylvania and Kotor
In their blog, the couple writes that people don't need a lot of money to travel full time. Roughly $1,500 per month for a couple is more than enough to live in nice apartments, eat out frequently, drink wine (often, of course) and explore the sites and cultures of many countries. Any additional earnings are put toward the couple's savings and retirement.
"We are happier then we could have ever imagined we could be," said Swift. "We have freedom we never experienced in our former life."
Soon they will move on to their next destination: Berlin, Germany.
RELATED: Get packing! here are the top travel spots for the summer
"I have been purging all day," said Swift. "Whenever we buy something new to wear, something has to come out of the bag to make room for it. All of the clothes we shed along the way, we give to people who need it."
While the couple doesn't plan on having children, they agree that they wouldn't stop traveling if they did. They would just strap a backpack on the children and off they would go.
Corrections & Amplifications (5/27/16)
An earlier version of this article stated that Goats on the Road earns the couple $3,500-$5,000 a month, which is an outdated figure. Additionally, Nick Wharton and Dariece Swift aren't married.