Filmmaker Robin Hauser Reynolds knew women and minorities have a difficult time breaking into science and technical fields -- but the issue came home when her daughter called from college in tears, announcing she planned to drop her computer-science major.
Reynolds' daughter didn't have the role models or the support she needed to succeed: a plight that affects many women in school and at the office.
Inspired, Reynolds decided to make a documentary exploring that all-too-common issue, and the systemic problems that fuel it. "Code: Debugging the Gender Gap" premiered April 19 in New York City, featuring interviews with staffers at the White House, Facebook, Twitter, Black Girls Code, Pixar, and other big organizations about this major issue.
TODAY interviewed Reynolds, the documentary's director and co-producer, about what it will take to change the status quo -- and how parents can help. (This interview has been edited and condensed.)
Why did you choose to tackle this subject?
My daughter was studying computer science in college, and ["Code" producer] Staci [Hartman]'s kid was something like the No. 6 [employee] in Snapchat working in a non-tech role. We'd go on these long runs together and talk about the [tech] industry.
But it really ramped up when my daughter called home from college and said, "I hate this. I'm dropping out of the [computer science] major."
This call came at the same time places like the Wall Street Journal were publishing articles saying: Hey, you want a job after college? Study computer science. I was fascinated by the discrepancy between the supply of candidates and the demand for these jobs.
Staci and I got more and more invested in this issue. We had a sense there was something there for us to do. It's not just a gender issue, or an ethnicity issue -- this is an impending economic issue. By 2020, there will be 1 million unfilled [computing-related] jobs because we don't have enough of those workers.
With numbers like that we thought, OK, people will listen.
The lack of women and minorities in science and technical fields is such an entrenched issue -- it gets into education breakdowns, cultural expectations, systemic problems. What do you think are the main roadblocks?
There's a huge stereotype that to be in tech you have to be a nerdy person who is anti-social, who wants to stay up all night and code. Until we break that stereotype, the [field] will seem very limiting to both girls and boys who don't fit that mold.
For women and girls, we need female role models now. When you ask a young girl to name a famous woman scientist, they might say Marie Curie and then they're stuck. In tech, older girls and women might know Ada Lovelace [the world's first computer programmer] and Grace Hopper [accomplished computer scientist].
But those women did their work decades and decades ago. Where are the role models in the present day? We need more people like Megan Smith [chief technology officer of the United States] in the White House. That's the only way to show girls they can do this. In order to get more women in the pipeline, we need to start teaching them at a young age.
What can parents do to help?
I think that's a great question -- an important one. Parents can think very carefully about how they are raising their girls versus their boys. It's proven that both moms and dads tend to give more scientific explanation to boys. We tend to let boys sit in front of the video games for hours, but not girls.
I'd tell them, look at gender-neutral toys. There are more and more toys that inspire tinkering and engineering -- and they're not just for boys.
This one is tough but important: We need to be sure we instill confidence in our children that they can be whatever they want to be, whether it's a boy who wants to be a nurse or a girl who wants to be a rocket scientist. As parents we need to challenge ourselves to break stereotypes.
And that's hard to do. Because I believe in equality I know I asked my son to empty the dishwasher and taught him to cook the same way I did with my daughter. But I look back and I know there are things I could have done better. There's a lot of unconscious bias that plays into parenting young children, so I think it's important for all of us to look at how we parent our girls versus our boys.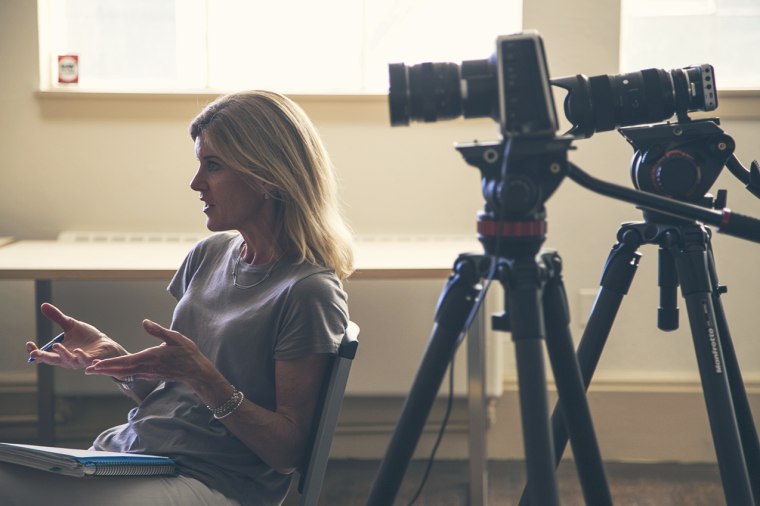 What do you hope viewers take away from "Code"?
I hope that it inspires a broad group of people. Even if you aren't "into tech," most likely you're using a smartphone. Or you've been to a doctor's office that uses software with a code base.
I like what [Twitter CTO] Adam Messinger says [in the documentary]: The same way that everyone should probably know a little about law and a little about economics, they should know a little about code. The message is not, everyone should be a coder.
But it's something that affects all of us, something that's in so much of what we do. And if things don't change, we'll continue to alienate an entire part of society that's outside the perspective of your average white 25-year-old male from Palo Alto, [California].
The better question to ask is, what do we gain? And the answer is huge. Having a broader perspective at the coding level will create products with such a deeper depth of society and humanity -- and that will help all of us.