A Kansas-based church, infamous for protesting at the funerals of dead American soldiers, now says it plans to picket at the funeral of Steve Jobs, although no funeral details have been publicly shared yet.
Margie Phelps, daughter of the Rev. Fred Phelps, pastor of the Westboro Baptist Church in Topeka, shared that news via Twitter. Ironically, her tweet showed as being posted from ... an iPhone.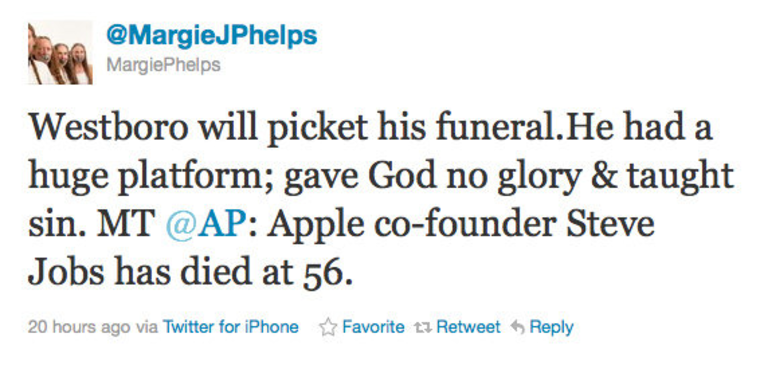 The church's members — who are mainly from the Phelps family — have picketed military funerals around the country because they believe U.S. deaths in Afghanistan and Iraq are "God's punishment" for America's tolerance of homosexuality. In March, the Supreme Court ruled that the First Amendment protects the church members participating in such protests.
"Westboro will picket his funeral," tweeted Margie Phelps about Jobs. "He had a huge platform; gave God no glory & taught sin."
As to the criticism about her tweeting from an iPhone, Phelps also tweeted this: "Rebels mad cuz I used iPhone to tell you Steve Jobs is in hell. God created iPhone for that purpose! :)"
Related stories:
Check out Technolog, Gadgetbox, Digital Life and In-Game on Facebook, and on Twitter, follow Suzanne Choney.