/ Source: TODAY Contributor
Black Friday 2015 has finally arrived. What can shoppers expect from the unofficial kickoff to the holiday shopping season, and which deals are actually worth buying? We examined this year's trends to help you get the most bang for your Black Friday buck.
What's new this year?
Analysts expect shoppers to spend more than previously, thanks in part to lower unemployment levels and gas prices. According to aNerdWallet study, three out of four American adults plan to brave the crowds, either in-person or online. And Americans plan to spend about 20 percent more on holiday gifts compared with last year ($529 in 2015 vs. $440 in 2014).
We can expect an online shopping surge, too.The National Retail Federation says consumers except to do 46 percent of their browsing and buying online this holiday season. It predicts online sales will jump 6 percent to 8percent. Some retailers, such as Best Buy and Sam's Club, are offering exclusive online-only Black Friday deals for virtual shoppers.
RELATED: Why do we do it? The psychology behind Black Friday madness
Mobile is also making bigger waves. Some retailers are posting exclusive deals on their mobile apps. Amazon, for example, will feature more than 150 Lightning Deals on everything from electronics to kitchen gadgets exclusively on its mobile shopping app.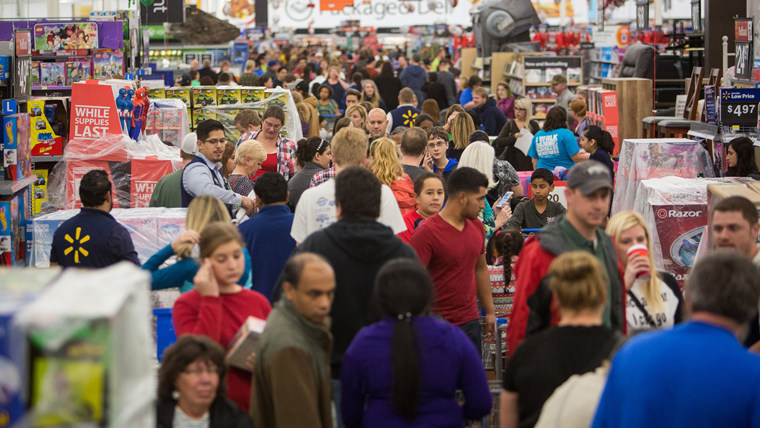 What to buy?
Some of the best Black Friday deals this year are on home appliances, Apple products, TVs and clothing.
Home appliances
Dyson: 25 percent off all vacuums on the brand's website.
Wal-Mart: Some small appliances (blenders, slow cookers, etc.) for $9.72 each.
Best Buy and Lowe's: Up to 40 percent off select major appliances.
Apple products
MacBooks and iMacs: Save $150 at Best Buy on select models.
Apple Watch: Get a free $100 Target gift card with purchase of any Apple Watch.
iPhone 6s: Wal-mart is offering customers a $100 bill credit and $100 gift card with purchase of an iPhone 6S or iPhone 6S Plus under an AT&T or Verizon contract.
TVs
Save $800 on a Samsung 65-inch Curved Smart 4K Ultra HD TV at Best Buy (sale price $1,499.99; regularly $2,299.99).
Get more than 50 percent off a 55-inch Westinghouse LED TV from Target, (sale price $249.99; regularly $599.99).
Clothing
Ann Taylor: 50 percent off everything.
Old Navy: 50 percent off everything.
J.C. Penney: $9.99 sweaters for women (up to 50 percent off).
Farnoosh Torabi is a financial editor with Nerdwallet.com.