Just as parents of high school students are becoming more aware of the dangers of sexting, new research suggests families of much younger kids should have it on their radar as well.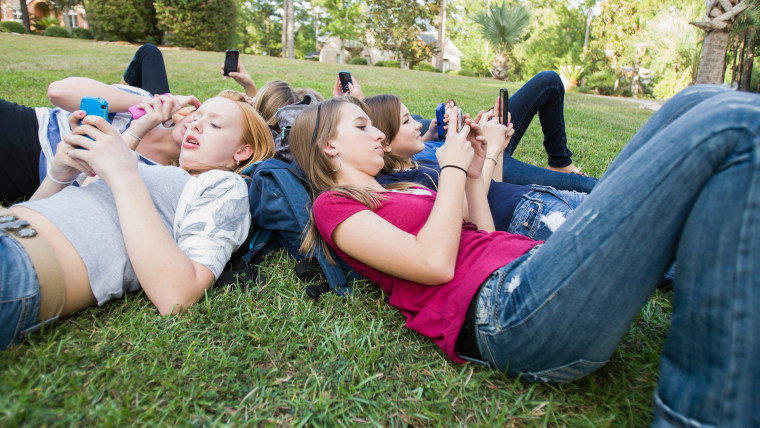 Almost a quarter of troubled seventh-graders send sexually suggestive texts or photos, with those sending explicit pictures especially likely to engage in sexual behavior, according to a study published Monday in the journal Pediatrics.
"Certainly, if (parents) see photos, then that's an extra warning sign that there might be a real need to have a conversation and to monitor," Dr. Christopher Houck, lead author of the study and a psychologist at Rhode Island Hospital, told TODAY Moms.

"Previous studies have suggested that a very small percentage of early adolescents were sexting, but we don't really believe that."
Houck said the only other research to include this age group relied on phone interviews with kids while their parents were present, likely affecting the results.
This study focused on adolescents identified by school counselors as having "symptoms of behavioral or emotional difficulties." The eligible seventh-graders, who were 12 to 14 years old and enrolled in public middle schools in Rhode Island, were then given questionnaires to fill out about their sexting behavior, as well as their sexual experience.
Of the 410 children who took part, 22 percent reported having sexted in the past six months, with 17 percent sending suggestive texts only, and 5 percent sending both texts and photos. The study found that the adolescents who reported sexting were several times more likely to engage in other sexual behaviors, like making out or having a "friend with benefits."
Higher rates of sexual activity can put teens at higher risk for unintended pregnancy, HIV, and sexually transmitted diseases.
Sending photos, rather than just texts, signaled an even greater likelihood of early sexual activity, the study found. Girls were more likely to send photos of themselves than boys, likely because boys may request girls' pictures more often, the researchers said.
Meanwhile, the seventh-graders who reported sexting also had less awareness of their feelings and reported more trouble managing their emotions, problems that the study authors say may lead kids to use sexting as a form of self-expression, instead of "more emotionally challenging direct interactions."
"It's awkward to have conversations with somebody and tell them that you like them. But if you can craft that in a text and then just send it out and you don't have to see their immediate reaction, for some folks that's a lot easier," Houck said.
He encouraged parents to monitor their kids' cell phone and computer use, and talk with them about sex, even if they don't see any evidence of sexting.
Parenting expert Amy McCready hears lots of concern about sexting from parents of older teens, but believes they need to also pay attention to younger children.
"This study really puts up a red flag that we need to be having the conversation with our kids much earlier, obviously in middle school, whether they're at-risk kids or not," said McCready, a TODAY Moms contributor and author of the parenting guide, "If I Have to Tell You One More Time."
"Talk about sex early and often. Clearly this topic of sexting has to be part of this conversation now."
She advised parents to discuss with their kids what to do if they're pressured to send a suggestive photo and to remind teens that their body is their own, not only when they're physically with somebody, but also in terms of sending pictures.
Children should get their own cell phone only when they need it, not when they want it, McCready said. Parents should then establish rules, such as limiting gadget use to public spaces of the home, and getting passwords to email and social media accounts so kids know they're being watched.
"You don't want to do it behind their back, it's important to let them know upfront you're going to be monitoring," she said.