Garth Callaghan can't believe the difference a few days can make.
"A week ago, I was just a dad who was writing notes," he said Thursday on TODAY.
But those notes — one or two lines of inspiration written on napkins tucked inside his daughter's lunch —have captured the nation's heart.
Callaghan has written "napkin notes" since his 14-year-old daughter Emma was in kindergarten. They took on additional meaning over the past few years as he fought kidney cancer, twice. He currently lives with prostate cancer.
Now Callaghan, 44, has promised himself to write 826 napkin notes to guarantee that Emma will have one to read every day until her high school graduation, no matter what happens.
Emma Callaghan said she was moved by the promise.
"It means a lot to me that he would think of that, even though he is going to be there, that he would make sure that I would always have them," she said.
Sometimes, his notes quote Dr. Seuss or Martin Luther King or Gandhi. Other times, they include personal messages, like: "Dear Em, this week is going to be awesome! Don't forget to do your part." 
"There has always been an implied promise in our household that she would have a note in her lunch, that she would have a hand-packed lunch from us and a note from me," Callaghan told TODAY's Matt Lauer.
But last fall, he read an article about a "promise card" movement started by the non-profit group "because I said I would," that stresses the importance of keeping promises. That's when he decided to make "an actual promise, a true commitment" to write 826 notes for his daughter, his only child.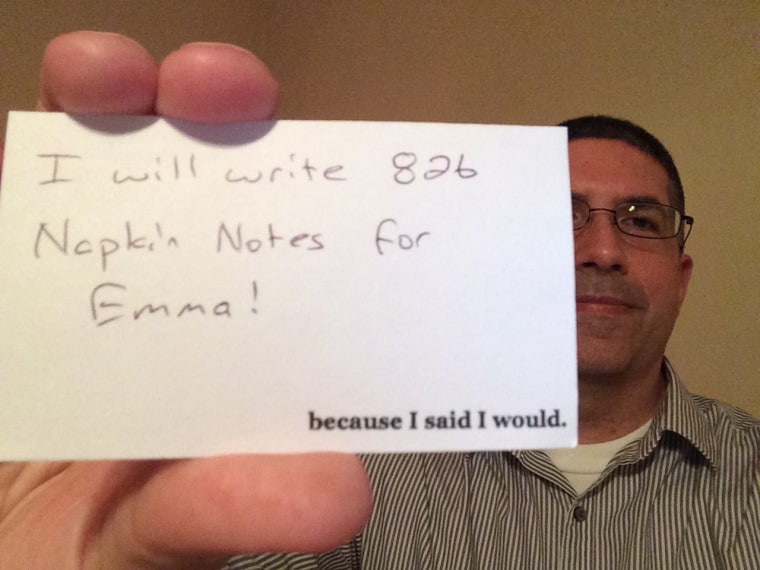 A few years ago, Callaghan said he saw his daughter rip out the quotes from some of the napkins and save them in a composition book. Emma said it was her way, at the time, to keep her father close.

"They meant I would have a part of my dad with me, no matter what happens," she said. "They were always there."
Callaghan said he never told his daughter about his promise to write hundreds of napkin notes until his story gained widespread attention.
"We really hadn't had this discussion until this exploded in the past week," he said. "Up until last week, Emma did not know I was writing 826 notes and that I had promised to do that," he said.
Callaghan hasn't used any of those notes he's writing, he told TODAY.com earlier this week. Instead, he's been stockpiling them in his Viriginia home, keeping them as a backup in case they're needed. Every morning, he writes a brand-new note for his daughter.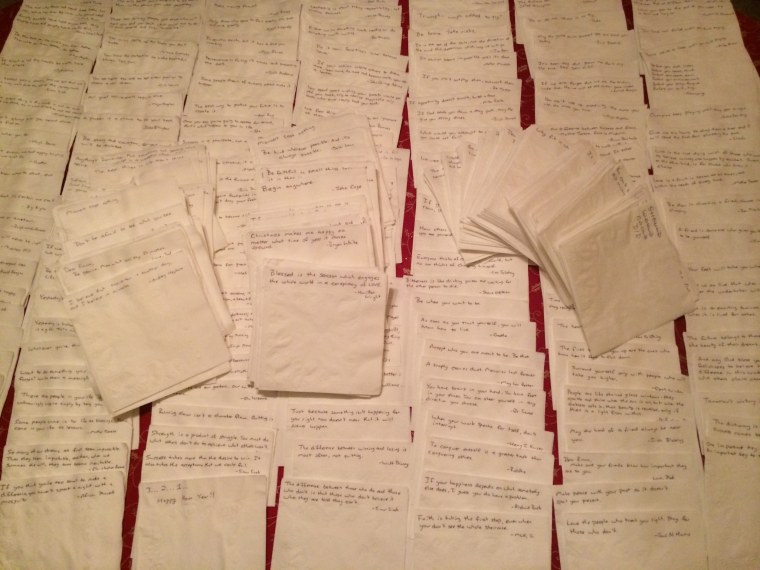 Callaghan's pledge has gone viral, moving nearly everyone who hears of the story, including Lauer, who told called the promise "very brave." 
"It makes me look at my role as a parent a little bit differently," Lauer said.
Follow Eun Kyung Kim on Twitter at @eunkim