/ Source: TODAY contributor
In icky economic times like these, many of us have this much in common:
No matter how cash-strapped we are, we still want to go on vacation.
We don't want to spend a lot of dough on said vacation.
If this is sounding familiar to you, then why not go glamping this summer?
"Glamping" — or glamorous camping — can be the answer to any vacation-related dilemmas you may be facing this year. Don't misunderstand — glamorous camping can be expensive. Really expensive. For instance, in the summer months two adults can pay about $8,500 to spend three nights in a tent at the Clayoquot Wilderness Resort in British Columbia, Canada. The all-inclusive price of admission includes flights from Vancouver to the resort on a remote fjord, gourmet meals, drinks, massage treatments, horseback riding, fishing, whale and bear watching, kayaking, sailing, clay shooting, rock climbing, mountain biking and nifty day trips.
And the tents ain't no ordinary tents. They're big, roomy, white-canvas extravaganzas, perched on raised wooden platforms and decked out with comfy beds and down duvets. "Thermostat-controlled propane wood stoves, antique dressers and tea tables, opulent rugs, oil lamps, heirloom china and silver accessories, and an abundance of candles complete the offering," according to the resort's Web site.
As heavenly as all of that may sound, a trip like that may not quite be in your budget this year. Is it possible to go glamping closer to home for much less money? The answer to that question is an emphatic yes.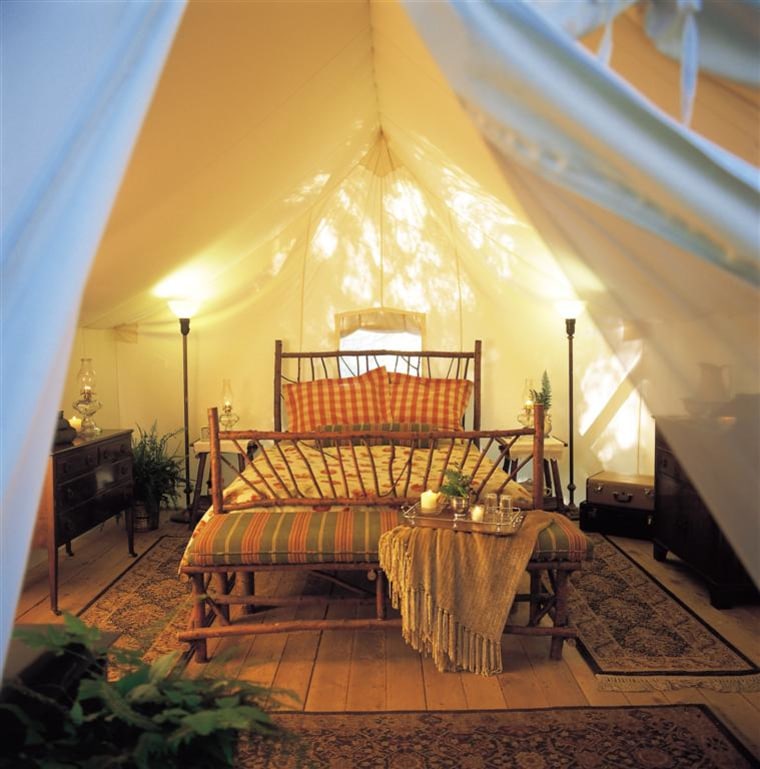 Basically, it all boils down to putting plenty of thought into the food, drinks, bedding and other comforts you feel like bringing along with you into the great outdoors. You can actually make car-camping incredibly glamorous, and if sleeping in a tent doesn't appeal to you, you can make yourself and your loved ones quite comfortable in a cabin, cottage, yurt, tipi, RV, VW bus, vintage Airstream trailer — or, heck, even a covered wagon.
"Some regular campsites provide pre-erected tents with all equipment supplied, so all you would need to do is turn up with clothing, provisions and a sleeping bag, although even sleeping bags can be provided at an extra charge," said Garri Rayner, editor of GoGlamping.com in Suffolk, England.
"This concept of camping tempts people who wouldn't ordinarily be into old-school camping to try it without having to invest in all the gear. It allows them the chance to enjoy an eco-conscious back-to-nature vacation with the comforts often associated with hotels."
So, without further ado, consider these tips for camping in style whether you've got plenty of money to spend or very little.
1. Go totally glam if you can. Maybe you've come into a windfall or you've been saving up for the adventure-travel experience of your dreams. If so, you can give these sumptuous glamping options a try:
2. Or, take it down a notch. There are plenty of swell glamping options throughout North America and around the world that don't require an outlandish outlay of cash. Some examples: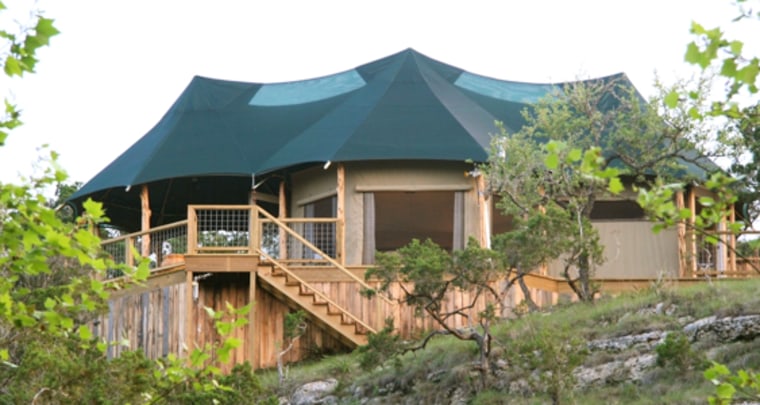 3. Check out the wide array of options on public lands. If sleeping on the ground and coming into close contact with creepy-crawly critters isn't your style, you can book all sorts of rustic accommodations with actual floors and doors at state parks, national parks and other public lands. Some examples:
4. Realize the potential of car camping. All of the purist campers and hikers out there will probably cringe when they spot this tip, but here's the thing: For families with children — or for adults who simply don't have the energy to haul a whole bunch of gear on their backs — car camping can spell salvation. This style of camping vacation can make it possible for you to enjoy the outdoors and carry all sorts of comfortable gear, yummy foods and heavy cooking equipment with you wherever you go. Some key ingredients to making car camping comfortable:
A nice, spacious tent — (which can be rented from various outfitters if you don't have one)
Full-sized pillows
A decadent blow-up air mattress and extra padding — such as a memory foam pad if desired
Comfortable camping chairs
A nice camping stove with at least two burners
Good food and drinks (More on this in a minute!)
A good book
Board games
Cards
An abundance of decent lighting options, from headlamps to full-on camping lamps, so you can keep that fierce game of Monopoly or gin rummy going well after dark.
5. Rent an RV or another fun set of wheels for a few days. If you're splitting the cost with friends or family members, this can be an economical and comfortable way to glamp. Depending on how tricked out your RV is, you can spend anywhere from $100 to $300 a night to rent one. (Remember to factor in gas prices as well!) You also can rent Airstream trailers, Volkswagen camper buses and a variety of styles of pop-up campers. Quick Internet searches can turn you on to places that rent these nifty vehicles in your area.
6. Remember KOA Kampgrounds. They're all over the United States and Canada, and they're fun! If you're a bug hater and a person who doesn't want to haul a bunch of gear, you can stay in a KOA cabin or cottage with your family for about $60 to $150 a night, depending on the size of the accommodations. (A larger KOA "lodge" with a full kitchen sleeps six.) Other options for overnight accommodations cost as little as $30 a night. KOA welcomes pets, so you don't have to make elaborate dog-sitting arrangements before you skip town, and each KOA site offers a whole slew of activities and amenities, such as climbing walls, jumping pillows, petting zoos, pools, movie screenings, dog playgrounds, grocery stores, laundry facilities and clean restrooms with private shower stalls. "Campgrounds are like the last small towns in America, and they give you freedom and a sense of safety," noted Jim Rogers, chief executive officer of KOA. "You may not let your kid out of your sight in a mall, but in a campground he'll be half a mile away and you'll feel fine."
7. Focus on food. OK, here is where you can truly get creative and turn any regular ol' camping adventure into a glamping adventure. Why limit yourself to Clif bars, dried apricots and trail mix? With some advance planning, you can dine on lamb shanks, mashed potatoes and asparagus, all prepared on your trusty, double-burner camping stove and served up with crusty bread and a good bottle of red wine. Yes, wine! In glasses, even! The fabulous Web site GlampingGirl.com gives oodles of advice about going gourmet while camping. It suggests tricks for enjoying steaks, salmon, grilled vegetables and real brewed coffee in the great outdoors, and the site highly recommends the cookbook "Campfire Cuisine: Gourmet Recipes for the Great Outdoors" by Robin Donovan. She also offers this advice: "For a true glamping trip we recommend a portable bar that includes a cocktail shaker, stainless steel martini glasses, a corkscrew, and a bottle opener." Hmmm! One last tip about food: If you're sleeping in a tent, never, EVER store food inside your tent with you, especially if you're camping in bear country. Instead, store all food in the trunk of your car, or string it high up in a tree to keep wild animals at bay.
8. Comfort is key. In addition to the comfy suggestions offered in tip No. 4 about car camping, also consider these fun ideas from GlampingGirl.com:
A hammock
A doormat for the entrance to your tent, as well as a dustpan and hand broom
An outdoor area rug, which, in addition to being funny and attractive, also will help minimize the amount of dirt you track inside the tent
A silk sleeping-bag liner
A portable shower and shower tent (Be sure to use biodegradable shampoos and soaps!)
Necessities such as toilet paper, sun block, insect repellent and citronella candles to keep mosquitoes away at night
A cooler on wheels
Your pets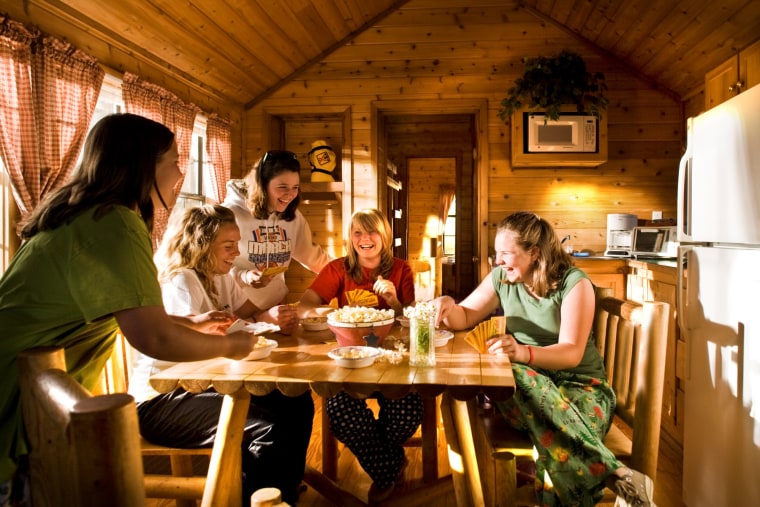 9. Go part glam, part grubby. Purists, here's a tip for you. You can do the traditional hiking and tent-camping grind for several days straight, and then reward yourself at the end with a cushy hotel stay — ideally in a hotel room that has a jetted soaker tub. Or, you can do hard-core tent camping, but figure out a way to carry at least one or two indulgent items with you. For instance, maybe you can carry a full-size pillow somehow, or some yummy foods that aren't freeze-dried. I've personally found that Gouda cheese, nice crackers and Grand Marnier aren't TOO heavy if you pack your backpack carefully in every other sense! (Once again, remember to store any and all foods in a bag high up in a tree, some distance away from your tent.)
10. Get in the right frame of mind. This is your vacation, after all. Try as hard as you can to let go of the stresses of your regular life. To adopt the correct mindset, consider this advice from Jim Rogers of KOA about what the "spirit of camping" requires: "Clear ears to hear the laughter of children, the singing of birds and crackle of an open fire. ... A grin, stories to share, no complaints, no diet, no thoughts of the 401(k), and leave the site better than you found it."
Sources and resources: