Something magical happened at the Nebraska Furniture Mart in Dallas this week.
A pillow was able to change its design with a slide of the hand, and thanks to a video that made its way online, millions of people are now obsessing over it.
While shopping with a friend, TV journalist Steve Noviello stumbled across the Mermaid Pillow by Aviva Stanoff Design. When you slide your fingers across it, the reversible sequins flip colors allowing you to create funky designs, monograms and other shapes. When you want to erase your design, all you have to do is slide your hand over the sequins again in the opposite direction. It's like a shimmery Magna Doodle for your couch, and people can't get enough of it.
Noviello's livestream featuring him and his friend playing with the pillows at the store has already received over 31 million views in the six days it's been up. He jokingly captioned the video, "Amazing or horrifying?" although judging by the reactions of the internet, it seems like a lot of people are going to go with the former.
RELATED: 11 things you can throw out of your bathroom right now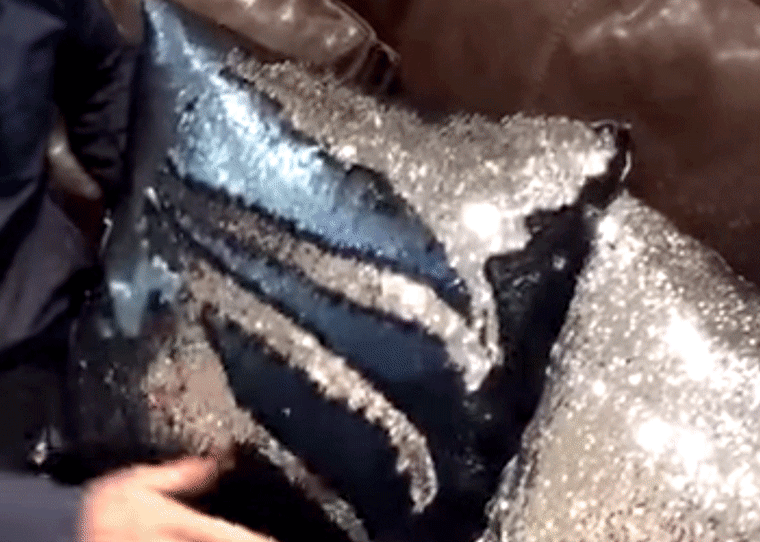 Rebecca Ritterbush, regional marketing manager of Nebraska Furniture Mart, said the response has been phenomenal at the store's physical locations and also online.
"We've been carrying the pillows for about three months, so it was amazing to see just a simple video posted Sunday afternoon be trending by Monday," she told TODAY.com. "We thought the pillows were fun and a great addition to our store, we just never expected this type of response."
Ritterbush says that sales for the pillows have increased substantially since the video went live. But have no fear: They're not completely sold out.
RELATED: 'Feels like a sanctuary': Family restores cottage in French village
"We still have a small selection in store with more expected in," she said. The whole selection is also available to order online here. Pricing varies according to size. They currently have them listed from $99 to $169.