For Stephanie Nielson, sitting on her Utah porch surrounded by her family isn't just a nice way to spend an evening: it's miraculous.
In 2008, Stephanie and her husband, Christian, were in a plane crash that left one dead and the couple in a coma with severe burns on their bodies. Seven years later, not only have both survived, but they've moved to Utah, were able to have another child and they built "Fox Hill," their dream home in Utah Valley named after a fox spotted near the property.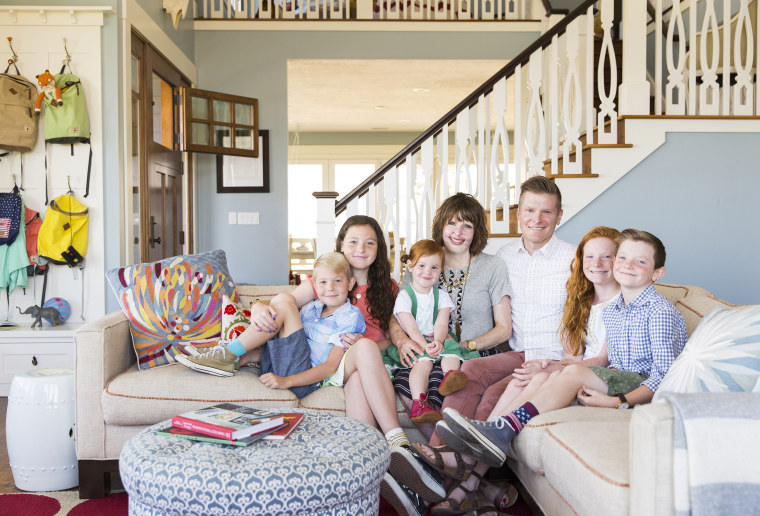 Stephanie recently let TODAY come by for a visit to the nearly-completed home, and like the Nie Nie Dialogues blogger, it is magical.
On spending her first night in her dream home: "It was amazing! I remember the first night in the house, my 11-month-old daughter woke up in the middle of the night and I went to get a bottle made and walked into the kitchen and literally I gasped with delight. Our windows face to the west, and Fox Hill sits above our city and the lights below twinkled. It was a surreal moment for me and one I will never forget. I remember thinking that I was so happy and grateful to be there that I would be happy to get up anytime during the night for any reason."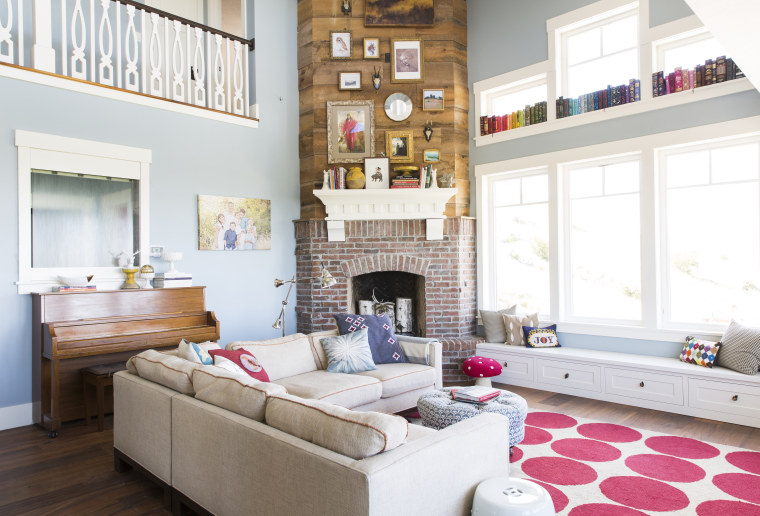 On what's most important for her when it comes to decorating: "I want it to be cozy and magical. I wanted fun nooks for the children to have and make memories in. I really want my children to want to be in our home, and I want their friends to want to be here too. It's important for my home to have a good spirit fill the walls — in every single room. I used fun art, colorful paint and comfortable pillows. I also wanted lots of light — so we have windows everywhere. It works well on our property because we don't have neighbors close by, so I don't have to put window coverings on most of my windows and I love that."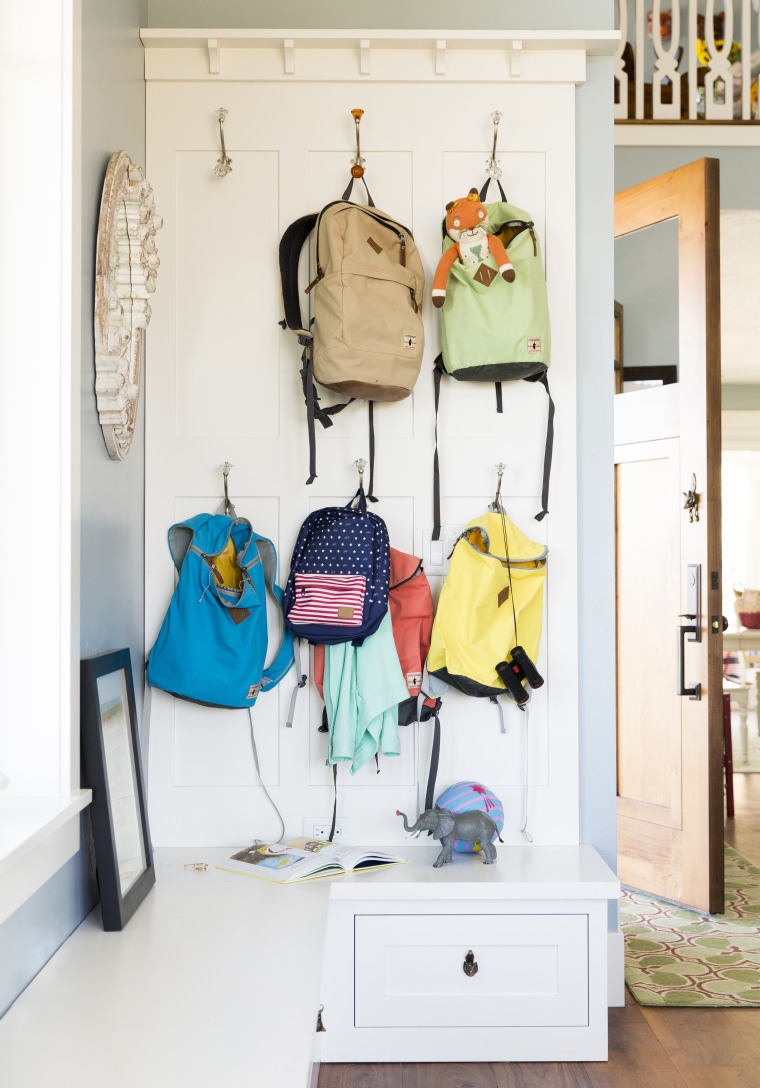 On her favorite room:" My favorite room probably is my kitchen because it's alive. My children can usually find me there, so we spend good family time together in the kitchen. I designed the house to be really open so you can be in the living room and still hear and see what's going on in the dining room, kitchen and pantry."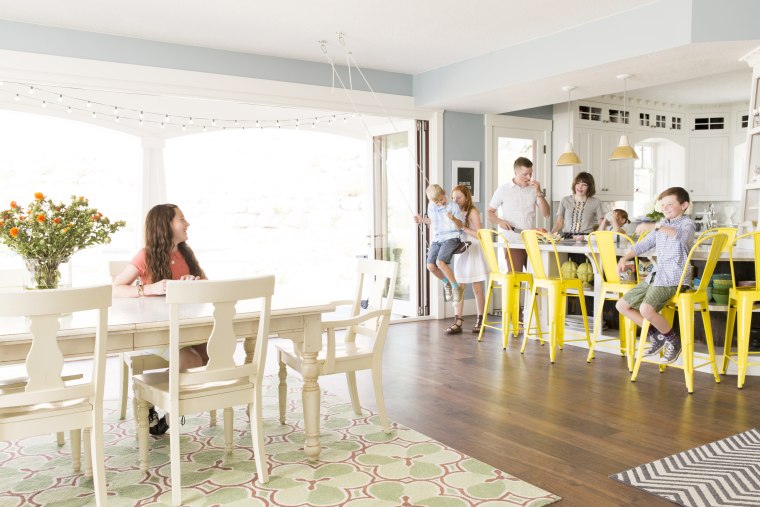 "In the dining room/kitchen we installed a window wall which completely opens up so we can be inside and enjoy the outside. It's one of our favorite features in the home."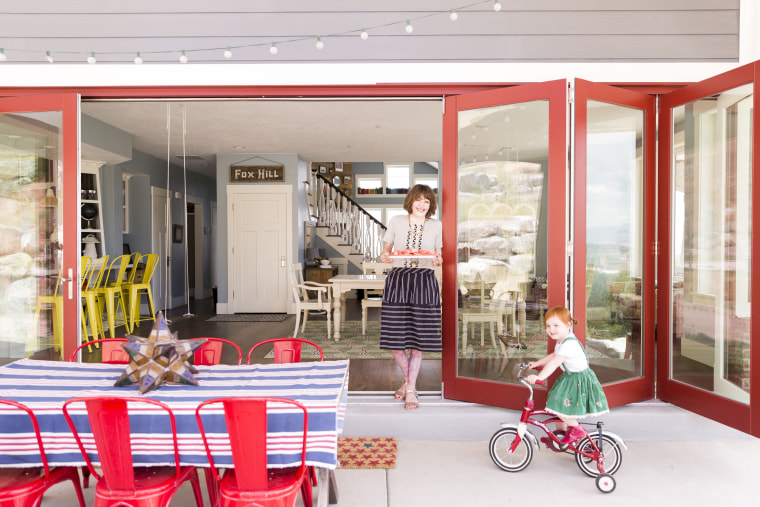 On the swing in the kitchen: "I saw the swing idea in a magazine before I was married and I remember ripping out the page and gluing it in my "future home" binder. After I was married and a few years before we built Fox Hill, our good friends had a swing in their home and it was fun to see it in action. Christian made the swings from the leftover walnut wood from our flooring, and we surprised the kids on Christmas morning. They had big red bows on the swing ropes. It's the best move we have made in this house."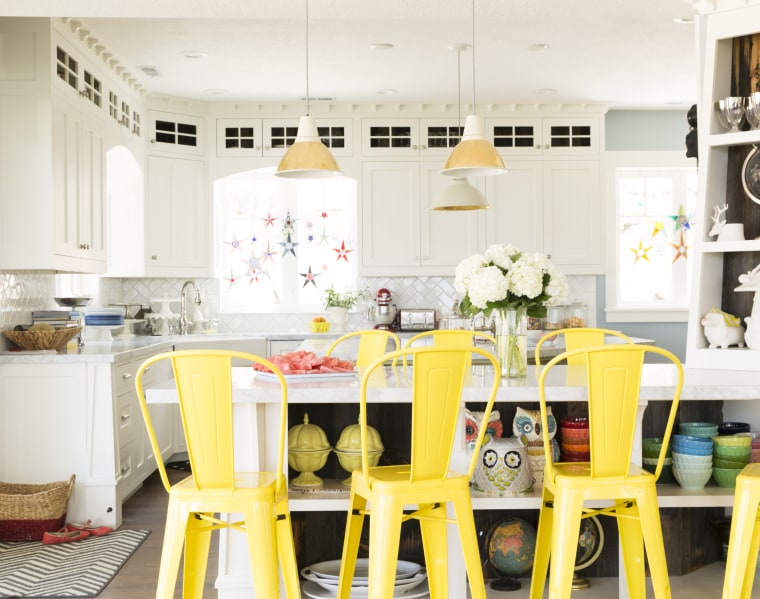 On the wood planks above the stove: "Those are pine pieces that my husband's great-grandfather cut himself to build the family's homestead in New Mexico. That wood has been baking in the sun for over 100 years, which makes that beautiful sun burned, dark color. It is also used inside all of the kitchen cupboards."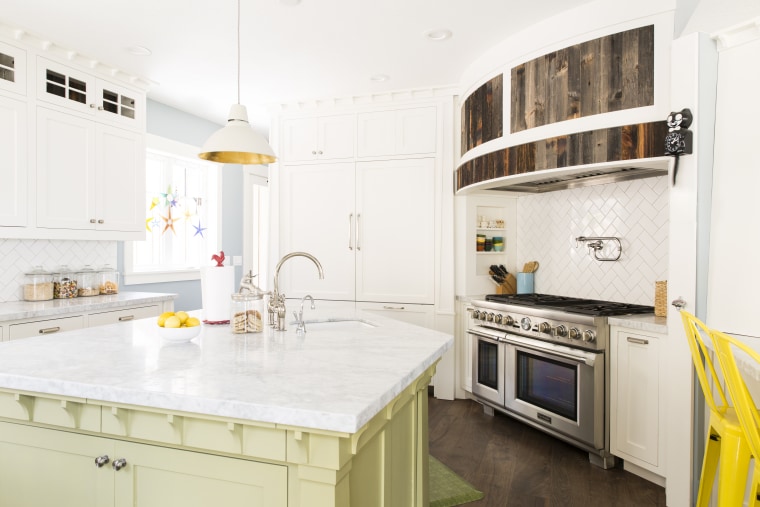 On the tiny room beneath the staircase: "I wanted the house to have little nooks and crannies that make it magical. I imagined my children loving these fun little places that were designed just for children, which they do. But to be honest, I envisioned my grandchildren coming over to the house to play in the "Fox Den" as we call it. I want to be that kind of grandma. I think it's all in the details."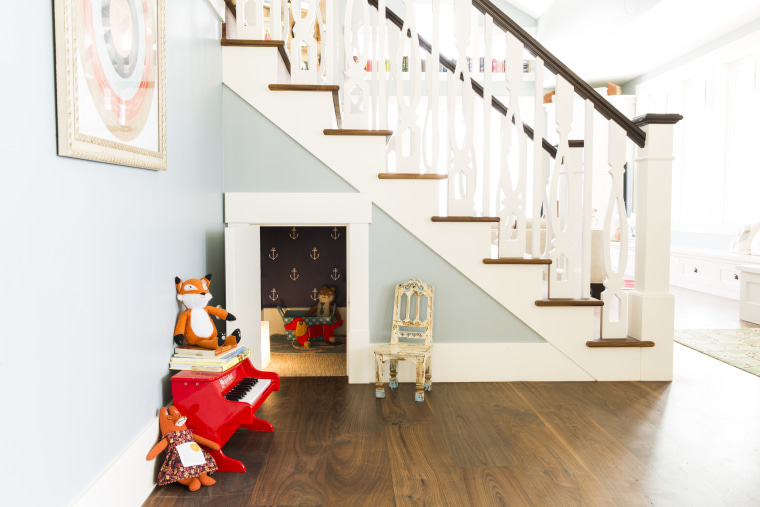 Her favorite memory at Fox Hill: "So far,watching the fireworks on our wrap-around porch New Year's Eve with my children. We spotted over 20 places in the valley where people were letting fireworks off. It was pretty amazing and magical. I remember thinking how I never ever wanted that moment to end."
RELATED: Single mom runs dress company from her 'meaningful and magical' home — see inside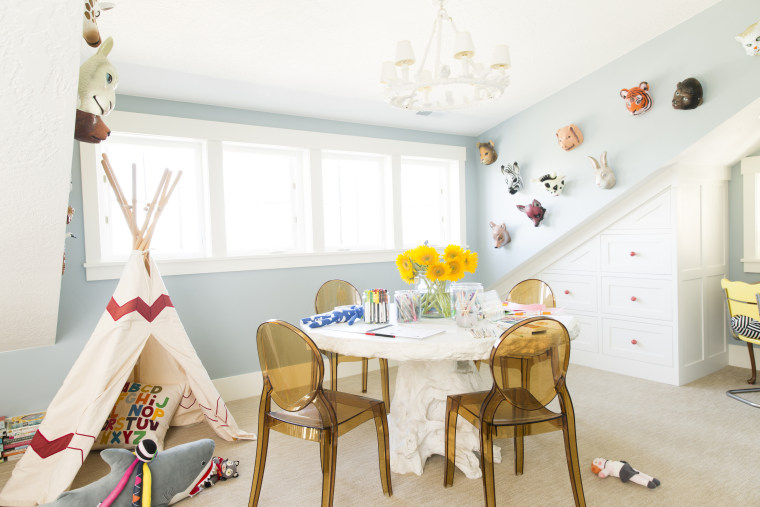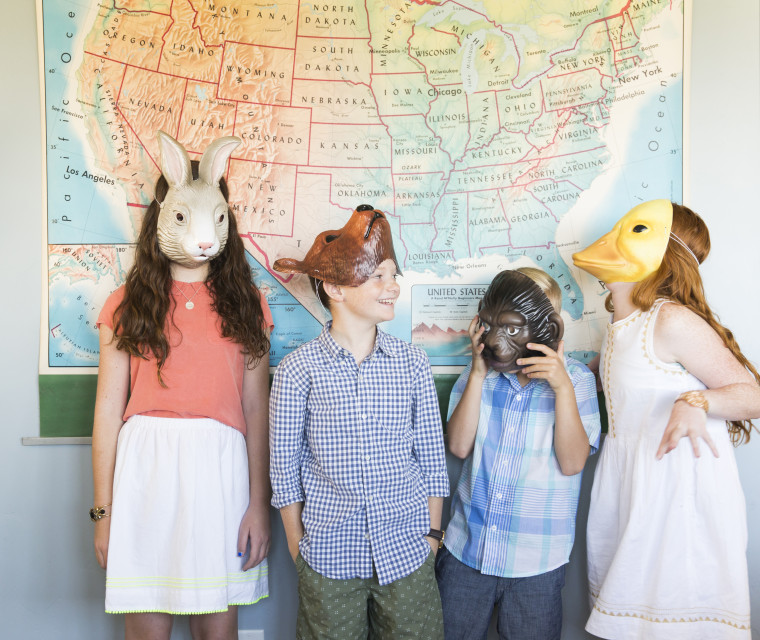 On her favorite time of day with her family: "The evenings in the summer are amazing! The air is magical and a cool breeze runs down the mountains behind us. We joke that we could just all camp out on the porch and spend the night. In August, the sunflowers pop up everywhere on the property and it's so fun when the wildlife — mostly deer — come to visit the hills near us. It's ideal."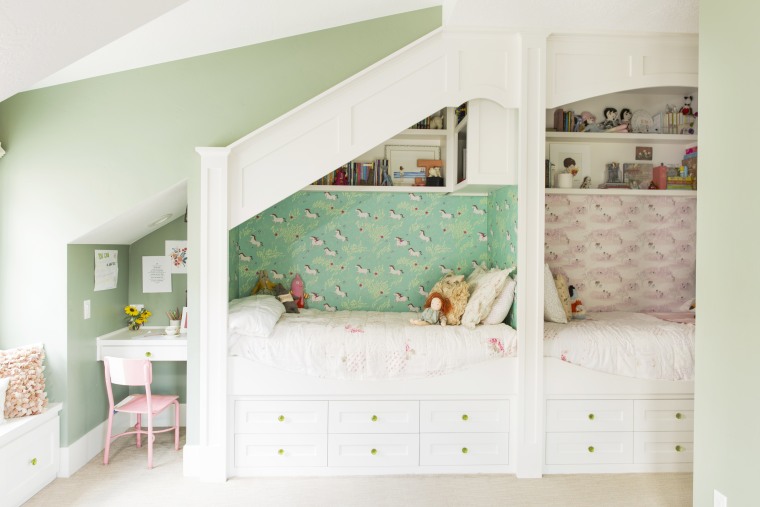 On her decorating style: "It's probably eclectic. It's so "whatever" here. I love textures, colors, exposed wood and layers. I like to think of it as classic beauty. I love country style, but went to Denmark a few years ago and loved the modern style there, which inspired me to do a lot built-ins. All of the children's beds are built into the walls and boxed window seats throughout the house and bedrooms. It's a little of everything. I want everything to have a story, which is why we tried to use repurposed wood around the house, comfortable couches and pillows, or paint colors that reminded us of our beloved ranch in New Mexico."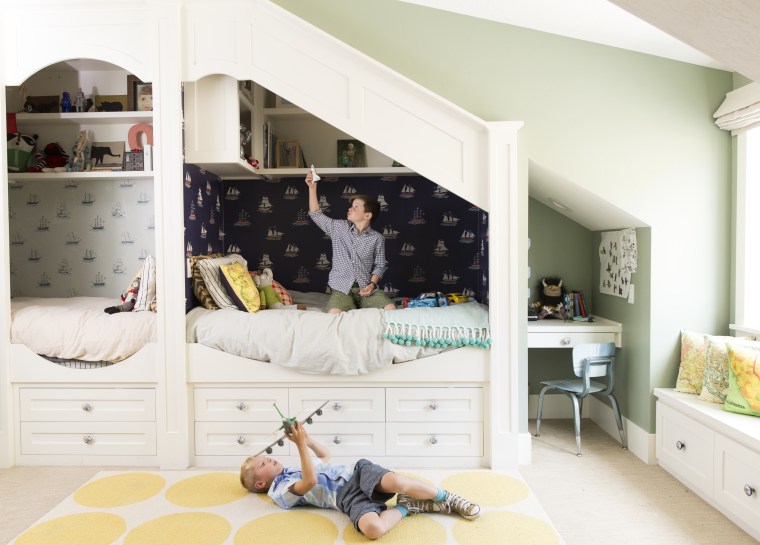 On what "home" means to her: "Home has always been the space where I do best and where I am most happy, so naturally my children follow suit. Our home and ideals didn't change after the accident in 2008, but it certainly has solidified our love for each other and how precious time and togetherness is. We never take time for granted, especially since we know it can change in an instant. Home is where we are safe, happy and accepted. I want everyone who comes here to feel that way, especially our children. We pray, worship, teach and love in our home daily and I think that is what makes it such a happy place to be."
RELATED: See how a family lives in this 500-square-foot apartment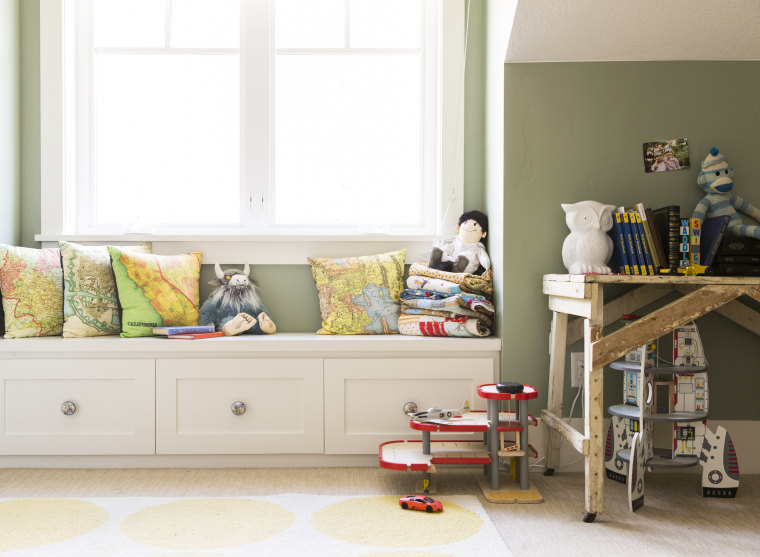 "We are always celebrating something, anything. You could say I try and find reasons to celebrate. I am so thankful for life, and I want my children to celebrate and love life to the fullest since it was almost taken from us."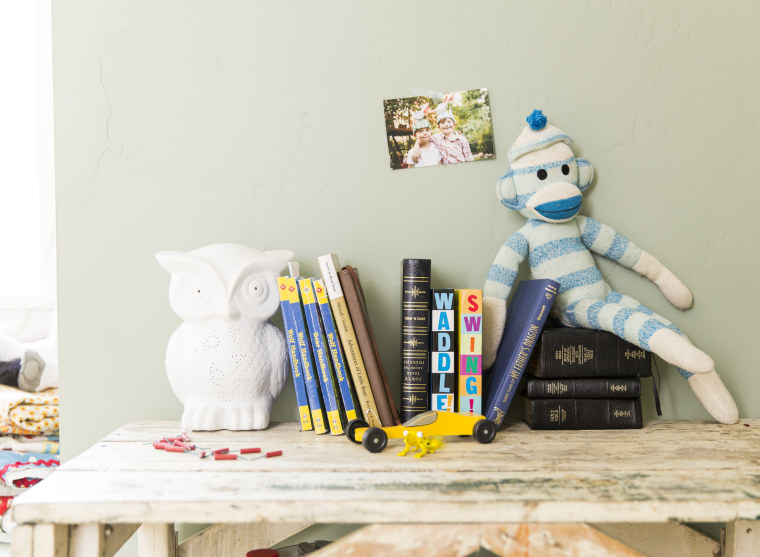 (Photos: Nicole Hill Gerulat; Styling: Veronica Olson)