The holiday season is upon us, and whether you're excited about the process of decorating or just want to make your home seem festive without too much effort, there's a Pinterest DIY project for you.
We scoured the content sharing site looking for the most genius and creative holiday decor hacks, and narrowed it down to 10 fun projects that will look impressive without a lot of work or supplies.
Below, find inspiration and how-to instructions on everything from a simple and festive place card holder for your dinner parties to a Christmas tree made out of all those empty wine bottles leftover from your merry gatherings. Without further ado, here are...
RELATED: How to pick and buy the best Christmas tree ever
10 easy holiday Pinterest projects to ring in the season
1. Coffee filter trees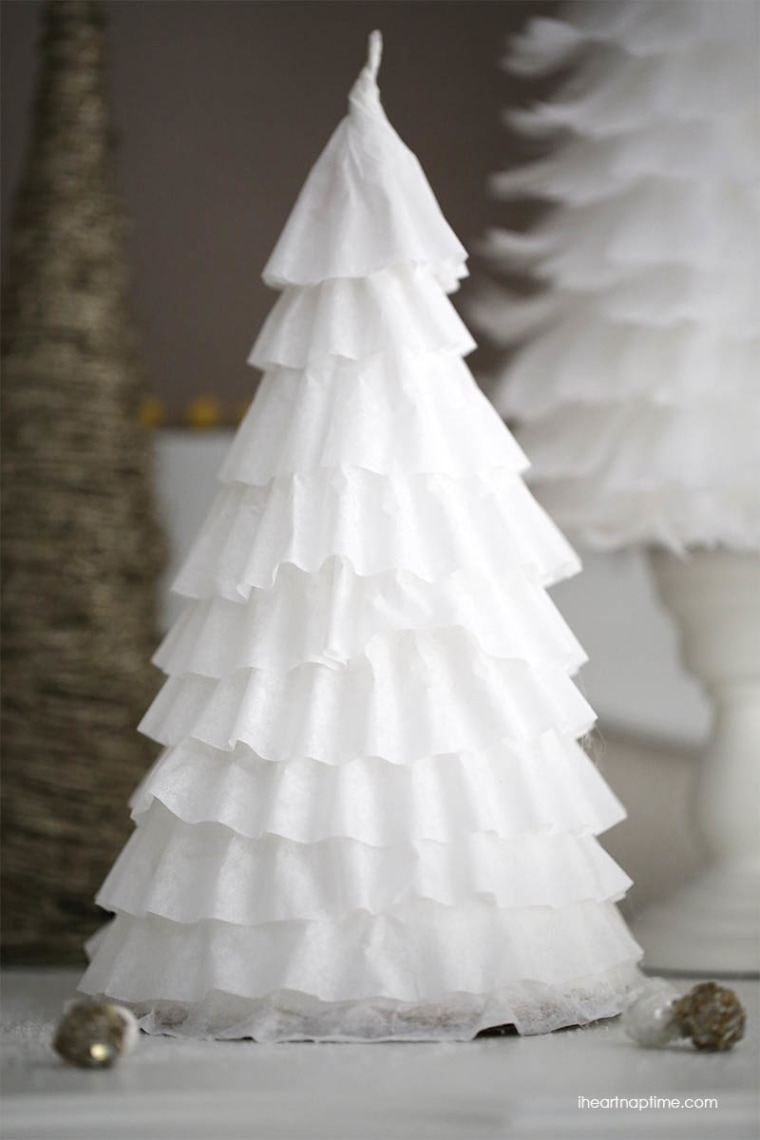 Have guests coming over and want to look like you decorated even just a little bit? There's a super quick trick to making decorative wintry trees, and the secret material is white coffee filters which you probably already have anyway. Your friends and family will be amazed when you reveal how you made it (if you want to tell them, that is…) See the tutorial at I Heart Naptime.
2. Christmas morning boxes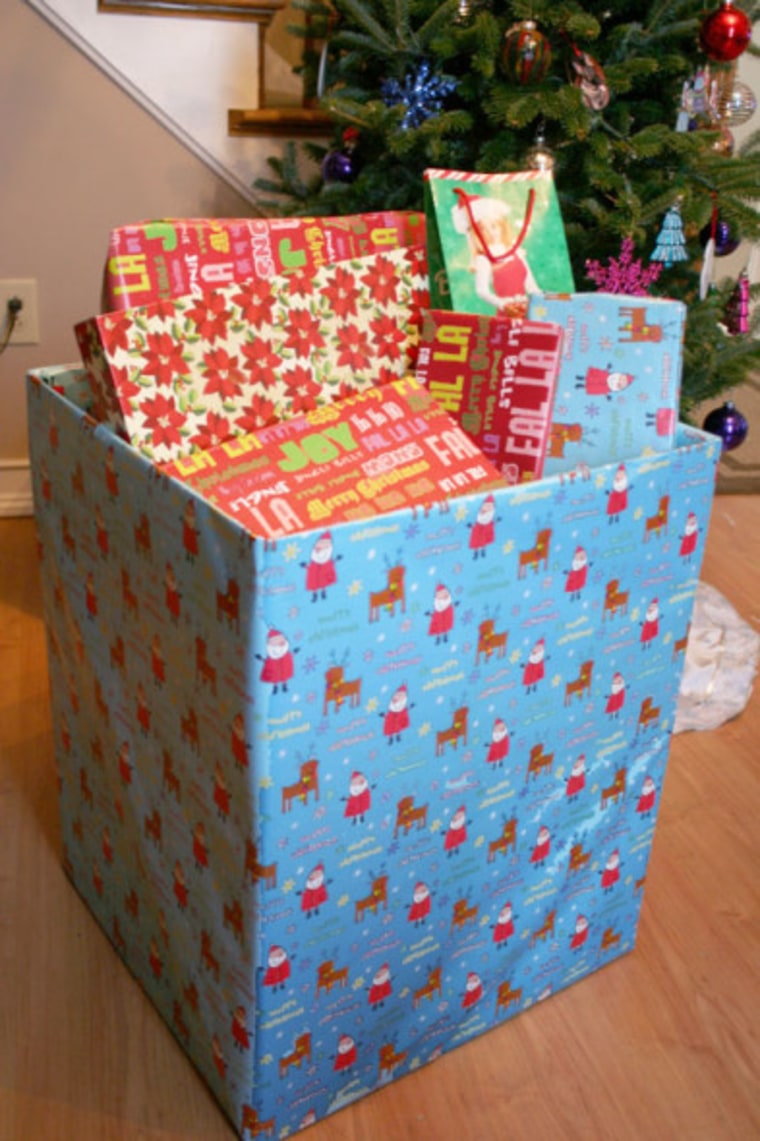 You know how on Christmas morning, wrapping paper, tissue and bows end up strewn all over the floor. Unfortunately the excitement of unwrapping gifts sometimes causes an eyesore when the trash shows up in pictures. Say no to an unsightly trash bag and keep things neat and tidy with a festive morning box like this one. See the tutorial at Chica and Jo.
3. Candy cane place card holders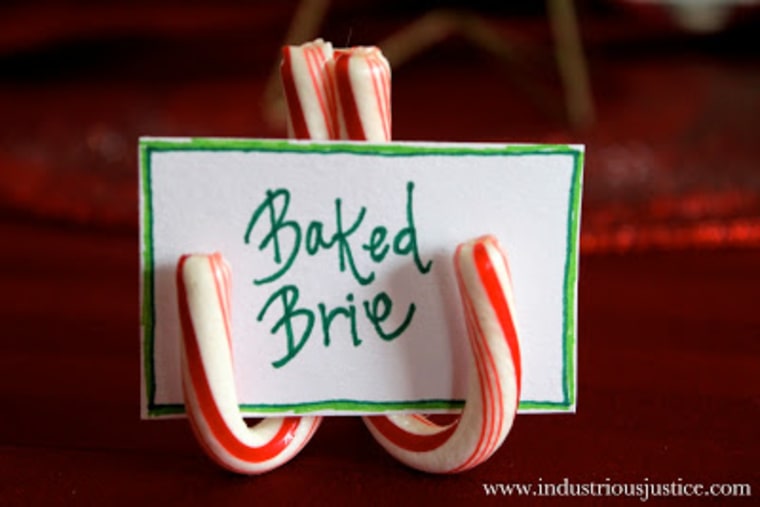 This is one of those projects which caused us to yell out, "Why didn't I think of that!?" It's so simple, yet so genius. Not only can you use these for name cards at the dinner table, but if you're doing a buffet style meal, they can be placed in front of dishes so guests can know what they're about to put on their plate. See the tutorial at Industrious Justice.
RELATED: This DIY fanatic used spare change to create amazing floor in her spare time
4. Peppermint bowls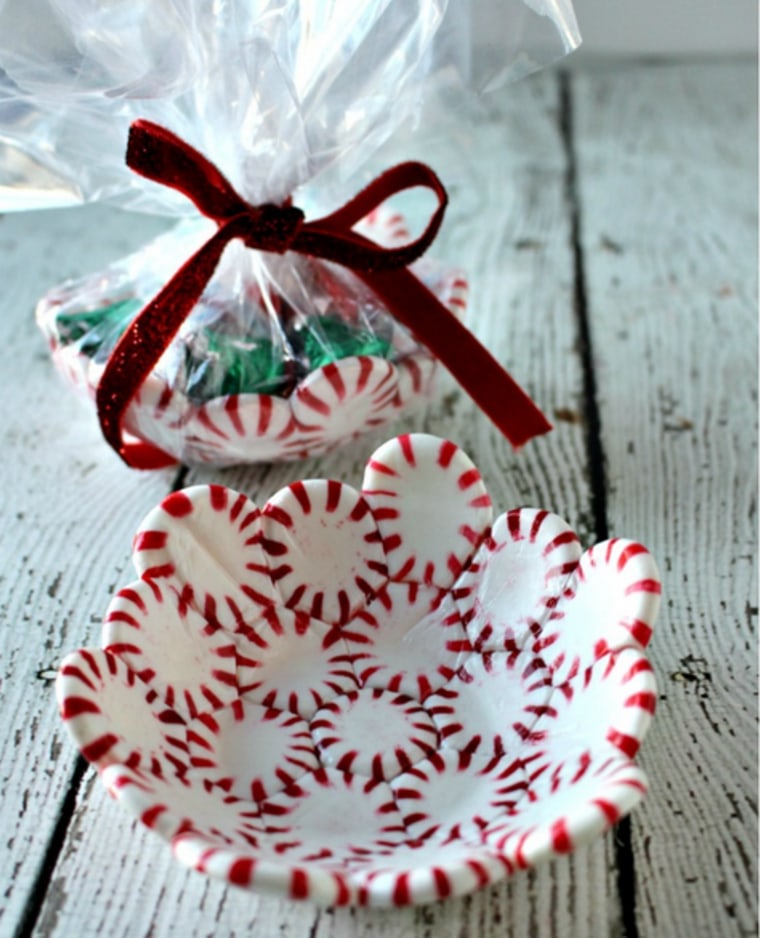 Whether you're making these as decoration for your own house or as a gift for someone else, it's such a sweet treat. The process only takes about 20 minutes and while it might be more advanced that some of the others featured here, it's worth the extra effort for its impressiveness. See the tutorial at Princess Pinky Girl.
5. Ornament chandelier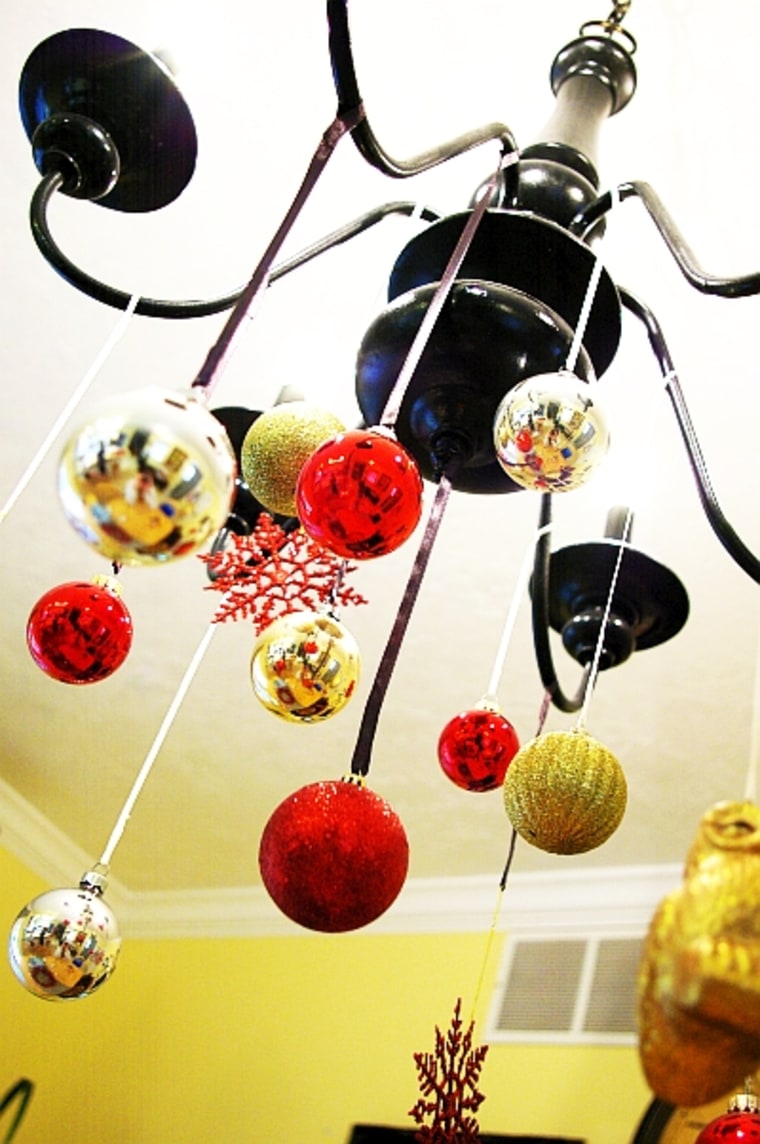 Add some pops of holiday color to your dining room with this DIY ornament chandelier project. It uses decorations from your tree, ribbon, tape and glue to create a pretty statement piece for the room. See the tutorial at Brassy Apple.
6. Muffin tin advent calendar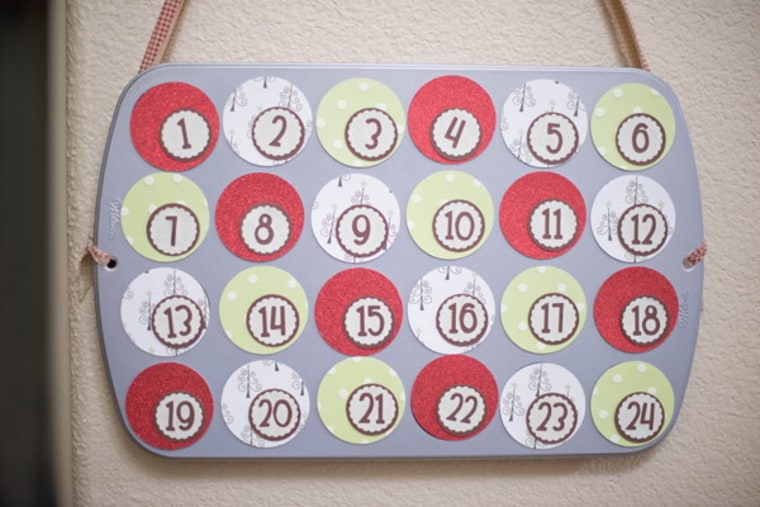 Want to count down the days until Santa comes but don't wanna pay for one of those expensive store-bought advent calendars? Make one yourself with things you already have around the house! Here's a project that uses a muffin tin. See the tutorial at The Krazy Coupon Lady.
7. Garland hack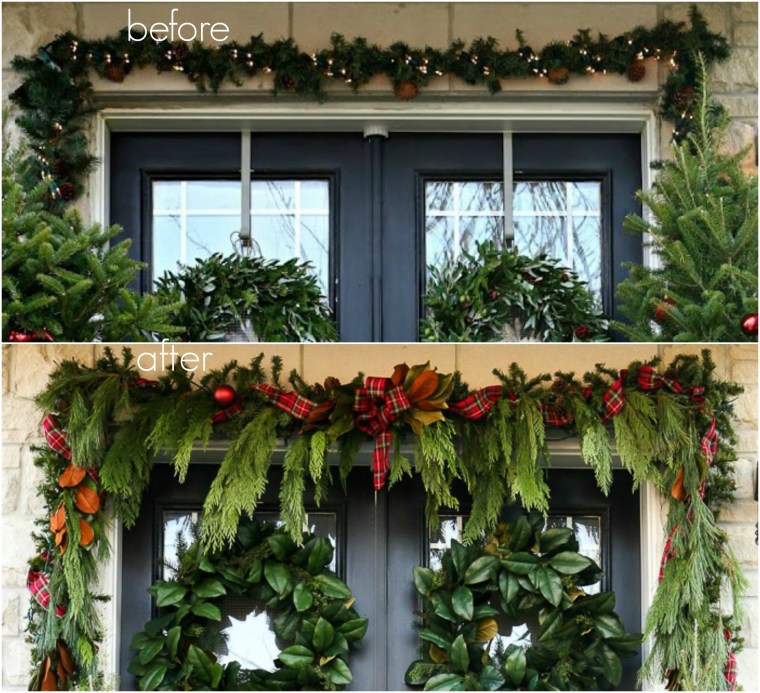 You may have heard about using green garland in your Christmas tree to make it look fuller, but here's a hack that uses real greenery to make your fake garland look real. This trick comes in handy if you're decorating your front porch or mantel — use cut pieces from your Christmas tree or see if a local tree farm has any you can gather up for free. See the tutorial at Craftberry Bush.
RELATED: Clean your kitchen while you sleep with these 3 easy hacks
8. Holiday scent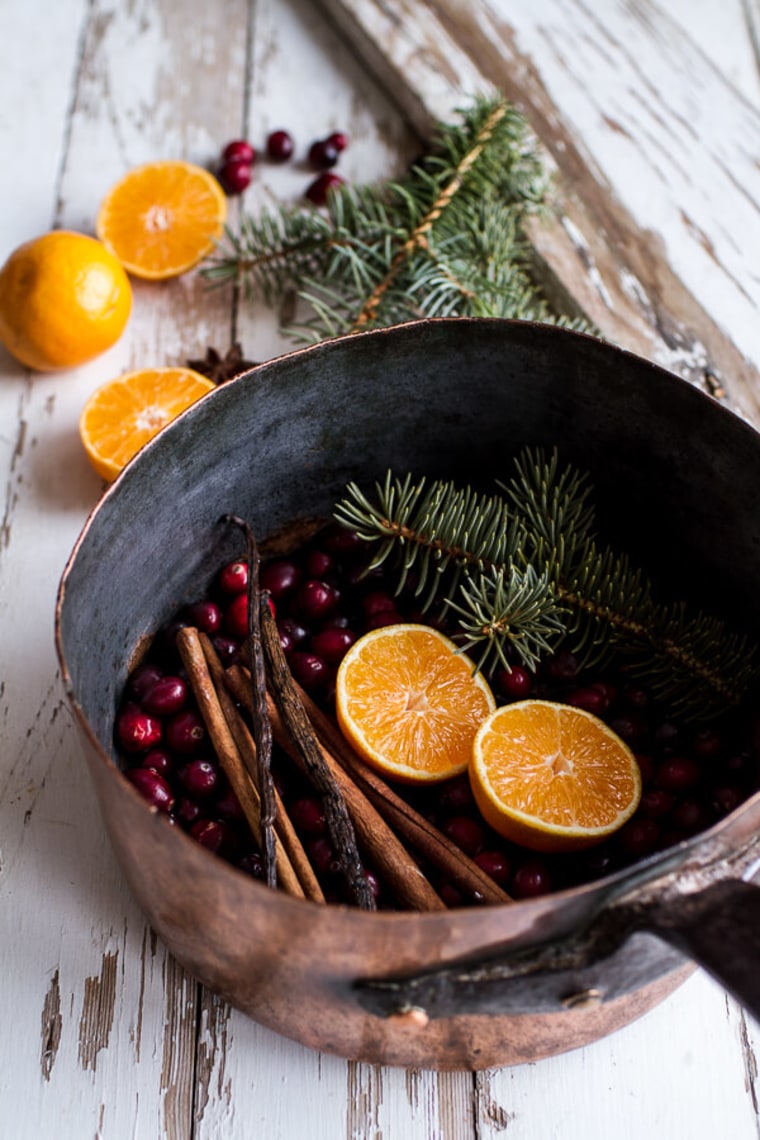 Get your home into the holiday spirit with a delicious all-natural scent of cinnamon, citrus, ginger and vanilla. Here's a recipe that's so easy to make and can simmer on the stove when you have guests over. See the tutorial at Half Baked Harvest.
9. Book tree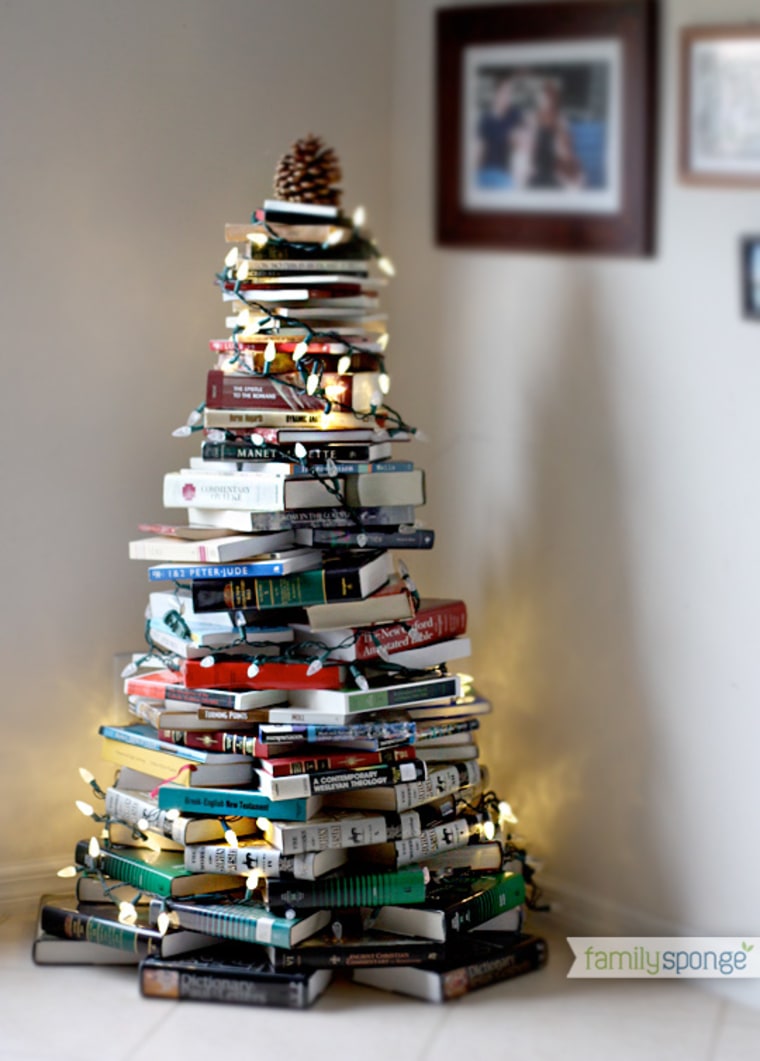 Want to have a unique tree? Bibliophiles can make one out of books. Just make sure to leave the Night Before Christmas out of the pile so you'll have easy access to it on December 24. See the tutorial at Family Sponge.
10. Bottle tree
Another unique tree idea is one made out of wine bottles. Use the empty ones from all of your holiday gatherings and parties to create a masterpiece like this one. See the tutorial at Wikihow.
Ok, we realize this isn't exactly effortless. But it's fun, festive and a clever way to upcycle wine bottles. We'll drink to that!