Our editors independently selected these items because we think you will enjoy them and might like them at these prices. If you purchase something through our links, we may earn a commission. Pricing and availability are accurate as of publish time. Learn more about Shop TODAY.
When it comes to packing your purse for a night out, most people think of taking the essentials: the cell phone, wallet, maybe a tube of lipstick.
But for me, there's one item I never leave the house without and that's my portable phone charger.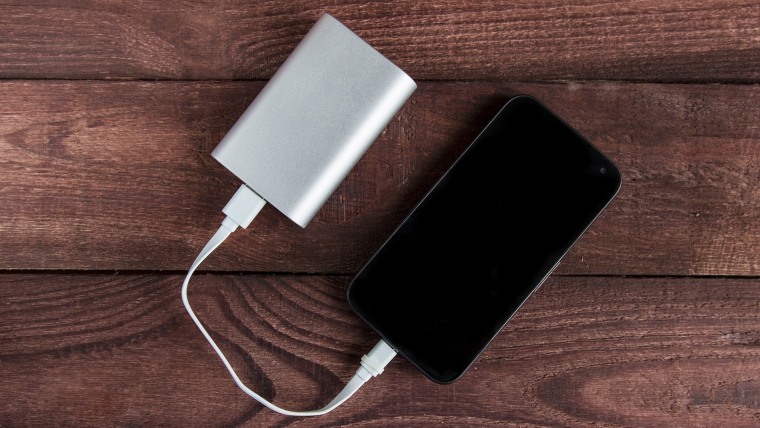 I first discovered the glory of this brilliant invention in 2012 during Hurricane Sandy. I was in college in Washington, D.C. and became paranoid by all of the reports of possible power outages for days. I'm a self-proclaimed nervous Nellie and it doesn't take much to get me to worry, but the thought of not being able to use my phone while my family was in New York instantly convinced me to take the plunge and purchase a Mophie.
Mophie Powerstation XL, $25, Amazon
39 reviews, 4 star rating
Also available at:
The storm passed, but that charger started to come everywhere with me. I had a sense of comfort in knowing that I never had to worry about my phone dying again while I was out.
To use the portable charger, you simply charge it with a cable when you're not using it. Then when you take it out, all you do is plug in your phone charging cable, press a button and your phone gets juiced.
I still have my first Mophie and it continues to work five years later, although it doesn't give as much of a charge. I also have another one from Amazon that's slightly thinner and gives your phone a little bit more battery power. When I first got it, I was able to even get two full charges out of one use.
If I've convinced you to add a portable charger to your own bag, here are some of Amazon's best sellers and top rated.
"I am a tech reviewer and can share with you firsthand my experience with the RavPower Charger 16,000mAh. This is a great product, works as advertised and the value for price paid is unsurpassed. I use this to charge my iPhone 6 plus, iPad air, Camera and many more items."
"This is my favorite pick when compared with other similar products on the market. I was a bit hesitant as it is a little bit inexpensive than other similar product brands on the market, but after using it I find that its far more effective."
"This 22,000mAh battery is a bit heavy but feels very solid and sturdy. It takes about 12hrs for it to be fully charged from 0% to 100%. That's why it's best to charge it over night. But once it's fully charged it takes a while for you to use up all it's power even at 2A output."
"I like this portable charger so much I purchased four more for my husband and our daughters. I use mine daily at home and on the go. It's an unfailing boss of a power bank. It charges itself and my phone super fast. It's compact and lightweight making it perfect for travel. It's modest looking, but it's wonderful. Unfortunately, the cable needs improvement."