Just like pool parties and fruity ice pops, camping is one of those quintessential summer experiences. However, if the idea of roughing it outdoors without the conveniences of bedding and bathrooms induces hives, there's always the option of glamping — a popular vacation trend that marries camping with the comforts of home.
RELATED: Hot, hip summer travel trends: Art, wellness, exotic locations
In Manhattan, the W New York has just revealed a stunning new outdoor glamping suite that gives guests the opportunity to spend the night under the stars and skyline in a dreamily decorated outdoor terrace. Created in partnership with online interior design brand Laurel & Wolf, the suite features a 12-foot yurt, colorful pillows and fabrics, and glowing lanterns.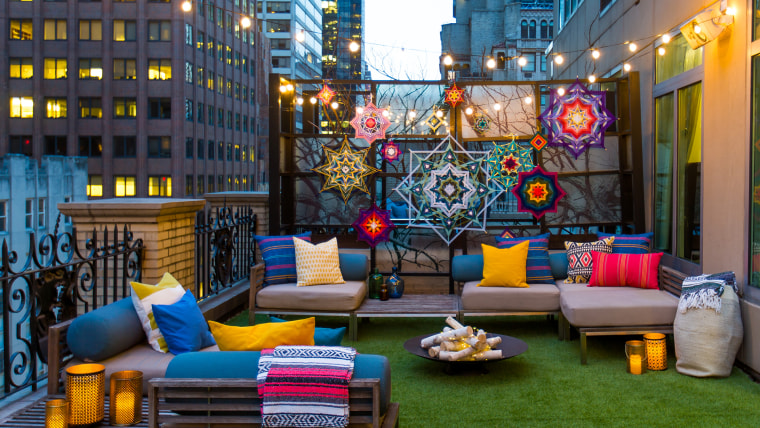 Overnight stays at the Extreme Wow Outdoor Glamping Suite start at $2,000 per night, but if you can't make it to the Big Apple for this splurge-worthy experience, we've got easy, DIY tips on how to recreate the look in your own backyard. Below, Kimberly Winthrop, the Laurel & Wolf designer who created the W suite, shares her strategy:
1. Set up the essentials
First thing's first, you've got to have a place to sleep. Winthrop recommends a tent, teepee, or yurt to create that ultimate nostalgic summer camp feeling. "If you don't have room for a large tent or yurt, creating a canopy overhead with string lights can give you a similar effect without breaking the budget or taking up space," she told TODAY Home.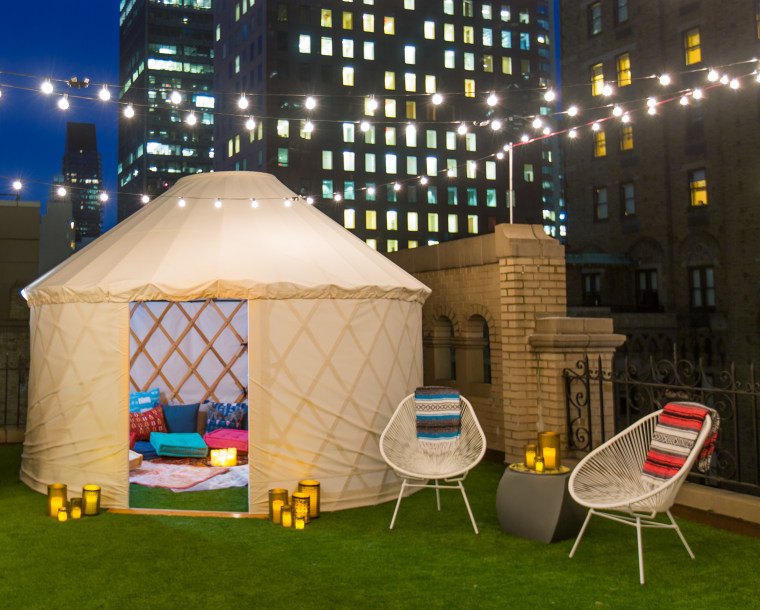 2. Create a cozy lounge area
Inspire conversation by setting up chairs and/or sofas around each other. This is a key must-have to encourage group activities and togetherness, Winthrop says. And of course, the seats don't have to actually be on the ground. "I'm absolutely obsessed with the hanging chairs in our space," she said. "They have the comfort of a hammock without taking up too much room." Give the seating area an even more comfy vibe by adding throw blankets and pillows — they're also a great way to incorporate pops of color.
3. Add light
Overhead string lights are an effortless way to add light to your glamping site. They mimic the magical twinkle of the stars above. For the W suite, Winthrop created a city-safe fire pit featuring a sleek iron pit from CB2. "Since there is no actual fire or flame, you can be creative by wrapping battery-powered string lights around decorative logs or use battery-operated votive candles," she said. Flameless votives can also be scattered throughout the site to create soft ambiance.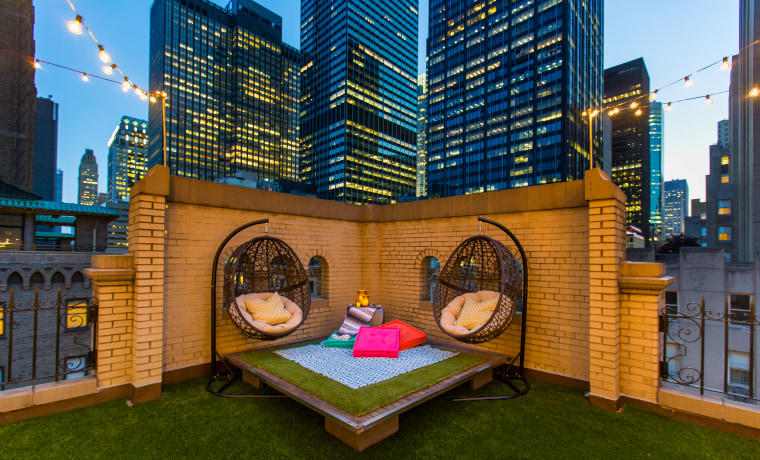 4. Go green
If your backyard or terrace doesn't have a lot of greenery, change that, Winthrop advises. No grass? Create the feeling with astroturf. Not a lot of plants or trees? Add some potted plants to the site. "This will truly make your outdoor space feel like an oasis you'll never want to leave."