Teaching is an often thankless yet very important job. If anyone deserves a gift this holiday season, we'd say teachers should be first on the list. But what do they really want? To find out, TODAY asked teachers and parents for the best gifts they've ever received or given. The results are, well, educational!
1. DO: Remember that teachers are adults, too
Believe it or not, a bottle of alcohol can be a perfect gift for your child's teacher. One parent commented that she bought a bottle of Patron tequila for her son's preschool teacher while another mentioned that, "a bottle of champagne usually does the trick." Even if the teacher doesn't drink, he or she can always bring the bottle to an upcoming party.
2. DON'T: Waste money on little trinkets or mugs
There's no need to add extra clutter to their desk. As one teacher responded to TODAY: "I get so many mugs and ornaments and little trinkets for my desk that I don't know what to do with them all. They end up getting re-gifted or donated."
3. DO: Get creative!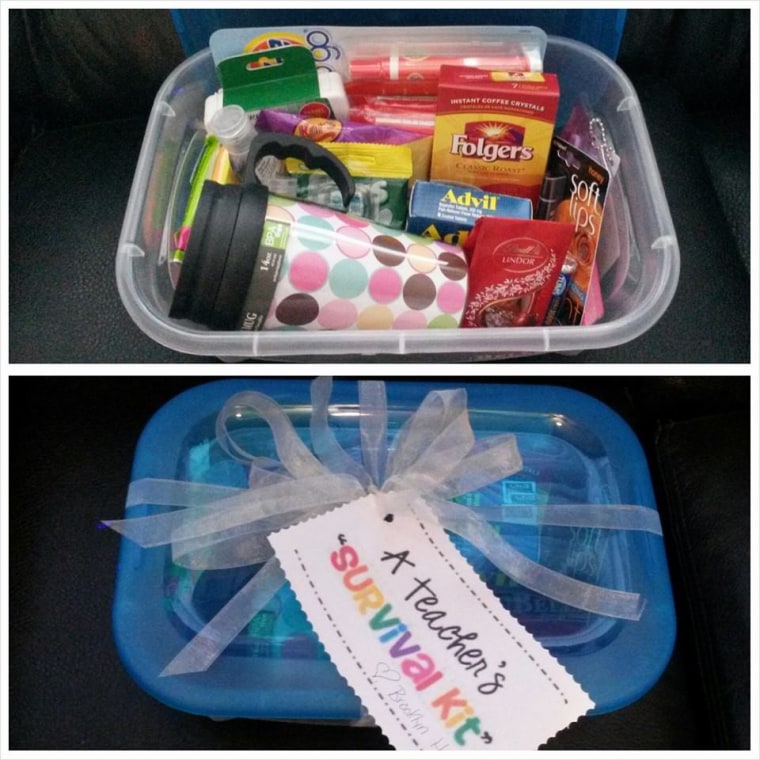 Homemade survival kits are a great way to show your appreciation for the stresses teachers combat daily. Make sure that each item is actually useful and include a few special treats. Extra credit if you choose a reusable box!
4. DON'T: Go overboard or too weird
One teacher relayed a story of receiving silk worm eggs because she once taught a history class on The Silk Road. Creative? Maybe. Practical? Absolutely not. Try to find gifts that they'll actually enjoy over the holiday season.  
5. DO: Work within your budget
When it comes to giving teacher gifts, it truly is the thought that counts. In a heartwarming story shared on TODAY's Facebook page, one teacher recounted that her favorite present was a used bottle of lotion. She was working at an inner-city school in Philadelphia, and the student was upset she couldn't afford a "real gift" and explained it was the best she could do. Little did she know her teacher would be sharing the story as the best gift she received in her entire career.
6. DO: Give a gift from the heart
Teachers really want one gift in particular: a heartfelt thank you. Homemade gifts from their students or handwritten thank you notes are the kind of presents a teacher will cherish for years to come.
After teaching for 12 years, one commenter explained: "A hug, or a heartfelt wish for the season is always terrific and doesn't cost a thing. So wonderful to be remembered in the thoughts of others."
7. DON'T: Forget the specialty teachers
Teachers who focus on subjects like music, art, gym and more often go unnoticed. Recognize their hard work and they are sure to be appreciative!
8. DO: Make it personal
Do they have a favorite football team? Are they proud alumni? People love to feel that their gifts are personal, so don't be afraid to tap their interests. One teacher proudly stated that tickets to a Giants game were her favorite gift ever.
9. DO: Pool money with other parents
If you're considering the gift card route, make it especially impressive by working together with other parents in the class. That way, the teacher can feel free to splurge on a gift they really want.