Buried-cherry cookies. Chocolate-chip caramel cake pops rolled in rainbow sprinkles. Heart-shaped raspberry jammie dodgers. Rum balls. Chocolate reindeer cookie pops with pretzel antlers. Green cornflake Christmas wreaths. Soft pumpkin spice cookies drizzled with vanilla glaze. These treats and dozens more were sprawled over my kitchen counters last weekend, but only one recipe — the cake pops — was actually made by me.
That's one benefit to throwing a holiday cookie exchange — you end up with dozens of cookies that you might never have even thought to bake. But as a 10-year veteran of cookie-party hosting, I can honestly say that's not the best thing about this holiday tradition.

I hosted my first cookie party in 2003, two years after I'd moved from Minneapolis to Seattle, and I did it because I was lonely, still mourning my bubbly cadre of friends and family who were now 1,500 miles east. I didn't know anyone who was likely to invite me to a cookie exchange, so the only solution was to create my own.
But the online tips I found intimidated me. The cookie hostesses of the Internet had inviolable, Capital-R Rules for their parties. Cookies were strictly defined — no bars, no candy, no store-bought, no chocolate chip, nothing from a mix. Guests were ordered to share their recipes in advance so there weren't two batches of snickerdoodles at one party. If you didn't bring a full seven dozen, you were limited in the number of cookies you were allowed to take home. Just reading about it made me anxious.
I knew from the start I was incapable of ordering my friends to march in step. My cookie party would exist in a universe of casualness or not at all. On that first invite, I requested everyone bring six dozen cookies, but when some people showed up with barely a dozen, I didn't care. If the cookies were store-bought, or boxed brownies, or slice-and-bake, or even if guests came empty-handed, I flung open the door. How can a party in the spirit of this most loving holiday season ever be restrictive?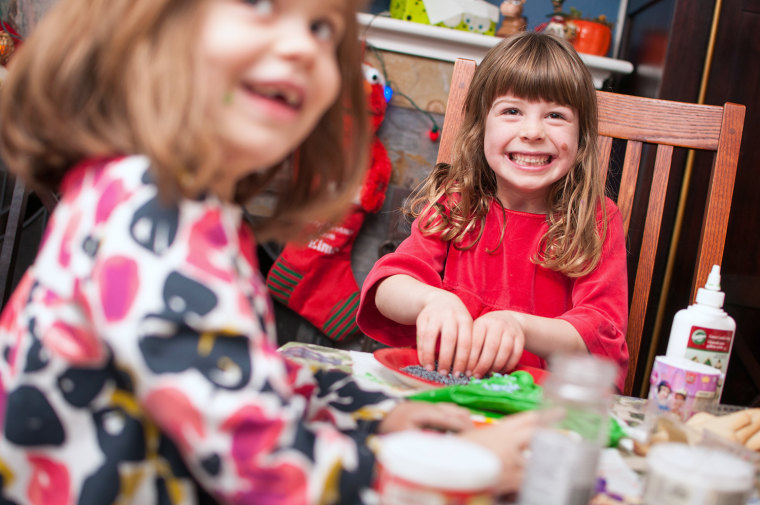 The cookie party grew, and grew, and grew. This year, close to 70 people streamed through our brick Tudor, 30 of them kids. Cookie varieties jammed the counters, the tables, even the ottoman. Icing swirls and chocolate sprinkles are probably still decorating my floor. Frosting-smeared kindergartners raced between the decorating table and the playroom, former co-workers reunited, and one guest had to duck out early when his wife called to say she was in labor. The day before the party, knee-deep in cleaning and baking, I swore never to do it again, but when sun set on the party, I was declaring it the best ever and already thinking ahead to next year.
My 10 years of cookie-party throwing have left me with my own set of tips that I'm happy to pass along.

Advance warning
Send your invites early  — a month before the party if you can. December weekends fill up fast on everyone's calendar, and you want to squeeze in there before people buy "Nutcracker" tickets, plan Santa Train trips, or pass up your cookie swap for an ugly Christmas sweater party.
Not everyone's a Martha
Some hosts are super-strict in their cookie-bringing instructions, but I just set a number (six dozen, which not everyone adheres to) and let folks know that if they end up buying their cookies, no one will care. The wannabe Martha Stewarts in the crowd will come through with amazing, dazzling offerings, while those who are all thumbs in the kitchen won't feel they need to stay away.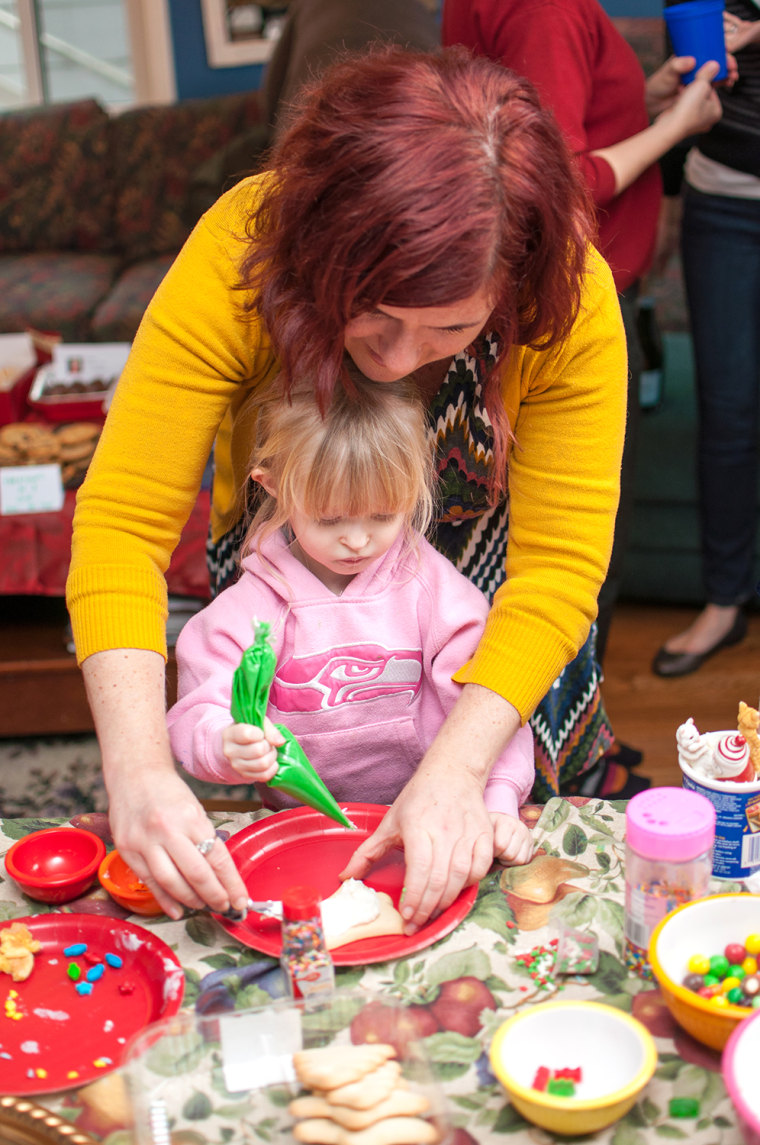 Boxing day
Advise guests to bring extra containers, more than just the ones they brought their own cookies in. This is because some of the cookies they'll be bringing home are just too delicate or too full of frosting to stack in one box. This year, for the first time, I actually went to a restaurant-supply store and bought a giant bag of compostable takeout containers and had them available for partygoers to use. Now I never have to worry about getting my own Tupperware back.
The party itself
Pile a plate full of blank sticky labels and pens and set it somewhere near the door. As guests enter, ask them to write their name and the name of their cookie on a label and attach it to their platter. The cookie choices then fill the room, and as people start to leave, they go from plate to plate scooping up a few of each variety. (Some folks take more than others, but it all evens out in the end.)
Decoration station
I throw a tablecloth over our dining-room table and fill it with bowls of frosting, sprinkles, mini-chocolate chips, marshmallows, nonpareils, candy pearls, M&Ms, tiny mints, gummy bears, flaked coconut, icing pens and much more. (Stock up on half-price sprinkles right after Christmas, they're just sugar and will last for three years, even if opened.) Kids and kids-at-heart go to town spreading, smearing and sprinkling toppings on the blank sugar cookies provided. I used to spend the night before the party rolling, cutting out, and baking endless holiday shapes for guests to decorate, but discovered after a year or two that many grocery stores sell unfrosted blank cookies. To me, it's worth the expense to buy a few boxes of those and get that time back.
Recipe run-through
There've been several years when I've had big dreams of making a fabulously impressive cookie that I've only seen in pictures, and it flopped miserably, Pinterest Fail-quality, at midnight the night before the party. The obvious tip here is use a recipe you've tried before, but cookie party is often my only excuse for trying those recipes I look longingly at all year. So I say, try it, give that divine-looking chocolate-dipped cut-out extravaganza a whirl. But have ingredients on hand for a simple but delicious fallback recipe in case you realize you've out-Martha-ed yourself at 1 a.m. 
Serve savory treats
It seems hard to believe, but you will get sick of sweet delights. Make sure to serve some savory and healthy treats — sandwiches, soup, meatballs, veggies and fruit — to balance out the inevitable sugar crash.
You can turn your cookie party into the highlight of your friends' holiday social calendar with a little bit of dedication and planning.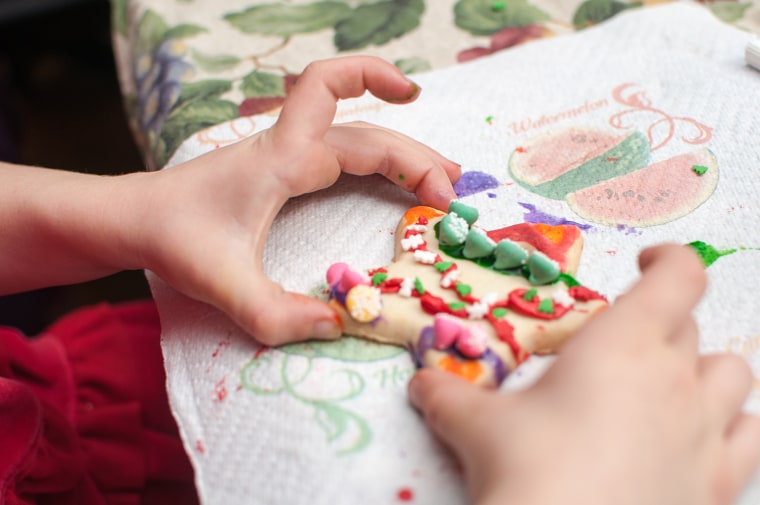 RECIPES

Chocolate Crinkle Cookies
These easy, delicious cookies are almost like little brownies. They're not elaborate, but make for a great fallback if a fancier cookie fails you at the last minute.

3 eggs
4 oz unsweetened chocolate, melted (TIP: 1 oz of unsweetened choc = 3 T cocoa plus 1 T oil)
2 t baking powder
2 c flour
1 ½ c sugar
½ c oil
2 t vanilla
Sifted powdered sugar

Beat eggs, granulated sugar, chocolate, oil, baking powder and vanilla with mixer until combined. Beat in as much flour as you can with mixer. Stir in remaining flour. Cover and chill 1-2 hours or more. Shape dough into 1-inch balls. Roll balls in powdered sugar. Place one inch apart on ungreased cookie sheet. Bake at 375 for 8-10 minutes or until edges are set and tops crackled.
Reindeer Oreo Cookie Pops
Every cookie party needs something that is almost too cute to eat. From OhNuts.com. Makes 24.
24 Oreos
Small twist pretzels
White chocolate chips
Red Sixlets candies, M&Ms, Red Hots or other small red candies
1 lb chocolate candy melts
24 lollipop sticks

Cut pretzels in half, then cut away center section where they were joined, to make antlers.
Melt chocolate, and dip tip of a lollipop stick in the chocolate. Insert chocolate tip into the creamy center of cookie. Refrigerate 5-10 minutes.

Reheat chocolate if needed, and dip cookies. While coating is wet, add a red candy for a nose and two white-chocolate chips for eyes. Add two pretzel antlers, pressing them between the cookies and into the space where the cream filling is. Repeat to decorate all reindeer. Dip a toothpick in the melted chocolate and dot tiny pupils on the white chips.
Jammie Dodgers (raspberry jam sandwich cookies)
These beauties were the hit of this year's cookie exchange, and they vanished quickly. They're favorites of British TV icon The Doctor on "Doctor Who." You'll need a tiny heart (or any shape) cookie cutter in addition to a larger round cutter. Via The Baker Upstairs. 
2 cups + 2 tablespoons flour
1 cup powdered sugar
pinch salt
1 cup plus 2 Tcold cubed butter
3 t vanilla 
1 large egg plus one egg yolk
12 t raspberry jam

Preheat oven to 350. In a large bowl, mix together the flour, sugar, and salt. Cut in the butter until the mixture resembles coarse crumbs. Whisk together the egg, egg yolk, and vanilla, then add to the dry mixture and mix until a soft dough forms. Wrap in plastic wrap and chill in the fridge for 15-30 minutes. Roll the dough out on a lightly floured countertop, and cut into circles (I used a fluted biscuit cutter that was 2 inches in diameter). Using a small cookie cutter (or an apple corer) cut a small shape out of the center of half of the cookies. Bake 12-15 minutes, or until very lightly browned on the bottom. Let cool slightly, then spoon about 1 teaspoon of jam onto the bottom halves of the cookies. Top with the other half, and put back into the oven for 5 minutes to set the jam. Let cool 15-20 minutes before removing from the pan.