According to his mom, Lee Karchawer is "the Jewish Santa." His passion is paying off the layaway plans of strangers during the holiday times. He's a layaway angel, and this year, he's going national.
Layaway, which lets people pay off their merchandise slowly over a few weeks before taking it, is a way for those on a budget to save up for bigger items or bundles. At big retailers the plans are usually free to start but require a modest down payment, such as $10 or 10 percent. If the plans have to be canceled, the items go back on the shelf and customers get their money back, minus a small fee, usually $10.
But sometimes those final payments can be a stretch for scrimpers and savers. 
Enter the "layaway angels." Motivated by the spirit of the season, they go to stores during the holidays and pay off the layaway plans of others. 
This Wednesday, an anonymous woman paid off all the layaway plans at one Toys 'R Us in Bellingham, Massachusetts. That's over 150 plans and $20,000 worth of presents, said spokesman Bjorn Trowery.
The trend seems seems to have picked up steam in 2011 when the story of one woman who began anonymously paying off plans hit the national press and went viral. Her story inspired others.
At Kmart, strangers have paid more than $1.5 million in other's layaway contracts since 2011, when the store first began keeping track. Wal-Mart says it sees thousands of layaway angel episodes each year. Toys 'R Us saw 600 of these in 2013, some for plans as small as $100, others into the thousands.
"It's the holiday season and people are looking for fun ways to spread holiday cheer," said Trowery. "People are in this holiday mindset of paying it forward."
Unlike donating to charity, the results and rewards are immediate and visceral.
One of those angels is Karchawer. The 31-year-old mild-mannered marketing professional is the founder of Pay Away The Layaway, a 501(c)(3) non-profit that crowdsources tax-deductible donations online to fund layaway payoff sprees at stores across the country.
Early on a Wednesday morning in a lower-income neighborhood in the Bronx, several customers lined up at a layaway counter at Kmart. In a storeroom behind the counter sat Disney "Elsa" dolls and other "Frozen" items, Roboraptors, and other toys and kid's clothing, all set aside for customers, awaiting their final payment. Only then could they be released to be placed in wrapping paper and hidden in closets until they are eventually placed under Christmas trees.
Karchawer and several members of his team, all wearing hats and matching custom-designed "Layaway Angel" t-shirts, walked up to the customers at the counter and introduced themselves.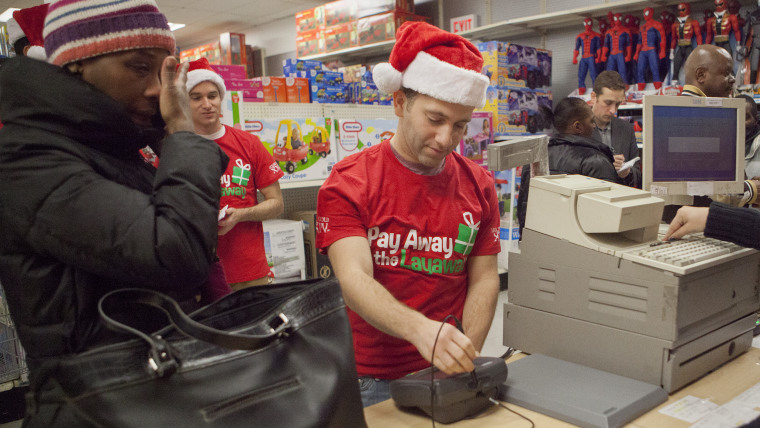 "We're here to surprise you today by paying off the remaining balances on your layaway," said Karchawer.
He then began swiping a credit card, funded by online donations, paying off nearly $3,000 in layaway plans.
A chorus of "Wow's" and "Thank you's" went up from the customers, followed by a round of applause.
Then came the outpouring of gratitude, and tears from angels, customers, and Kmart associates alike.
"It couldn't come at a better time. I just had a fire and lost everything," said teacher Stacey Heyward, wiping away tears from her eyes. She and Karchawer hugged. The layaway angels took care of the remaining $200 balance on her layaway plan, which included Play-Doh, dolls for her daughter, and tools for her son who had recently graduated from technical college.
"I feel like someone just gave me a million dollars," said Nancy Gomez, a Mary-Kay saleswoman. The day before she was making calls to try to borrow money to pay off the rest of her layaway plan. To save money this year, her family had agreed to only give the kids presents.
"I can't explain how I feel right now," said Matrice Everett, a homeless shelter worker who says she lives paycheck to paycheck and turned to layaway after her credit rating fell. "This is really Merry Christmas."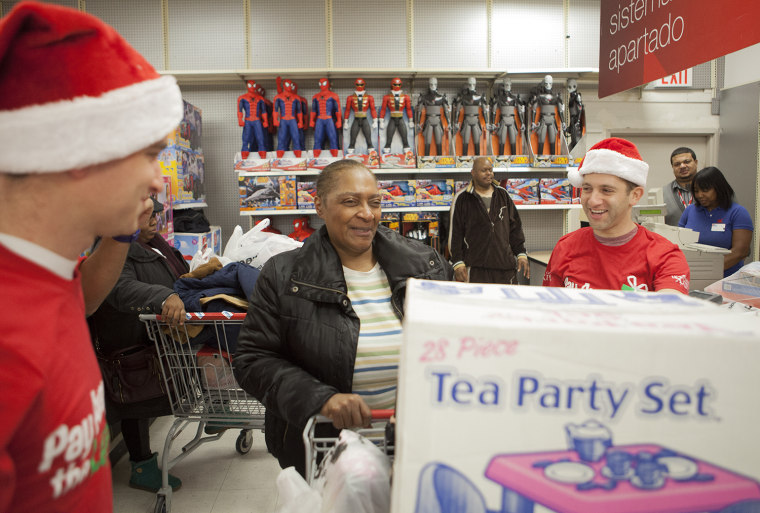 Hearing stories like those, said Karchawer afterward, "that's the kind of thing that rips you up." Growing up middle-class in upstate New York as the son of two teachers he said he usually "got everything he wanted" for Hanukkah. So as an adult, he wanted to give back, but didn't know exactly how or where.
Then, after he won an online photo contest by drumming up votes on social media, he got the idea to channel that power to make "mitzvahs" happen. Pay Away The Layaway was born. 

The first year they raised $2,000 from 75 people. This year, lifted by a successful campaign on crowdfunding site indiegogo, they're on track to raise over $20,000.
To make sure they're not just helping some guy get his big-screen TV, the group works with the store to identify and pay off plans that mainly have just toys.
Besides the Bronx, this year his group will hit up stores in the Bay Area, Chicago, Washington D.C., Seattle, Tennessee, and elsewhere.
"I wish we could do more," he said, his eyes growing red and wet under the store's fluorescent lights.
Email ben.popken@nbcuni.com or tweet @bpopken.