Karen Chen has always been close to her mom, who was the backbone of the military family as it frequently moved. But in the last year, that closeness has been altered as Chen's 80-year-old mother slipped into dementia.
"I felt like I didn't need therapy because I could call her," says Chen of her past relationship with her mother. "We would talk forever about anything and everything that bothered me." 
Chen's mother, Kay, was diagnosed with Lewy body dementia, the second most common progressive dementia after Alzheimer's disease. Now her mother has trouble finding words, gets easily lost, and has delusions.
For Chen, who lives in the same Indianapolis neighborhood as her parents, it's strange to see her mother "become this other person."
"I still try to talk to her, but it feels like talking to yourself almost," says Chen. "I've leaned on her so much, so it's her time to lean on me. But it's really hard."
Losing the emotional connection may be one of the most difficult adjustments for an adult child of a parent with dementia, experts say. But there are ways to stay emotionally connected:
1. Mourn the loss of the parent you knew
"If the caregiver can acknowledge that change, accept it and mourn it, then that's when they are open to having other experiences where they can still have an emotional connection," says Beth Kallmyer, vice president of constituent services for the national Alzheimer's Association, based in Chicago.
Don't mourn alone. The Alzheimer's Association runs online message boards , 24/7 help lines (800-272-3900), and local chapters with support groups and counselors.
"We definitely need to get involved with support groups. I see the need for that now," says Chen, whose sister spends every day with her parents and whose brother lives only an hour away.    
Vadim Hsu, whose mother Dolores, 84, has Alzheimer's, talks frequently with a counselor at his local Alzheimer's chapter in Santa Barbara, California. "If I call her when I'm panicking or dealing with something out of my comfort zone, she always has the time to see me the same day and to talk to me sometimes for several hours," says Hsu.
2. Follow their lead
A parent may no longer be able to offer advice or connect intellectually, but sharing small experiences can help to stay connected. Kallmyer suggests asking the parent what they want to do. It could be anything from cooking together to playing golf. "They may not be able to golf 18 holes anymore, but they can do five holes. You're adjusting and helping so that you can do these things together," she says.
Hsu says his mom, despite her dementia, still enjoys debating current events. "She is extremely opinionated, and we can get a vigorous debate going, and that is one of the things I've always enjoyed most," says Hsu. Even though the conversation will repeat itself continually through the hour, Hsu says he tries to be patient. "I keep in mind that it's a brand new conversation for her."
3. Try new things
Sometimes the activities that used to make a parent happy no longer work.  
"Then you have to put aside expectations and try new things," says Catherine Atkins, a neuropsychologist at NYU Langone Medical Center in New York City, who leads a support group for family and friends of those with dementia. It can be something as simple as holding hands, she says.
"One of the women that was in the support group had a very difficult relationship with her mother," says Atkins. "However through the dementia, they became so loving and so close, and this healing was going on just by looking into each other's eyes, gentle massages, putting lotion on the mom, and creating a bond that hadn't existed before."
4. Trigger the senses
Using the senses can be soothing emotionally, for both parent and child, says Atkins. For some, that may mean singing together or listening to music. "One person would give manicures and pedicures to her parent. Another would bring in materials of different textures and have their parent touch and feel them," she says. If one approach doesn't work that moment, it may work in five minutes or tomorrow, says Atkins. "It's almost like having a child and figuring out what is going to soothe this child so that you can have this connection."
5. Bond through animals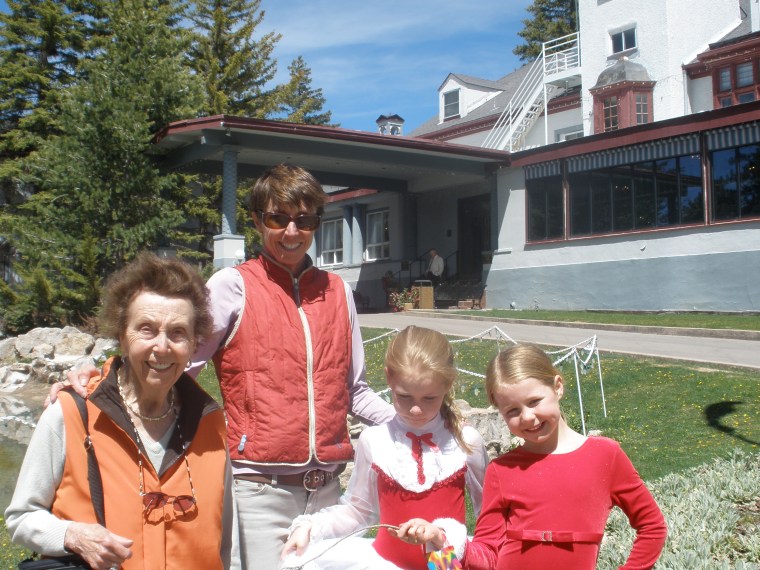 Sarah Crewe's mom Doreen, 87, has Alzheimer's and lives nearby in a Chicago facility for people with memory impairment. Five years ago, her mom lived with her for a year. "There were a lot of tears. I was missing the person who she used to be," says Crewe. Now Crewe has come to accept her "new mom" and brings her dog Fiona to every visit.
"She doesn't recognize me, but I think she recognizes the dog," says Crew with a laugh. "It kind of gives us a point of discussion, a way to connect. So the dog really helps."
6. Don't ignore depression
"The one time you might want to step in and do things a little differently is if that sense of disconnect crosses into depression," says Kallmyer. As many as 40 percent of people with Alzheimer's disease may suffer from significant depression, especially in the early and middle stages, according to the Alzheimer's Association. "And depression is treatable, There is medication that can help them," Kallmyer says.
But diagnosing depression in someone with dementia is complicated. Symptoms such as apathy, social withdrawal, loss of interest in activities, impaired thinking are common to both conditions.
"In addition, the cognitive impairment experienced by people with Alzheimer's often makes it difficult for them to articulate their sadness, hopelessness, guilt and other feelings associated with depression," according to the association.  
If depression is suspected, a geriatric psychiatrist who specializes in recognizing and treating depression in older adults should probably be consulted.