Sofia Vergara's ex-fiancé, Nick Loeb, is suing to stop the destruction of two frozen embryos the couple created while engaged, according to paperwork recently revealed by In Touch. Whether Loeb will get to keep the frozen human embryos is unclear, but the dispute highlights one of the most controversial areas of reproductive technology.
Vergara, who is currently engaged to actor Joe Manganiello, ended her relationship with Loeb last year. She has a 22-year-old son, Manolo, from a previous marriage.
Loeb originally filed the lawsuit in California in August of 2014. According to court documents, the couple froze the embryos in November of 2013 and had twice previously tried unsuccessfully to use a surrogate.
Couples often turn to embryo-freezing, or cryopreservation, when they are having fertility issues because in vitro fertilization (IVF) can offer greater pregnancy success rates in couples struggling with infertility. Excess embryos, created by fertilizing an egg with a sperm in a petri dish, can be cryopreserved almost indefinitely before being implanted back into a woman's body when she desires a future pregnancy.
Advancements in assistive reproductive technology have done wonders for giving both men and women more flexibility when it comes to procreation—couples who never would have been able to conceive 30 years ago can now have healthy, biological children.
An estimated 165,172 assisted reproductive procedures — a portion of which will freeze embryos — were performed in 2012, according to the Society for Assisted Reproductive Technology.
But with the advances come a potential legal nightmare, especially with embryo cryopreservation.
"It's one of the most hotly contested areas in reproductive technology," says Melissa Brisman, lawyer and owner of Reproductive Possibilities. Brisman, who specializes in fertility law, says she gets roughly 20-30 calls per year about disputes over frozen embryos.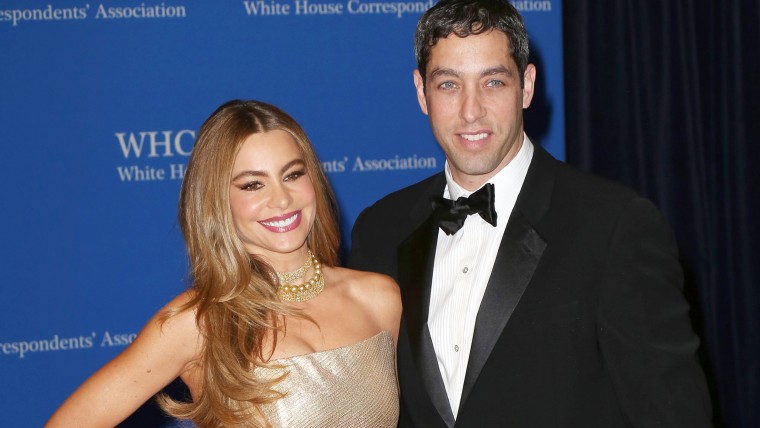 In the case of Vergara and Loeb, the question is: Does he have the right to preserve the embryos against Vergara's wishes?
Almost certainly, "yes," says leading bioethicist and NBC contributor Art Caplan. As long as Loeb continues to pay for storage, he could theoretically store the embryos indefinitely.
"What's the harm to her in keeping them?" Caplan asks.
The cost of storing the embryos can range anywhere from $300-$1,000 per year.
But while Loeb can keep them in storage, he won't be able to use them.
"No court will let him have her child without her consent," says Caplan.
One high-profile case in Illinois involved a couple, Karla Dunston and Jacob Szafranski, who had frozen embryos when Dunston was diagnosed with lymphoma and would likely be infertile following treatment. The couple broke up soon after freezing the embryos.
When Dunston tried to use them on her own, Szafranski sued. Dunston was ultimately awarded legal custody of the embryos late last year. Szafranski has since appealed.
But the case of Dunston vs. Szafranski was unusual because these embryos were Dunston's only chance at a biological. According to Brisman, "Ninety-five percent of cases across the nation, when they're in the absence of a contract, have ruled in favor of the person who wishes not to procreate." It's all about balancing interests.
For these reasons, most experts agree it's important to seriously consider all future outcomes before making the commitment to freeze embryos. And that means a legal document.
"They get so caught up in the emotions, but it doesn't take long to get your legal ducks in a row," says Brisman, who writes up roughly a dozen contingency plans a year for couples planning to freeze embryos.
Dr. Jeffrey Goldberg, head of the fertility program at the Cleveland Clinic says this typically is built into the initial doctor's visit. "It's standard practice to have people sign an advanced directive, to determine what will happen to the embryos in case of divorce or death."
Yet despite these agreements and contracts, lawsuits still happen and even legally binding contracts can be overruled. Circumstances change and people change their minds. Which is likely what happened in the case of Vergara and Loeb.
"It's not the first time it happened, it won't be the last, unless we get some type of regulation in place," says Caplan.