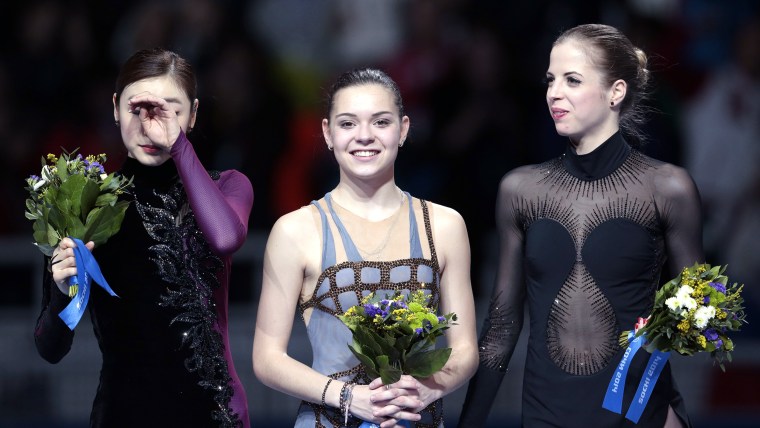 There they are on the medal stand, the culmination of years of hard work, a lifetime of dreams. And yet those weren't tears of joy on the faces of silver medal ice skater Yuna Kim or the second-place U.S. women's hockey team.

Of course every Olympic athlete wants to win gold. But if they can't, then surely they'd be happiest if they could win silver, right?
Well, wrong.
Silver medalists often feel cheated — instead of feeling as if they've won, they feel as if they lost gold. Blame it on something called counterfactual thinking — a person's tendency to think about what could have happened, instead of what actually happened. 
Researchers have looked specifically at the happiness of Olympians right after they won either a silver or bronze medal and also on the medal stand. While before an event an athlete might think I would rather win second place than third place, this is not what they felt afterwards.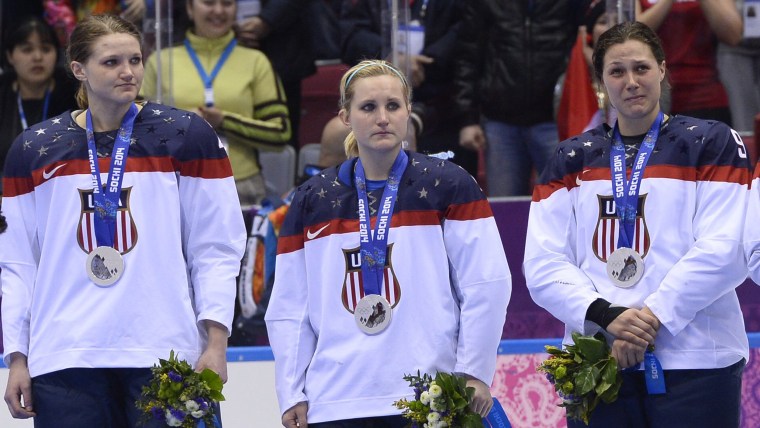 Silver medalists were more drawn to the thought: "So close, I could have won the gold." Bronze medalists, on the other hand, were much more drawn to the thought, "So close, I could have not medaled at all" and that thought made them feel happy they did win a medal.
Of course it's true that little girls don't lie awake at night dreaming of silver medals, but shouldn't someone who takes home silver still feel a tremendous sense of accomplishment for being second place — in the whole world?
"It really bothers me when we [ask silver medal winners] if it is a disappointment," Matt Lauer said to Lindsey Vonn Friday while discussing the U.S. women's hockey loss. 
"A silver medal is something to be very, very proud of it," Vonn agreed, "and I'm proud of our team." 
But counterfactual thoughts are difficult to control, and trying not to think them doesn't work. They can be a source of happiness or guilt and sorrow even though the reality may not call for such emotions at all.
Victoria Medvec, one of the researchers who explored counterfactual thinking in the Olympics, says that as time passes silver medalists may react more graciously, but the disappointment of losing gold never goes away. She and her colleagues interviewed a silver medalist who was still thinking about the what ifs of his Olympic experience decades later.
"He is 91 years old; he still remembers vividly his thoughts [about losing gold]," says Medvec, the Adeline Barry Davee Professor of Management & Organizations at Northwestern University. "For a silver medalist it is very easy for them to think 'if only I had gone faster ... I would be the gold medalist.' "
Kim, the South Korean figure skater, cried when Russia's Adelina Sotnikova beat her for the gold. Kim was the defending gold medalist and was considered a strong contender for a repeat.
"If I was favored for a gold medal and I should have gotten it, I [would be disappointed]," says Aimee Kimball, a mental training consultant for athletes. "For some athletes it is their countries' expectations, their parents' expectations."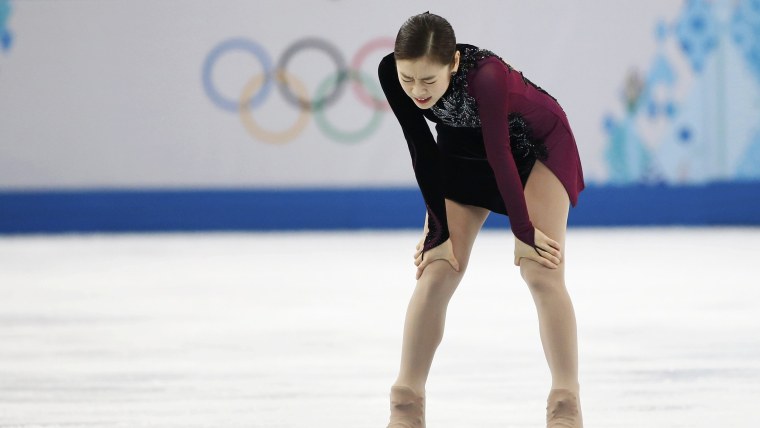 No one can forget gymnast McKayla Maroney's pout after winning silver in the vaults in the 2012 London Olympics. The look inspired an Internet meme and a Tumblr, "McKayla is not impressed." She wasn't the only London athlete who was bummed by silver. Ryan Lotche was clearly disappointed when his team won silver in the men's 4x100 meter freestyle relay. In later interviews he said he was happy to medal, but he anticipated bringing home more gold. And Russia's Victoria Komova sobbed after winning silver in the artistic gymnastics women's individual all-around.    
If silver feels like losing for many athletes, bronze medals can often cause joy, thanks to narrowly missing fourth place.
Of course, not everyone shares the rosy view of bronze. Mogul skier Hannah Kearney was tearful and bitter about her bronze medal in Sochi. Kearney tweeted: "Bronze feels a lot like a broken heart."
In her post-run interview she cried and said: "Bronze medalist doesn't sound so good to me."
Kimball suspects that Kearney feels so bereft about her bronze because she was expected to ski at a gold medal level. A similar problem held true for Swedish wrestler Ara Abrahamian, who threw his bronze medal on the ground and declared he was quitting the sport in 2008, saying, "I wanted to take gold, so I consider this Olympics a failure."
But even a gold medalist like Bode Miller can be happy about bronze. After placing eighth in downhill and sixth in super-combined, he felt relieved to get a medal – any medal – in Super-G.
"To be on the podium, it's a really big day for me," Miller told ESPN. "Emotionally, I had a lot riding on it. I'm super, super happy."
So even if you are not an Olympian, next time you or your team comes in second in something, don't be surprised if you feel overly down about missing first place. Try allowing that thought to drift on by and allow yourself the pleasure of any win at all.
Dr. Gail Saltz is a New York City psychiatrist and regular TODAY contributor.