When it comes to Ernest Brown's medical practice, the doctor is definitely not in. Ever.
That's a good thing for his patients, however, because it usually means he's out visiting them.
Brown, 49, is a family practitioner who only makes house calls. That means he travels to patients — at their homes, work sites, or hotel rooms if they're visiting from out of town.
Brown doesn't even have an office, aside from the donated vehicle he uses to drive around the Washington, D.C., metropolitan area. Sometimes, he doesn't even work out of his car, instead riding his bright green bicycle to reach patients.
He's not hard to miss in his royal blue scrubs, matching baseball cap, and thick gray beard. And he'll explain at length why he has chosen to deliver his service in such an unfamiliar fashion.
"What we're doing is a movement. The intention is to show others that there is a different way," Brown told TODAY. "The reason I became a physician is because I like to help. In the context of the health care system that we have now, it's impossible to care for people."
After earning his undergraduate degree at the University of Maryland, Brown initially conducted research in hepatitis and HIV.
But he grew tired of the politics surrounding research funding and he missed working with people. He said he found his calling when he became a doctor.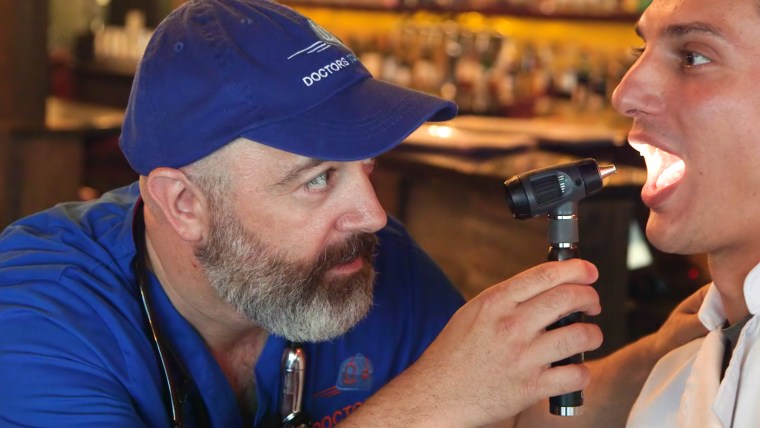 Brown originally planned to go into emergency medicine, but his path changed with one sentence he heard in his third year of medical school at Howard University. He was doing rounds with a physician when the doctor sat down next to an elderly patient he was getting ready to discharge.
"He said, 'Mary, you're doing great, so I'll see you home in a week,'" Brown said. "Those words, 'I will see you home in a week,' changed my entire career."
Brown started accompanying the physician on house calls and immediately got hooked.
"I saw the relationships he had with patients. I saw the connections he had out in the community. And I thought, this is it," he said.
Brown has spent his entire career doing house calls, initially through a nonprofit organization and eventually for himself.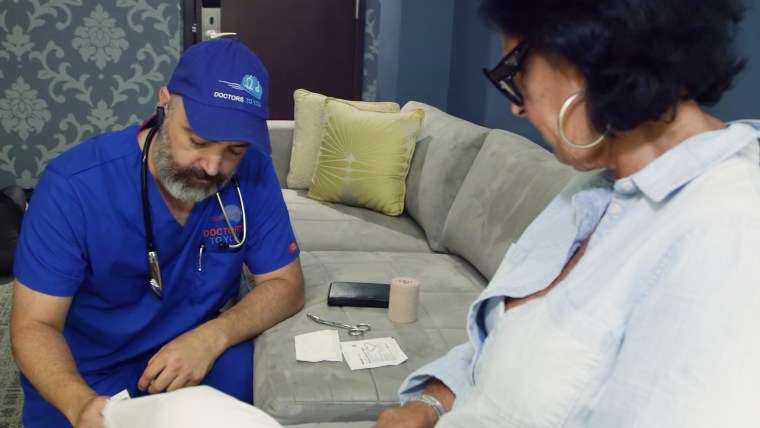 His fee starts at $300, but can vary depending on travel or if he spends a lot of time working after-hours on a particular case. Brown does not take insurance, although many of his clients have it.
Susan Anderson's bedridden 95-year-old father, for instance, has private insurance, but his doctor's office was closed on the Saturday morning he needed attention. So Anderson used Google to find "doctors that make house calls" and discovered Doctors to You, Brown's business.
Brown treated Anderson's dad for a urinary tract infection, but had to return the following day when other problems arose. After determining the older man needed to go to the hospital, Brown rode in the ambulance and gave the ER attendant a detailed update of what was happening.
Anderson said Brown's care provided her father with a comfort he wouldn't have received elsewhere.
"Even when you do go to the doctor, you feel very rushed. You're put in a 15-minute appointment increment," she said. "So to have someone come to your home, where you know there's no one else in the waiting room, is an incredible relief."
Brown, in fact, has the luxury to spend as much time as he wants with each patient. While he has his usual bag of tricks for treating common conditions, he also has a huge advantage that most other physicians lack: He can examine the patient's home.
"I can go through the cupboards, see what the medications are. I can look around, I can smell things, check the refrigerator, see how they're eating," he said.
"I can do more in one house call than I could ever do sitting in a box at a clinic, being told I have to see patients every 10 minutes."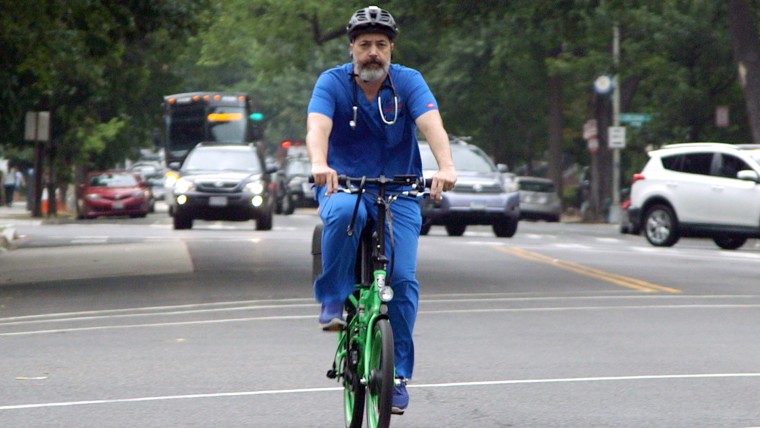 In addition to locals eager to avoid trips to the emergency room, Brown's other clients include tourists who visit the nation's capital. Hotel concierge clerks have him on file, and he's tended to numerous foreign dignitaries and megastar celebrities, including Lady Gaga, Beyonce and Stevie Wonder.
Brown also takes on charity cases, often attending to low-income, elderly patients who remember when house calls were more common.
One such case involved 83-year-old Odessa Harris, whom Brown treated for two years until her death this past March. The retired civil servant had Alzheimer's disease and lived with her granddaughter, Quameice Harris.
Harris said Brown's visits prevented her family from having to take her grandmother "back and forth between all sorts of different doctors."
"I truly believe she lived longer because he showed us how to care for her," Harris said. "He really became our family in this process. He talked to my grandmother, and he made her feel like a human, and you don't get that kind of human touch anymore when you visit doctors."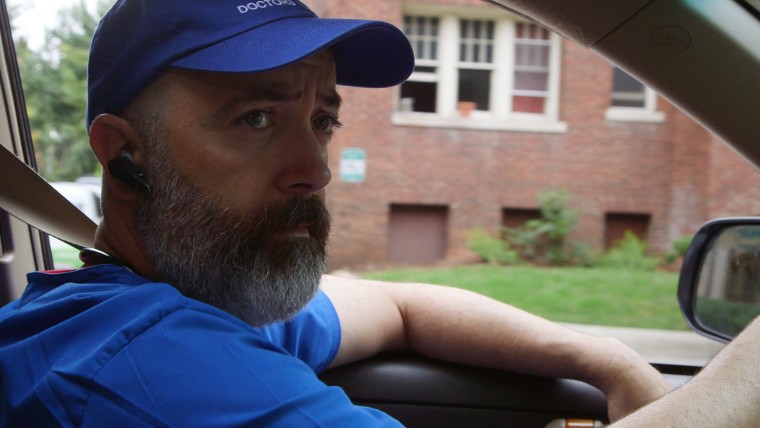 Brown said that knowledge of his patients, their families and community is what he has exchanged for the higher salaries — and greater tension — of his colleagues.
"When you look at physicians in practice, burnout is high, substance abuse is high, divorce rates are high. You're under lots of stress, because you're trying to care for a lot of people," he said. "The whole system is sick."
"My apartment is 700 square feet. There's no boat. I don't own any property. My car was donated to me. But it's all very much in line with the way I was raised," he said.
"This is what feels right."