Though she's taken care of thousands of patients over the decades, nurse Lynn Bartos kept thinking about one fragile little girl nicknamed Nini she nurtured almost 30 years ago.
"Every nurse will tell you they have people or families who were special and just stay with you," Bartos, 66, told TODAY.
"People who were really sick and you wonder: Did what I do make a big enough difference? What are they doing now? Did they fully recover?"
Those questions were beautifully and unexpectedly answered when Bartos recently came in for her regular treatment at Froedtert & the Medical College of Wisconsin in Milwaukee, where she still works two days a week.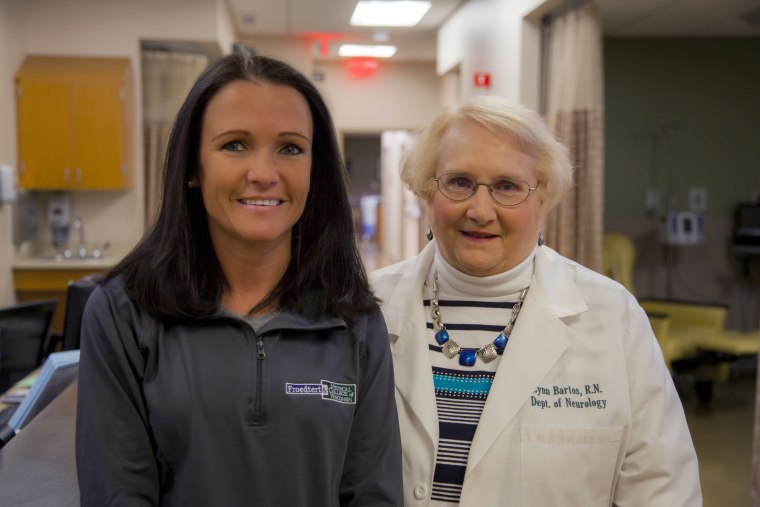 Bartos has two autoimmune diseases for which she receives medication at the hospital's infusion clinic every five weeks.
Settling in for her visit in August, there was something about the nurse assigned to her that day. It's hard for Bartos to explain, but she kept looking at Nicole Krahn, trying to figure it out.
Preparing her IV, Krahn also took a second look at her patient.
"I don't know, she seemed familiar," Krahn, 30, said.
As they chatted, Krahn asked Bartos about her nursing career and Bartos mentioned one of her longest stints was at the gastrointestinal clinic at Children's Hospital of Wisconsin in the 1980s.
What a coincidence: Krahn told her she was a patient in that clinic for a long time in the '80s. Startled, Bartos looked at Krahn's name tag and asked her maiden name. It all came together.
"I looked at her and I said, Nini?" Bartos recalled. "I said, 'Nicole, I took care of you for years when you were an infant and toddler.' We both were just stunned that our roles were reversed. There I sat as her patient."
Krahn was trying to take it all in, too.
"I thought it was very cool and I kind of got a little flustered," she said. "I can't explain how I felt."
Related: Burned as a baby, woman finally meets nurse who cared for her
Krahn was born in 1985 with her intestines twisted, a potentially life-threatening condition known as volvulus. She lost a large portion of her small intestine and couldn't absorb enough nutrients to survive, so she had to be fed intravenously through total parenteral nutrition.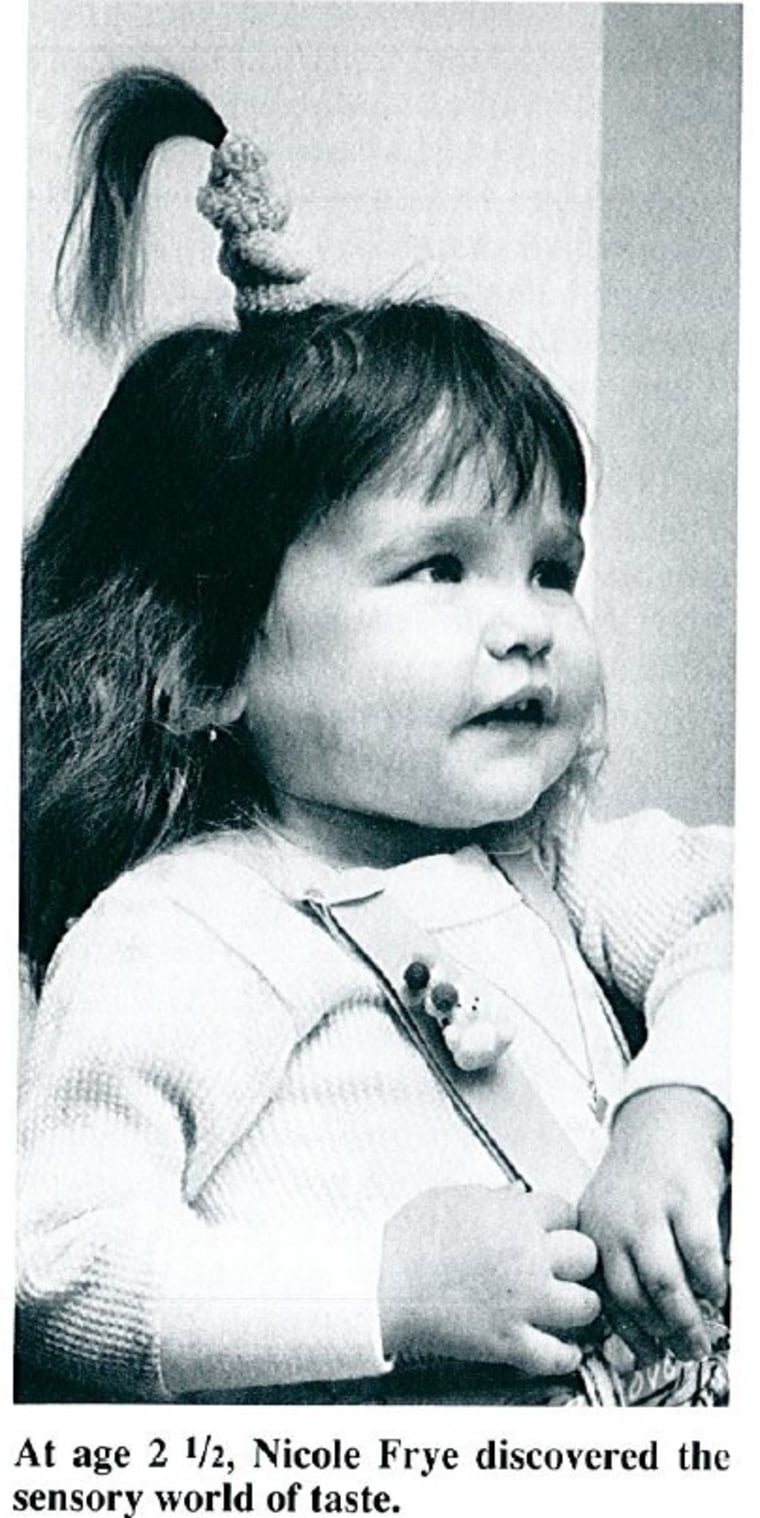 Bartos first met Nicole as a baby and helped her recover for more than three years. The little girl came into the gastrointestinal clinic three times a week for weight checks, follow-up care and nutritional monitoring.
Back then, many children with volvulus didn't make it and Bartos was amazed to finally see a success story. The case was even featured in 1988 in "Children's Nurse," a Children's Hospital of Wisconsin publication. The article included photos of Bartos, Nicole and her mom Rosemary.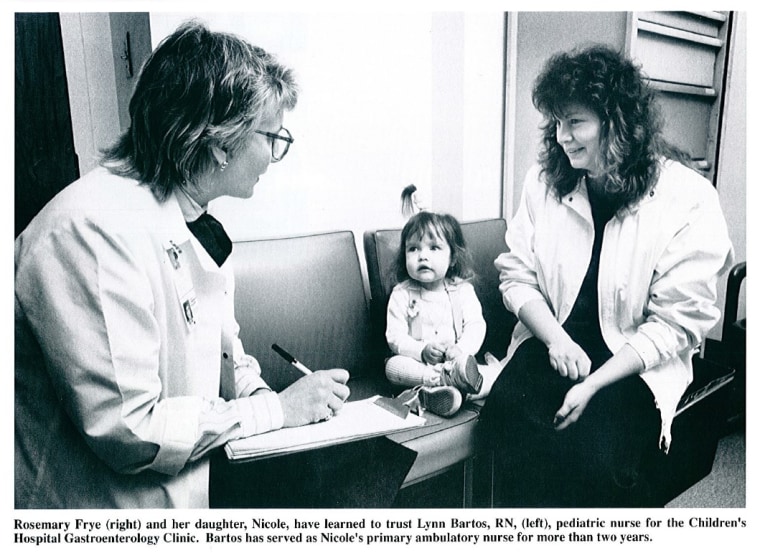 "I remember Nicole and her family because they were so willing to do anything to help Nicole. And well, Nicole was the cutest thing ever," she said.
Krahn only remembers "little bits and pieces" of that time, supplemented by stories her mom has told her. Krahn's brother used to call her Nicki for short, which she couldn't pronounce, so she just called herself Nini. Soon, everybody did as well.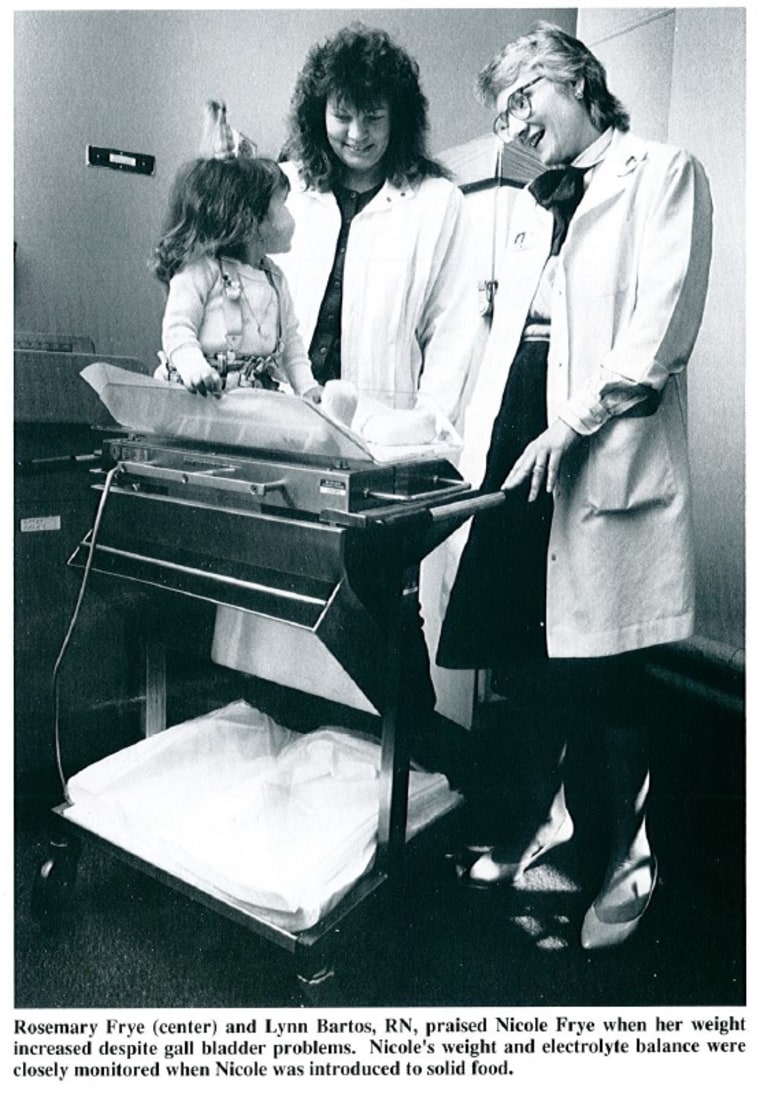 By the early 1990s, Bartos parted ways with the family and moved on to a new job. She kept a copy of the 1988 "Children's Nurse" article and when she came across it every few years, she would wonder: Whatever happened to Nini?
She didn't know Krahn — inspired in part by her own health problems — began working at Froedtert Hospital five years ago. Food absorption and nutrition are still an issue for Krahn, but she's been determined to press on with her career ambitions.
"I've always wanted to be a nurse but… nursing is high-stress and you need a lot of energy to do it, so it was more just if I could handle it," she said.
"I have definitely used my past when I take care of patients — I make my nursing care based on the positives I've had."
Related: Nurse gets ultimate surprise when patient turns out to be son home from army
When Krahn's and Bartos' paths crossed again almost 30 years after they parted, the nurse was taking care of the nurse who once nurtured her. Krahn was particularly touched Bartos recalled her out of all the patients she'd come across during her career.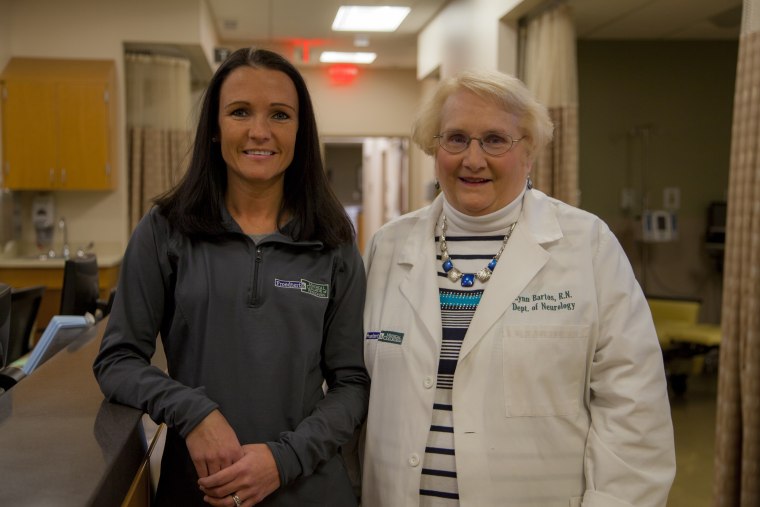 "That was the part that got me," Krahn said. "She remembered everything. I was in shock… The circle of how it worked out is just amazing."
As Bartos semi-retired last month after 44 years as a nurse, she thought a lot about the meeting. She's proud to see the little girl who had so many health struggles turn into a talented, compassionate nurse, she said.
Teachers often find out how their pupils have fared in life, but nurses seldom get that privilege with their patients, so Bartos thinks of the reunion as a retirement gift.
"As I was approaching that retirement day, I really had a lot of thoughts about: Have I made a difference? It's kind of a daunting question," Bartos said.
"You take care of people and you do the best you can. They leave your life and you never know the final outcome or what happened to them over the years. So that's why I think it's a gift that I was given to reconnect with Nicole at this point and I'm very grateful."
Follow A. Pawlowski on Google+ and Twitter.