One in eight women will hear the unthinkable words: You have breast cancer.
About 40 percent of women ages 40 to 74 have what's called dense breast tissue, which puts them at a slightly higher risk of developing cancer or receiving a delayed diagnosis.
Having dense breasts — which contain less fatty tissue and more white gland tissue — can make it more difficult for a traditional mammogram to detect cancerous tissue. The tissue appears white on a mammogram and can hide tumors.
Breast density can be inherited, so if your mother has dense breasts, chances are, you do, too. Density can only be seen on a mammogram and is not based on size or firmness or how your breasts feel, according to the American Cancer Society.
For women with dense breasts, getting additional screening, such as an ultrasound or MRI, may be important.
Many women may not know whether they have dense breasts and not all doctors are required to tell them or suggest more tests. Twenty-eight states have passed dense breast notification laws that require some level of information about breast density and its risks. To see a map of the states, go to Are You Dense?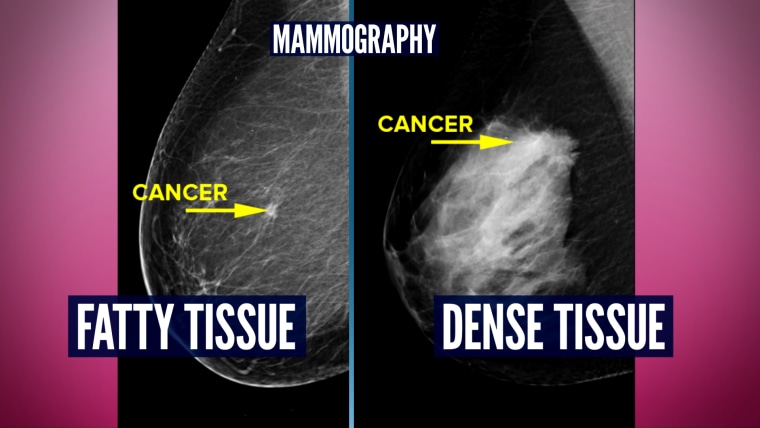 The Food and Drug Administration is proposing regulations that will address breast density reporting. Ultrasounds are not always covered by insurance — and not all doctors agree that women with dense breasts need to have additional screening — but ask your doctor if you need additional testing.
"I think women definitely need to be their own advocate," New York radiologist Dr. Gail Calamari told TODAY's Joan Lunden.
Meanwhile, breast cancer experts stay focused on the lifestyle factors that can reduce any woman's risk of developing cancer, whether she has dense breasts or not.
RELATED: 3 simple changes can reduce your risk of breast cancer
Watch Joan Lunden's report for more on this potentially life-saving question.