They've been together for 10 years, married for one and they have six children together. But if Angelina Jolie and Brad Pitt needed another measure of their bond, they certainly it got when the actress-director underwent surgeries to reduce her risk of cancer.
In a rare joint interview with Tom Brokaw, set to air Monday on TODAY, the couple opened up about the support and strength that got them through it all.
"I knew through the surgeries that he was on my side and that this wasn't something where I was going to feel less of a woman, because my husband wasn't going to let that happen," Jolie reveals in the interview.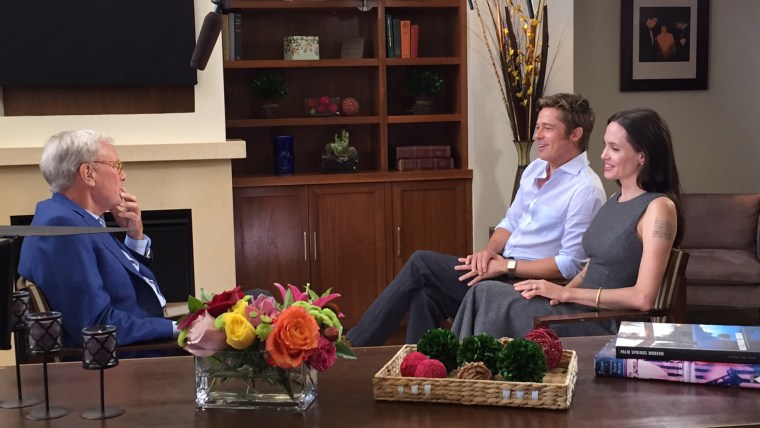 In 2013, she underwent a double mastectomy after learning she tested positive for a gene that left her with an 87 percent risk of getting breast cancer. The preventive treatment came eight years after Jolie lost her mother to the disease and just months before her aunt died of it.
Two years later, she had her ovaries removed due to a similar increased risk of developing ovarian cancer.
Pitt never doubted his role during all of that.
"Support," he tells Brokaw. "Whatever's got to be done to keep the family together, and keep the family together as long as possible is going to be done. This was her charge, no question. It's a scary decision. There's many things that can go wrong and go many different directions."
MORE: Brad Pitt opens up about working with Angelina Jolie: 'I trust her with my life'
But it all went right.
"You have to just make the choices you make in life," Jolie added. "I made the choices I made because I believed they were right for me."
While the couple is clearly rock solid in real life, in their upcoming film "By the Sea" they portray two people in a deeply troubled marriage.
"I'm counting on the audience to know that if it was close to us at all, we could never make this film," Jolie says of their true relationship. "It's because we're actually very, very stable and these aren't our issues."
In addition to her on-screen role, Jolie served as director on "By the Sea," which opens in theaters Nov. 13.
See the full interview with the stars Nov. 2 on TODAY.