Before U.S. Army veteran Noah Galloway became an inspiring athlete and the first reader in the history of Men's Health magazine to grace its cover, he was nearly overwhelmed by depression and alcohol.
When his Humvee hit an improvised explosive device in Iraq, his life changed. Galloway, 32, was four months into his second tour of duty in the U.S. Army when he lost his left arm above the elbow and his left leg above the knee as a result of an IED blast in Yusafiah, Iraq on Dec. 19, 2005.
A soldier who had been dedicated to fitness since he was a teenager, Galloway gained weight and spent hours every day laying in bed after returning home from the hospital, consumed by depression and alcohol. In 2010, a look in the mirror jolted him into turning his life around, and he dedicated himself to getting back in shape.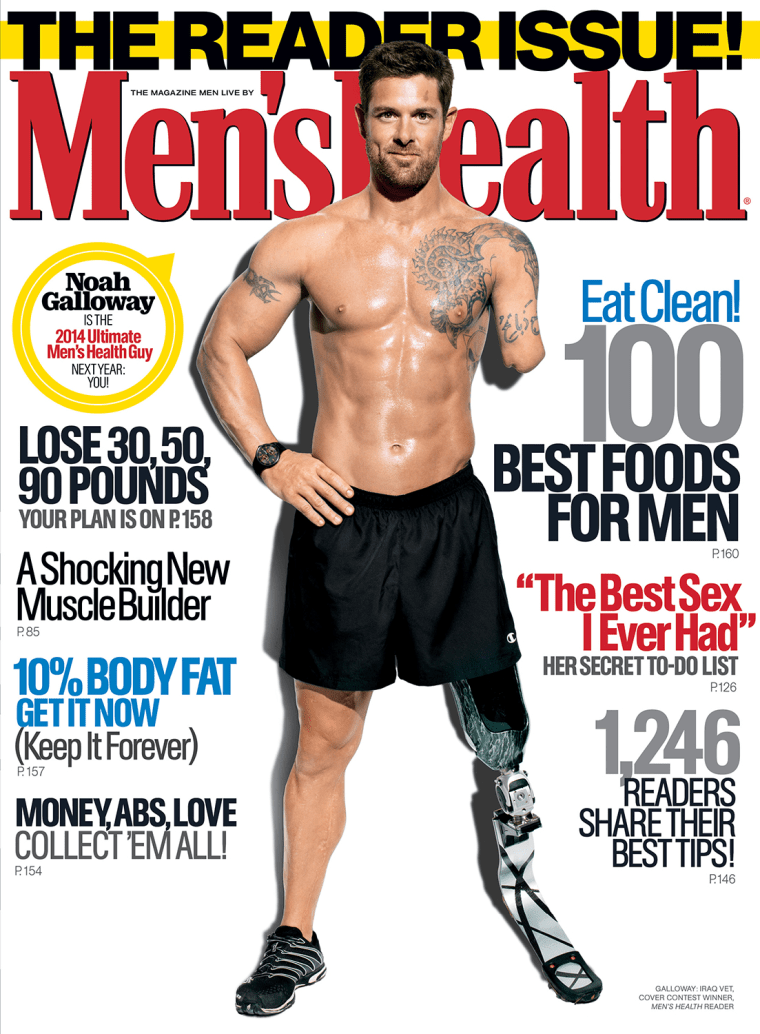 "I looked back, and my depression terrified me,'' Galloway told Men's Health for its November issue. "I never wanted to experience that again. That's why I got into races. What kept me moving was never going back to where I came from. I wanted people to see more than my injury." 

Galloway was one of three finalists in the running to land on the November cover of Men's Health in its first-ever search for the Ultimate Men's Health Guy, who is "physically fit, confident, stylish, career-driven and a pillar of his community,'' according to the magazine. The other two finalists were Finny Akers, who gave up a Division I lacrosse scholarship to care for his younger siblings, ages 10 and 9, after his father killed his mother and then himself, and Kavan Lake, who grew up in extreme poverty to become a 22-year U.S. Marine Corps helicopter pilot.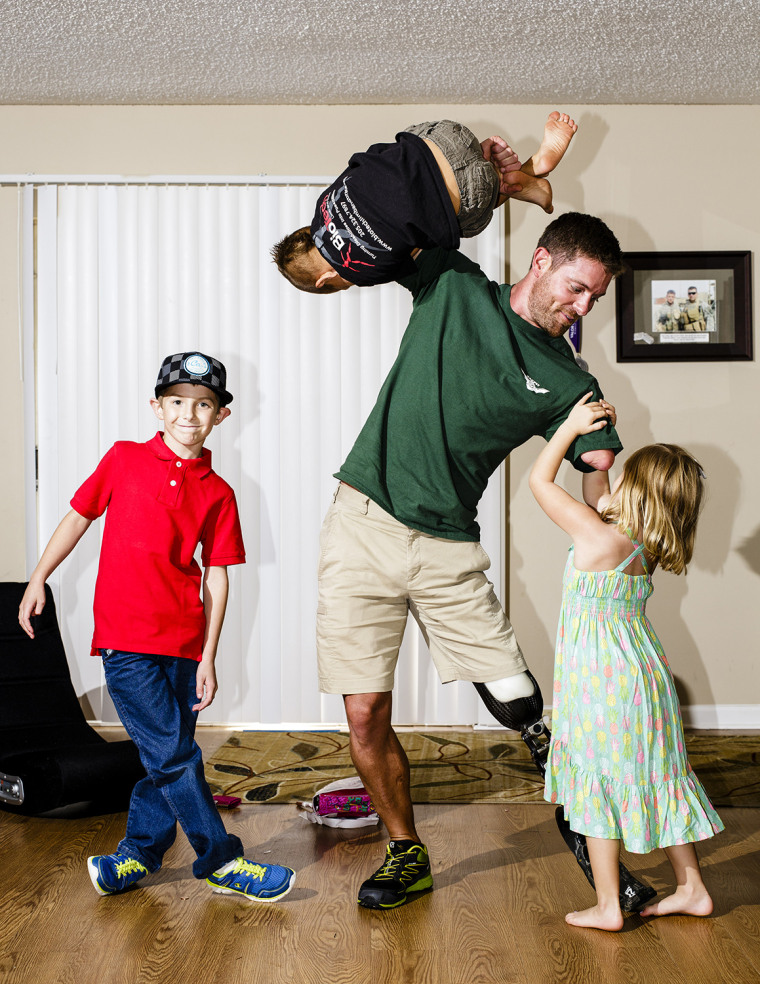 Nearly 1,300 entries were received, and readers cast more than 400,000 votes to narrow the field. A judging panel that included TODAY's Willie Geist ultimately decided to choose Galloway as the first reader in the 26-year history of Men's Health to appear on the cover.
All three finalists appeared on TODAY Tuesday, where it was revealed that Galloway was the choice to grace the cover, which was shot in New York in July. 

Since deciding to get back into shape, Galloway, now a father of three from Alabaster, Alabama, has competed in multiple marathons, seven Tough Mudder events and a dozen Spartan Races as he tries to inspire others. It all started when he began working out at a 24-hour gym at 2 a.m. because he said he was too embarrassed to work out during the day as a result of his injuries. He rigged up several of the machines so that he would be able to use them despite his missing limbs. 
"Little surprises kept me going,'' Galloway told Men's Health. "A little better this day, a little stronger the next. Suddenly, it was six months. I was like, 'Man, this is pretty good.''' 

That gave him the confidence to begin working out in front of others, and soon it led him to try racing. He also has established the No Excuses Charitable Fund, which works with local organizations like the YMCA of Greater Birmingham in Alabama to help reduce childhood obesity by supporting after-school wellness programs and youth sport leagues. While he still has some tough days, he has learned to face them with a positive attitude. 
"I don't dwell on it, because that makes it worse,'' he said. "I don't try to cover it up, because that's something I did when I was depressed. I've learned that this too shall pass. A couple of days later, I'll be like, 'Whooo, I really felt bad a couple days ago. Now I'm good!" 

Follow TODAY.com writer Scott Stump on Twitter and Google+.