How much does the world's largest box of doughnuts weigh? About 666 pounds -- a sign that eating 3,880 doughnuts might put your arteries through hell.

The giant pink box of doughnuts -- a stunt from Voodoo Doughnut's owners Kenneth "Cat Daddy" Pogson and Tres Shannon -- was unveiled on Portland, Ore.'s Hawthorne Bridge during an event called Brunch on the Bridge.
To help Voodoo achieve its goal of making it into the Guinness Book of World Records, Portland's mayor Sam Adams, a notary and a scale master were on hand to verify that Pogson and Shannon had indeed constructed the world's largest box of doughnuts.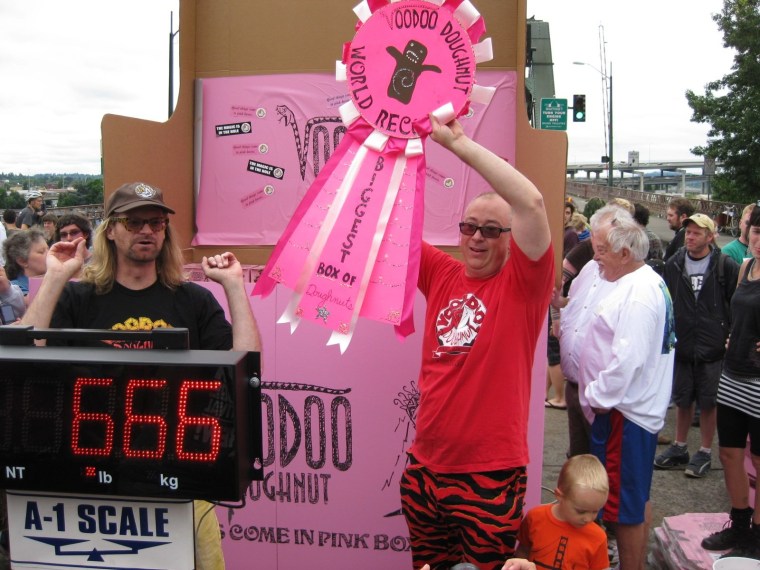 "I think we must have set another record when we handed out 666 pounds of doughnuts in just 45 minutes," said Shannon. "It was a good way to give back to the city of Portland, which has been pretty good to us over the years."
The sweet crate, a giant version of the doughnut shop's regular pink box, contained 380 smaller boxes filled with glazed doughnuts, all arranged nicely into a pyramid. The pair piled on an assortment of their signature treats, from apple fritters to their Fruit Loop-crusted Loop doughnut, until they reached the magic number to break the current recordholder's total of 297 pounds. But why aim for 666 pounds?
"The current record is a little less than 333 pounds, so we just decided to double it to 666 pounds, which kind of goes along with our voodoo theme," said Shannon. "It's the mark of the 'yeast'."
Voodoo is waiting for official certification from Guinness World Records.
More from Bites
Meet the 1,500-calorie Donut Burger
Indulge with these healthful, yummy desserts
Too cool for school? Try ice cream university