If you do a quick Google search, you can find recipes for guacamole that pair avocado with everything from goat cheese and strawberries to mangoes and broccoli. And yet it's the teeny English pea that is taking all the slack. When The New York Times tweeted a recipe for Green Pea Guacamole and the simple plea of "trust us" they tipped their hat to an impending debate. But could the newspaper have known the extent of the controversy it would create?
Holy guacamole! See President Obama, Jeb Bush and others react to peas in guac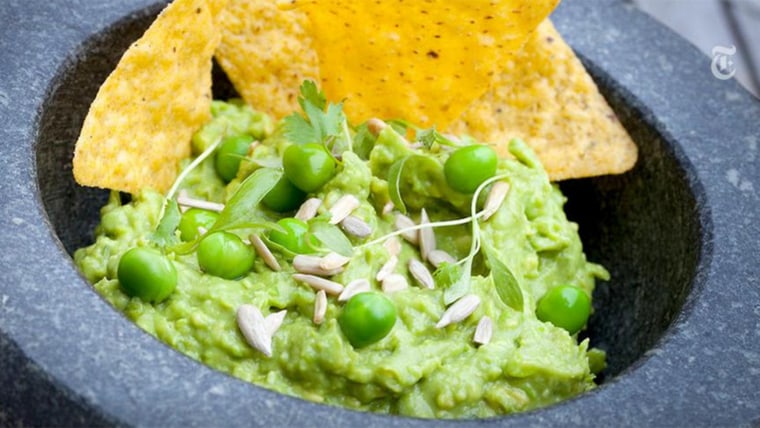 Their easy recipe, adapted from acclaimed restaurant ABC Cocina in New York, didn't just ignite discussion among chefs and food bloggers, but instead angered dippers across the nation against the wee green veggie. Even President Barack Obama and presidential hopeful Jeb Bush each commented that they stood squarely against the pea. However, for years, chefs, bloggers and foodies have been tinkering with the dip traditionally served with corn chips.
If you cruise over to most healthy food blogs, there is almost always a recipe for guacamole and it usually includes the addition of an non-traditional ingredient. With its popularity as an easy dip and its seal of approval from nutritionists as a healthy snack, guacamole lends itself to rabid interpretation. You will get the occasional outspoken view of which acid to use--some chefs refuse to squeeze lime juice instead of lemon in their guacs. However, substitutions reign when it comes to modern guacamole recipes. From peas to mangos, peaches and even asparagus, healthy food bloggers love adding other high-nutrient seasonal ingredients to the dip.
Try these interesting takes on guacamole
The origins of guacamole date back to a dish made by the Aztecs, who believed the avocado was an aphrodisiac, called ahuacati-molli, which roughly translates to avocado sauce or mixture. It was a simple recipe of ripe avocado and salt. Today a traditional guacamole is created in a molcajete (mortar and pestle) and includes white onion, serrano or jalapenos, fresh tomatoes and salt – no lime juice or garlic.
The one thing this debate has proven is Americans are passionate about their guacamole. It may even rank up there with our other snack obsession, potato chips. And speaking of chips, if you ask me, the true debate is which brand of corn chip to pair with your dip. Nothing can ruin a good guacamole more than a small, limp chip.
You don't have to trust us. You just need to be willing to experiment with a new spin on an old favorite with this Edamame Guacamole.
Get more from Sweet Potato Chronicles, a website devoted to delivering fast and healthy recipes, parenting strategies and nutritional information for busy parents.