Did you choose the numbers 05 28 62 65 70 05 in Tuesday night's Mega Millions drawing? Neither did we. Sigh.
One lucky person in South Carolina did and is in for a $1.6 billion windfall — but what about everyone else? Don't people deserve a little something to help console their disappointment of not becoming overnight billionaires?
One restaurant thinks so and is offering its customers the chance to trade their losing lottery tickets for pizza on Wednesday.
On Wednesday, Oct 24., people can walk into any Villa Italian Kitchen, which has 250 locations in the U.S., and hand over their losing Mega Millions ticket for a free slice of cheese pizza, as long as they buy a beverage first.
"We have been following the news of this historic lottery drawing closely," said Villa Italian Kitchen's director of communications Mimi Wunderlich in a statement.
"When we heard what the odds of winning the jackpot were, we couldn't help but feel for all those who would be let down — and we knew that we would probably have to be at work on Wednesday morning, too!"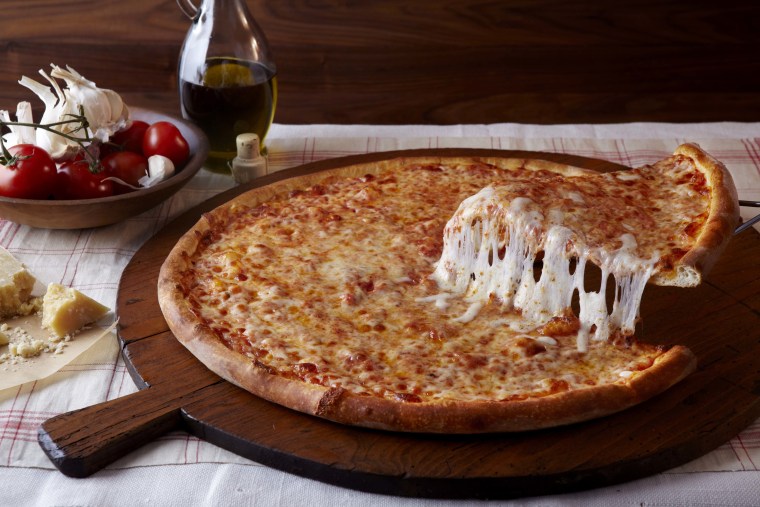 There are a few sneaky rules though. The lottery ticket must have a drawing date of Oct. 23 and no photocopies of tickets will be accepted.
According to the deal's rules, by exchanging the ticket, people "forfeit their right to the ownership of the ticket" — so maybe check over those numbers one more time to be absolutely certain it didn't win. A ticket with just the Mega Ball number would win the owner $2 and a ticket with one winning number and the Mega Ball number would get $4, so Villa Italian Kitchen's cheese pizza offer may still be a better deal anyway.
"While a free slice of pizza isn't a billion dollars, hopefully it will still make someone's day," said Wunderlich.
The comfort of pizza has a tendency to make things better and it's the perfect thing to munch on as one reads about the surprising streak of misfortune that has befallen past lottery winners — and while thinking about which numbers to pick for the $620 million Powerball jackpot drawing on Wednesday night.