Here's a great way to get the kids to eat fish (that's not in a tuna fish sandwich). Serve these sticks with a light tartar sauce made from low-fat mayo and relish.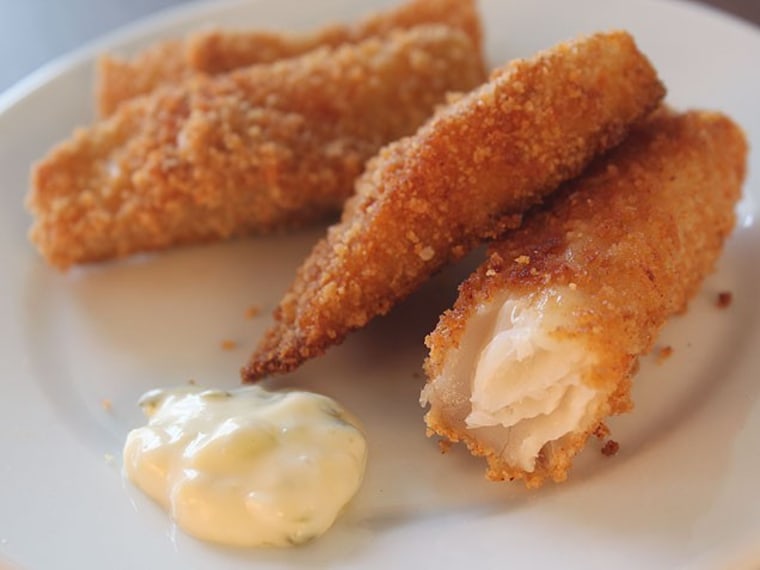 Ingredients:
Cooking spray

1 large egg

1/2 cup whole wheat bread crumbs

1/4 teaspoon cracked black pepper

1/2 teaspoon paprika

8 ounces tilapia or cod fillets

1/2 teaspoon plus more kosher salt

Yield: 2-4 servings
Directions:
Preheat oven to 400°F. Line a baking sheet with aluminum foil or parchment paper, and lightly spray with cooking spray; set aside.
On a shallow plate, combine the bread crumbs, paprika, and ½ teaspoon salt. In a small bowl, beat the egg with a fork. Set the two dishes aside.
Cut the fish into stick shapes, about 3 inches long. Season with salt, to taste, and ¼ teaspoon pepper. Dredge the fish in the egg and then toss in the bread crumb mixture. Transfer the fish to the prepared baking sheet and lightly coat with cooking spray. Bake in the preheated oven for 8-10 minutes or until the crumbs are lightly browned and the fish is firm to the touch.
Notes: There will be extra egg and breading leftover
Nutritional Information:
Calories:190

Fiber:2 g

Fat:4 g

Saturated Fat:1 g

Carbohydrates:12 g

Protein:26 g

Sodium:320 mg
This recipe originally appeared on iVillage.