If you keep hearing about Starbucks' new cold brew coffee but can't find it, that's because it wasn't available nationwide — until now.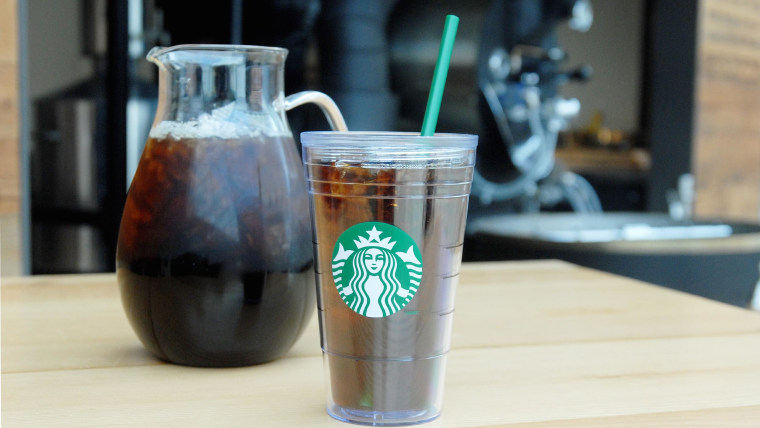 Cold brew launched this spring in the Northeast and part of the Midwest, because, oddly, these cold-weather regions are where iced coffee sales are the strongest year-round, according to a company spokesperson. (No one knows exactly why, except for maybe it's because that's where it first caught on.)
The cold-brewed coffee—in which the grinds steep in cold water for 20 hours—costs about 50 to 60 cents more per cup than traditional iced coffee, in which hot-brewed coffee is poured over ice.
The taste is noticeably less bitter than regular ice coffee, and has a touch of natural sweetness, so you likely don't even need to add any sugar.
Cool new ways to order your coffee this summer
Starbucks isn't the only big name rolling out cold brew—early last month, Peet's Coffee & Tea, which is in nine states and Washington, D.C., launched it in all of its cafés. Peet's offers both a regular cold brew—steeped in small batches for 12 hours—as well as The Black Tie, a cold brew sweetened with condensed milk, half-and-half, and house-made chicory simple syrup, inspired by Vietnamese and New Orleans coffees.
"Feedback has been overwhelmingly positive—customers love the Black Tie, and it's been popular on Instagram and Yelp. Peet's stores have received several requests to make it a permanent menu item," a company spokesperson said, adding all of Peet's iced coffee drinks are now made using the cold brew method, instead of the traditional process of chilling hot-brewed coffee with ice.
For now, regular iced coffee will stay at Starbucks alongside the cold brew, as quantities are limited to 50 to 60 cups per day. (In a nod to this, the first 60 cold brew customers at the company's Beverly Hills Triangle location Tuesday will win a mason jar, hand-painted by psychedelic-pop artist Steven Harrington, if you live in the area.)
So between iced coffee, cold brew and iced lattes, how do you know what you should order? Here's a little cheat sheet:
Iced coffee
The process: Coffee is brewed hot, then cooled and chilled on ice
The taste: medium-bodied, has a bit of a "bite"; may benefit from the addition of simple syrup
Iced lattes
The process: Espresso is brewed hot; milk is added and served over ice
The taste: Creamier, richer than a regular iced coffee with milk
Cold brew
The process: Grounds are steeped in cold water for about 12 to 20 hours
The taste: Smooth, less bitter, naturally sweeter than regular iced coffee, with hints of chocolate notes; sugar probably not necessary