Kale has reigned as the trendy green veggie for a while now, knocking arugula from the spotlight a few years back. Those 2-ounce bags of kale chips that for $6—that's nearly $50 a pound!—used to seem outrageous, but now they're just commonplace. And fresh kale now comes in those handy clamshell packages alongside the spinach, all triple-washed and ready to go.

But if you're starting to burn out on the super veggie, there's always another one waiting in the wings. One possible contender: amaranth greens. Right now, more people are probably familiar with the seeds of the amaranth, an ancient super grain popular with the gluten-free crowd and sold Bob's Red Mill in whole grain or flour form. But the leaves of the plant are also rich in iron, protein, calcium and other nutrients.
To Asian and Caribbean cooks, amaranth greens are nothing new—they're called callaloo in the West Indies—and used interchangeably with spinach. But the ingredient is starting to pop up on other menus, such as at Louro, a modern American restaurant in New York City's West Village, where chef Dave Santos currently serves amaranth leaves and puffed amaranth grains together alongside his Scallop Crudo ($15).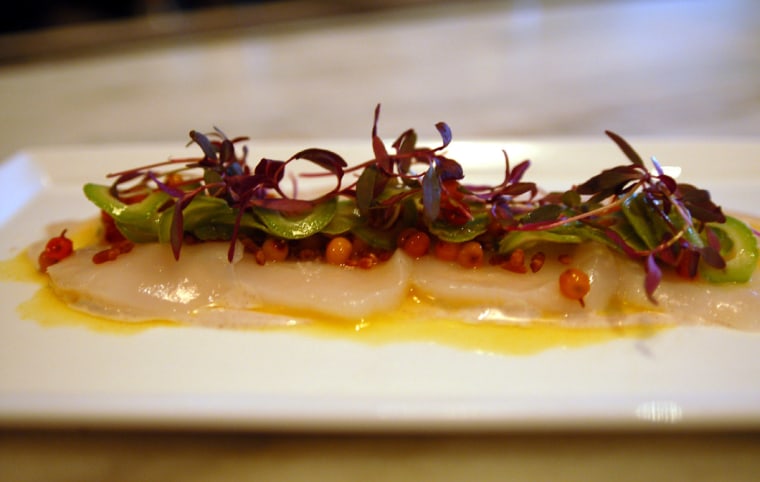 "The beautiful color of the leaves along with their freshness pairs wonderfully with the crudo," the chef, who finds them at the Union Square Greenmarket, told TODAY.com.
For home cooks who want to try them, Santos recommends not cooking them, but using the tender leaves in salads. Simply pick and wash the leaves and dry them off in a salad spinner, he says, then mix them with a little baby arugula, chopped almonds, dried cranberries and dress lightly with an almond vinaigrette (one part olive oil, one part almond oil, one part white wine vinegar, with salt and pepper to taste).
"I see an uptick in the interest in both the grain and the leaves," he said. "Chefs and people in general are always looking for new flavors and textures, and amaranth has been able to provide both."
Amaranth does pop up at farmers markets across the country, especially this time of year—typically, look for green leaves with a deep red center, though there are red varieties. Becky DeKorte, co-manager at Nash's Organic Produce near Seattle, says to use them as you would Swiss chard, spinach or kale.
Farmer Edna Kelly, of Two Sisters Farm in Punta Gorda, Fla., also recommends barely cooking them. "Blanch them, don't cook them to death, so you have something to chew," she advised.
Kelly sometimes sells starter seedlings of the plant at local farmers markets and is willing to bet we'll be seeing more amaranth. One bonus: Amaranth loves the heat, so growing it is a way for gardeners in the South to have greens year-round, while it's way too hot there for spinach this time of year.
"Yes, it will become more popular, I really believe that," she said. "People who have bought it always wish they had bought more."