The 1990s are back — and not just the sartorial style of flared denim and Doc Martens.
On March 23, Kentucky Fried Chicken announced the introduction of a new item set to hit menus: Kentucky Fried Chicken Nuggets, which is its first chicken nugget menu item since the late '90s. Hand-breaded with KFC's Original Recipe of 11 herbs and spices, these 100% white meat nuggets hit menus nationwide starting March 27.
Oh yes — you can go get 'em right now.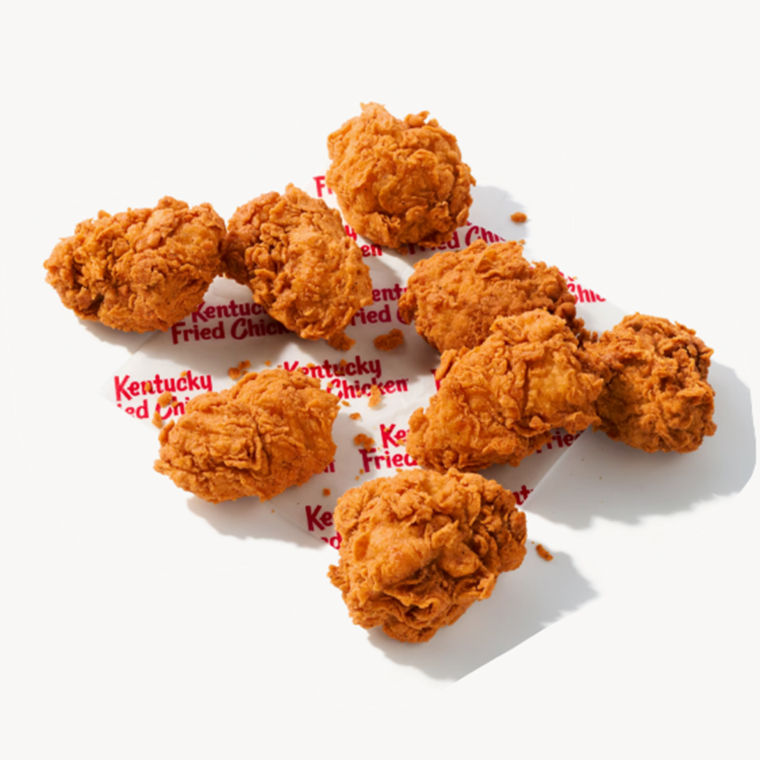 "After a wildly successful test run in 2022 and years without a nugget made with the signature taste of KFC on menus, new Kentucky Fried Chicken Nuggets are making their way to KFC's permanent menu at participating locations," wrote KFC in a press release.
Starting at $3.49, KFC's nuggets are also available to purchase as a 5-piece, 8-piece, 12-piece or 36-piece at participating restaurants nationwide. Customers looking for the whole shebang can make it a combo meal which will come with fries, a biscuit and a medium drink. 
KFC adds that the sauces available include their KFC sauce, its signature dip which features a smoky blend of tangy and sweet flavors, honey bbq, ranch, honey mustard or buffalo ranch.
While the nuggets themselves aren't spicy, some of the language the chain has used to announce it sure is.
"People have been living in a nugget blandemic and settling for the same mediocre nuggets for far too long," KFC said in a press release. "The fried chicken experts are empowering America to break up with bland and end it with cookie-cutter shapes and open their hearts and mouths to Kentucky Fried Chicken Nuggets."
Additionally, another menu item, the KFC Mac & Cheese Bowl will return to nationwide menus for a limited time starting on April 3. Available for $5, the bowls come with KFC's cheddar mac & cheese and the aforementioned nuggets, all topped with a three-cheese blend.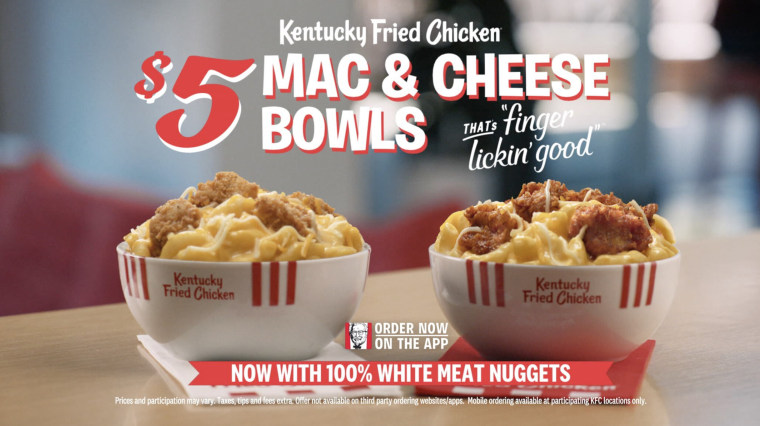 KFC is also offering a $5 Spicy Mac & Cheese Bowl, which features the new KFC Nuggets with its Nashville Hot sauce.
To show how serious it is about nuggets, the chicken chain purchased a full page ad in the newspaper. The letter, titled "You Deserve Better Chicken Nuggets," appeared in USA Today on March 23 and uses a conversational tone to implore the nugget-eating public to improve their standards.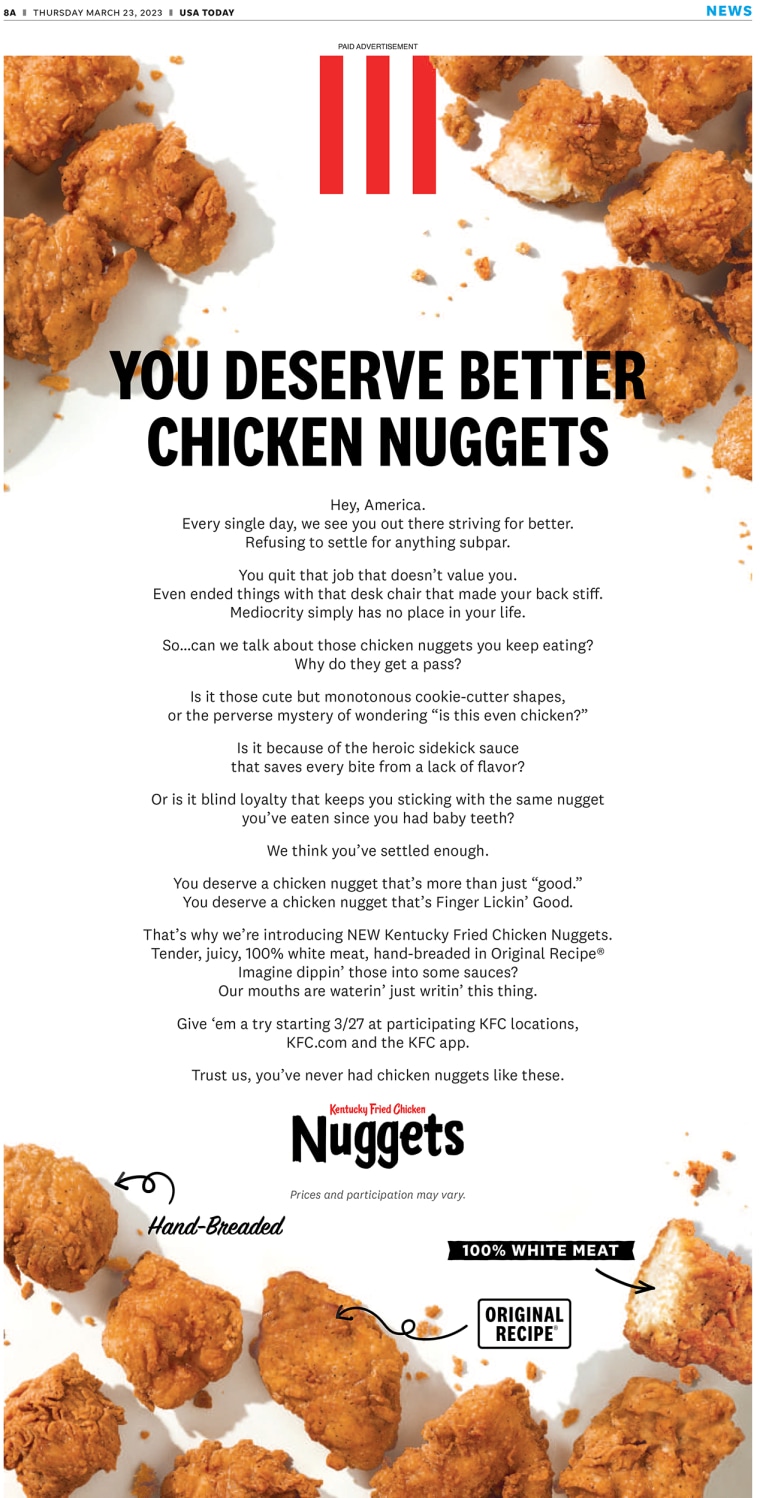 "Hey, America. Every single day, we see you out there striving for better. Refusing to settle for anything subpar," starts the open letter.
This isn't the first time the chain has sold nuggets, of course. According to the KFC Wiki, a fan site that holds the secrets of all things Colonel, a menu item called Kentucky Nuggets was first introduced all the way back in 1984 to KFC menus. And, according to a vintage KFC commercial from 1985 bashing the competition, that trademark sass was apparent all those years ago.
Kentucky Nuggets were phased out of the menu amid the 1996 introduction of Crispy Strips and 1998's debut of Popcorn Chicken to the menu. And, of course, Chicken Tenders have been (and still are) on the menu, for folks who want to travel that route on the chicken highway.
Interested fans can order any of the new offerings in-store, drive-thru or can skip the line altogether by ordering through KFC's Quick Pick-Up option on the KFC mobile app or on the KFC website.