Before almost every one of my performances, I'm invariably approached by more than a few concerned parents who individually find a moment to gently pull me aside and warn me, "I just thought you should know that my child won't eat such and such" or "My child is a picky eater … doesn't like vegetables." This is of course a concern when a part of your performance involves a culinary workshop.  Fortunately, my shows usually end with those same parents saying, "I can't believe you got them to eat that!"  So, how do you get a kid to eat the heretofore uneatable?  Bribes?  Hypnosis?  Chocolate covered lettuce?  It's actually much simpler than that.  I make it fun.  I wrap a story around it.  I discovered early on in my almost 20 years in the children's entertainment business that kids actually get excited to try new things when they're part of a fun adventure.  I never tell them they "have to" try something  -- and I avoid using the word "healthy."
No one likes everything.  There are some foods that I would personally rather starve than have to eat.  My goal is not to make a child a lifelong rutabaga fan or the next big health guru (not that I'd complain), but just to get them to try something new and to come at it from a positive point of view.  I start with an interactive storytelling show.  They jump around, dance, laugh and become part of the adventure.  Then the story leads to the culinary workshop.  This could involve any number of recipes but for the purposes of this article I'll choose a particularly popular one:  A plate of avocado chunks greets each child.  Noses wrinkle up and eyes start to roll.  So I ask them to dump the chunks into a bowl and do what I know they really want to --  smash 'em.  They can use their forks, spoons, hands, whatever they want; I even do it with them.  I never tell them they're doing it wrong, and as long as the avocado is appropriately decimated, they aren't.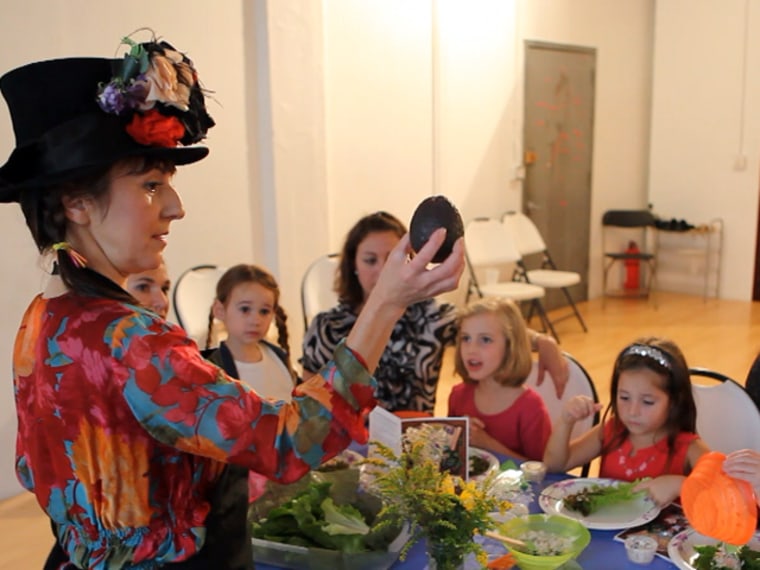 They are still skeptical, so I have them squeeze in a little lemon.  They get small cups of chopped tomatoes, different colored peppers, salt and pepper.  We throw in however much of whatever colors they like and I make it clear they can always add more later if they want.  Then they get a bowl of their favorite corn chips with which to try their own personal version of "Gooey Gargoyle Guacamole!"  More often than not they enthusiastically finish all of it.  And the kids who've been willing to share it with their parents and gotten a positive review from them, enjoy it even more.  They've made something all by themselves … something delicious! 
"Enchanted Thyme" was created with this in mind.  I was inspired to write "Enchanted Thyme: Book One in the Delicious Adventure Series" by my two great childhood loves: fairy tales and food.  As an interactive storyteller, I saw that kids love to try new things when they're part of a rollicking good adventure; and that's what "Enchanted Thyme" is.  It's a fairy tale adventure with an original recipe between each of its 15 chapters.  I wanted to bring the whole family together so I decided to write a book that would make dinner or snack time a part of the story; and all "Enchanted Thyme" content -- the book, live events and even the musical and animated series that are in the works -- carry this philosophy. 
I'm always thrilled to see how open children's minds are when they're laughing, playing and sharing something with someone who's playing along with them.  The same mind that can turn a jungle gym into a pirate ship or a park bench into a racing car, can turn a plain old vegetable into an exciting activity.  All kids are different.  Some are adventurous and some are shy, some want to load their dishes up with everything but the kitchen sink and some like to keep it simple.  I like to let them know that from sandwiches to salsa, however they like to make it is the exact right way.
Try an "Enchanted Thyme" recipe with your own kids!
The Magic Mushroom's Las Vegas Lunch
Ingredients:
1 can solid white tuna packed in water

1/2 rib of celery, chopped fine

2-3 Tablespoons light mayo, depending on how moist

you like it to be

1 Tablespoon lemon juice

Salt

Pepper

4 slices of avocado (optional)

2 baby carrots, cut into thin strips (optional)

4 large whole lettuce leaves (Red Leaf, Green Leaf or Boston work best)
Directions:
Open can of tuna and press out as much of the liquid as possible.

Place tuna in a bowl with celery, mayo, and lemon juice.

Season with salt and pepper.

Blend well.

Place lettuce leaves on four individual plates.

Place equal amounts of tuna into each leaf.

Top with avocado or carrot if you wish.

Fold in sides of lettuce and then roll closed with tuna inside.

Pick up and enjoy, making sure you exclaim things like, "Oy! How delish!"
Have you gotten your kids to eat vegetables? Share your tips and tricks!
Ariane Smith is an interactive storyteller and author of the "Enchanted Thyme" book series.