People on the internet are having a bit of fun with the suggestive shape of Easter-themed marshmallows being sold at a supermarket.
On March 2, Twitter user @missviaborsi, whose real name is Viola Borsi, shared an image she took on a recent trip to an Aldi in Manchester, England. In the tweet, which has now been viewed more than 6 million times, the shopper found something off with her bag of Dominion brand "Marshmallow Bunnies and Chicks."
"Sorry Aldi, but that ain't a Bunny," wrote Borsi along with an image of the confection in question. Though the — ahem, package — is small, the shapes within don't look like Easter bunnies and chicks, but rather something much more ... shall we say ... phallic (which reminds us of Target's unintentionally racy Santa cookies from 2020).
Users agreed with Borsi and took to the comments section to have some from with the scandalous shape of the grocery store offering.
"I'm trying so hard (hehe) to see how these could even remotely resemble bunnies and I'm just not seeing it," replied one user on Twitter.
"Is that a bunny, or are you just a little too excited to sell these??" joked another, tagging the official Aldi Twitter and including plenty of cry-laughing emojis.
"Maybe the 'ch' was supposed to be a 'd' and it's a printing error," tweeted another user along with a shrug emoji.
Some folks in the thread shared images of other accidentally suggestive food they've purchased, with some admitting they bought the very same marshmallows without realizing the raunchy resemblance.
"I bought these for my 7-year-old daughter!" exclaimed one Twitter user, adding a pair of flushed face emojis to their tweet. "Ooops."
Aldi UK did not immediately respond to a request for comment.
Still, the chain, which is the United Kingdom's fourth largest supermarket with 990 stores in the country, definitely has a sense of humor about the whole thing.
"We can't even defend this one," wrote the official Aldi UK account in a rewteet of Borsi's original image.
Aldi UK continued to have fun with the whole debacle, responding to several saucy tweets. When one Twitter user suggested they place the treats "in the specials as adult toys," the account responded in jest.
"Me reading some of these wild comments and suggestions," Aldi UK replied. "Speechless Andy, speechless!"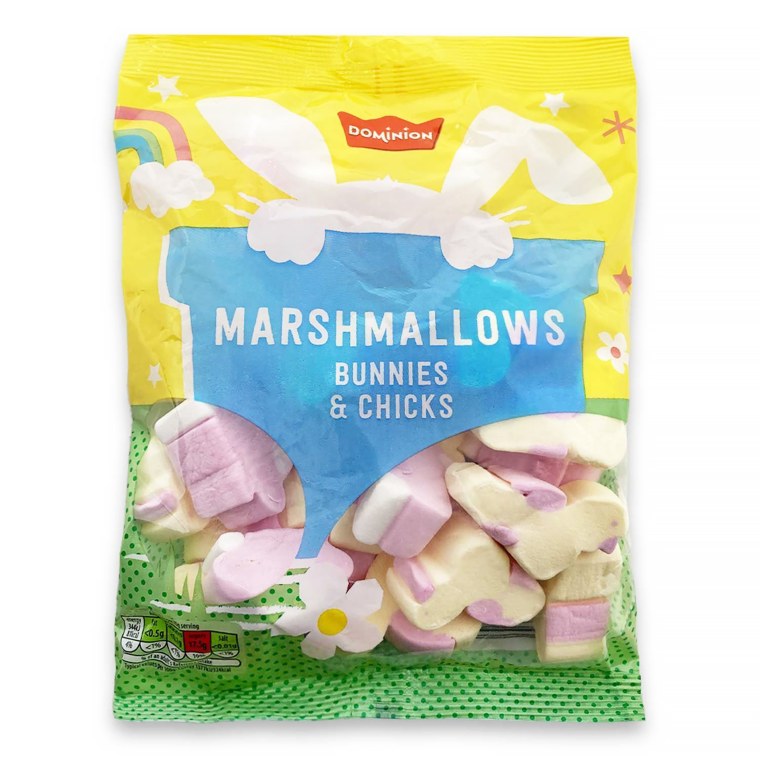 For Borsi's part, she says she's surprised by the attention her tweet is getting.
"So, i'm not gonna lie, it was my brother who actually popped it in the cart," Borsi tells TODAY.com via direct message. "We were at checkout when i noticed the shapes and what they are supposed to represent."
The 25-year-old Borsi joked that even though she and her brother are both adults (he's 32) that they both "like snacks" and filled their cart with all sorts of treats.
She says her brother bought her strawberry pencils candy and rainbow strips as well, but it was the marshmallows he picked up that were of particular interest.
"I just posted (didn't even tag [Aldi], haven't even thought of doing it) thinking me and my friends here on twitter will have a good laugh," Borsi says, adding that they did end up buying the marshmallows, which she said were fine.
"I did not expect it at all !" Borsi says of the reaction to her photo, adding that it was after Aldi reacted to the picture that it went viral. She says she's seen the image pop up all over the internet this week and memes have even been sent to her by friends she has all the way in the Netherlands. "People are still cracking up."
While the bunnies and chicks don't appear on the Aldi website in the U.S. — either fortunately or unfortunately — they still are for sale in the U.K. Aldi even warned customers that if they want the saucy snacks, they should pop over to their local shop soon.
"This is one of our Seasonal items, so is only available whilst stock lasts, and judging by the comments, it would seem everyone is rushing to stores for them for some reason," Aldi UK tweeted. "So better be quick!"