It's half-doughnut, half-croissant, and all good.
Mmmmm…Cronuts.
The Cronut is a confectionary pleasure that has taken the pastry world by storm since its creation at Dominique Ansel Bakery in Manhattan earlier this month. French pastry chef Dominique Ansel has combined the croissant of his native country with the staple of Homer Simpson's diet to create a steady line outside his bakery and delirium among pastry lovers clamoring to get their hands on one. There is even an online community for Cronut lovers.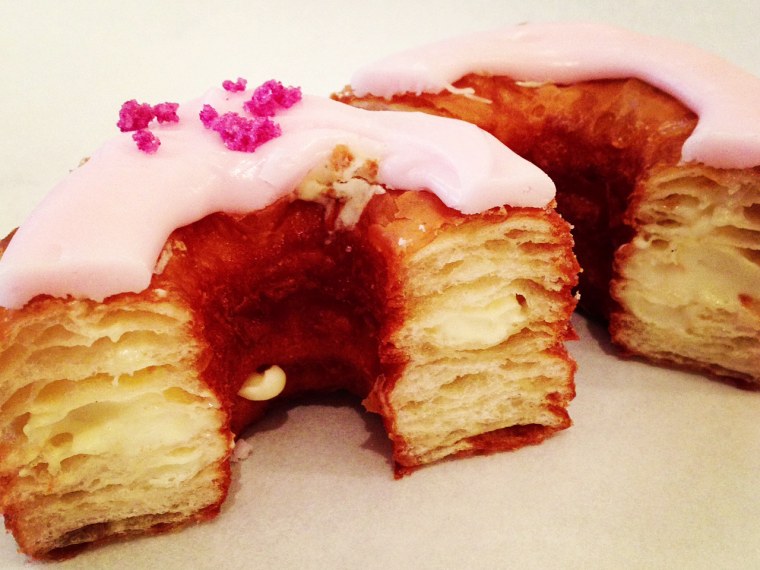 The TODAY anchors got their hands on the coveted goodies on Thursday.

"What's it filled with?" Matt Lauer asked.

"Heaven,'' Tamron Hall replied.

Actually, Cronuts feature croissant dough that has been deep fried and then filled with Tahitian vanilla cream. The outside is then given a rose glaze and covered in rose sugar. Plenty of trial and error was involved in its creation, as Ansel told Grub Street that it took 10 recipes and other adjustments to time and temperature before he could get down the process of sheeting the dough and frying it in grapeseed oil at a specific temperature.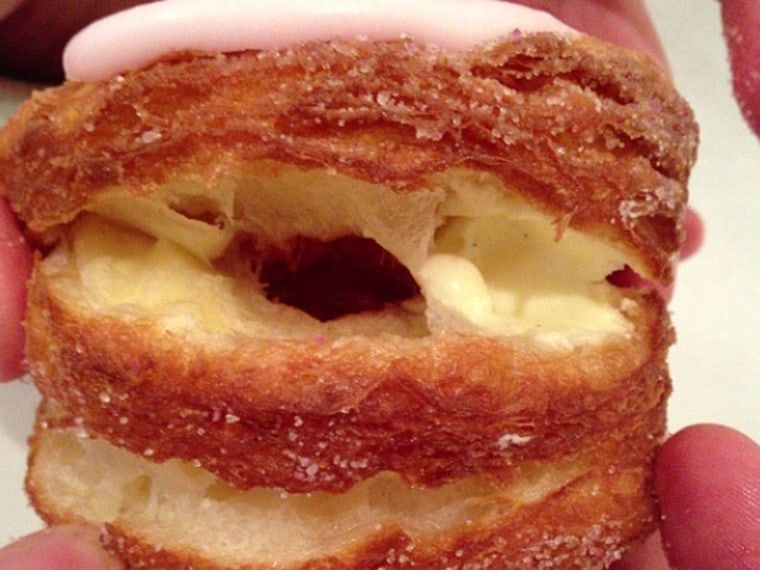 The rose-colored Cronuts matched well with Hall's outfit on Thursday, which may not have been a coincidence.

"I did (match it) because when I get it all over me, it will blend in,'' she said.

Hall gave it up a thumbs up, while Savannah Guthrie didn't get a chance to take a bite because she had to introduce the next segment. Matt declined to try the Cronut, remaining stuck in the past when it comes to breakfast fare.

"No, I'm still on muffin tops,'' he said. "I'm way behind."

The bakery has trademarked "Cronut'' with the U.S. Patent and Trademark Office and internationally. The $5 Cronuts, which are limited to six per person, have become a sensation to the point where Ansel's staff is working overtime and the demand has brought out the ugly side in ravenous customers.
On Wednesday, Ansel tweeted that there was a line of 50 people outside the bakery by 7 a.m. There is one flavor of Cronut each month. This month is Rose Vanilla, and June will be Lemon Maple, featuring lemon maple glaze and maple syrup cream.