First it was Surge, then Crispy M&Ms, and now, 1990s kids can enjoy a retro breakfast. French Toast Crunch, a cereal that only graced our tables from 1995 to 2006, is coming back.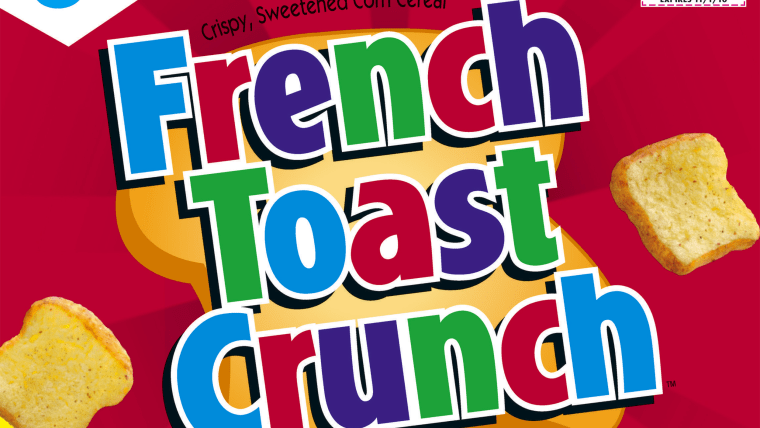 "All of the conversations, requests and passion from the fans really got our attention," said General Mills marketing manager Waylon Good in a statement. "It's amazing to see how nostalgia for brands from generations past can really take on a life of its own — demonstrating a real desire to have these products back in our lives. We are so excited to give fans a chance to experience the cereal as they did many years ago, and also to introduce it to a new generation of French Toast Crunchers!"

Related story: Surge surges back, here are 6 other retro treats we pine for
French Toast Crunch may not be as popular as its older sibling, Cinnamon Toast Crunch, but its loyal following didn't give up. Some even ordered the maple-and-cinnamon-flavored treat from Canada, where it was still produced. (Because Canada and maple syrup, duh.) Others signed online petitions or supported Facebook pages about the cause.
General Mills was smart enough to go full-nostalgia with the reboot, sticking to the cute little toast shape with browned crusts that made the cereal distinct.
To no one's surprise, the announcement was a hit on social media.
And 1990s psychic Miss Cleo apparently saw this coming — at least, that's what she's claiming in a promotional video.
According to General Mills' blog, the cereal has already made its way into some stores, but it should be seen nationwide by the end of January.

No word on whether other retro General Mills favorites, like Jurassic Park Crunch and Hidden Treasures, will climb back onto pantry shelves.
A new book co-written by a TODAY.com producer looks at the lost toys, tastes and trends of the 1990s, from clear cola to Caboodles and slap bracelets to Surge soda.
Gael Fashingbauer Cooper is the co-author of "The Totally Sweet '90s" and "Whatever Happened to Pudding Pops?"