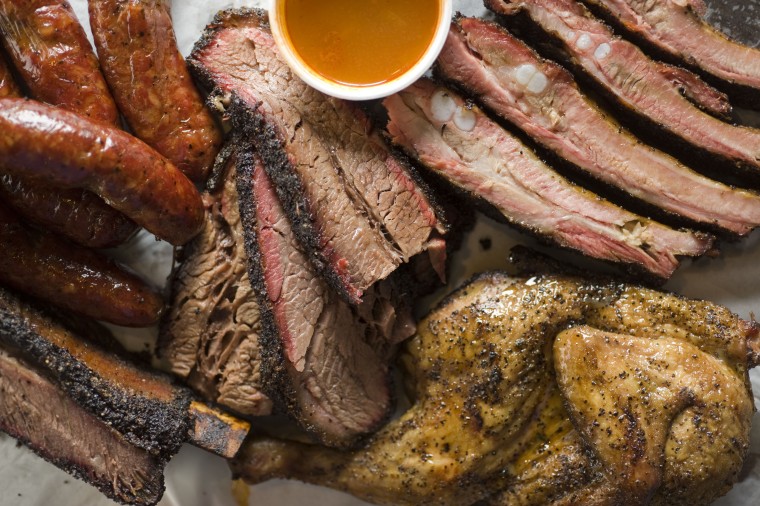 In a state chock full of old-time, country-lovin,' cactus-growin', cattle-raisin' conservatives, Austin, Texas, is an amomaly. But politics aside, there isn't one part of Texas I know of that doesn't love barbecue, and Austin is no exception.
And barbecue isn't the only thing happening in the Austin food scene –not by a long stretch. I've never seen so many thoughtful, local, sustainable, gourmet food trucks in my life. New York City is about 300 food trucks behind the curve on that one.
During a month-long cross-country road trip last November, I set out with my father to further explore this country's true character: barbecue. We drove thousands of miles, from New York City to Texas and back ,with the sole intention of eating, learning about and cooking barbecue. Of course, that isn't all we ate: There were biscuits and fried chicken, hoe cakes and doughnuts that consistently made their way into our diet as well.
TODAY Munchie Mobiles head to SXSW in Austin!
The midpoint of our trip was to be the heart of Texas, with stops in Austin, Taylor and Lockhart. We hit the streets of Austin and every last barbecue joint in town – eight places within one day – eating brisket, pork ribs, beef ribs and sausage.
Interestingly enough, we found that even in Austin, a city that prides itself on being weird, barbecue tradition has remained largely unchanged in terms of technique, ingredients and flavor profiles. While the food truck scene is pushing the limits of what Americans have understood as "the restaurant" and what defines "fast food," very few have dared mess with the Texan barbecue tradition.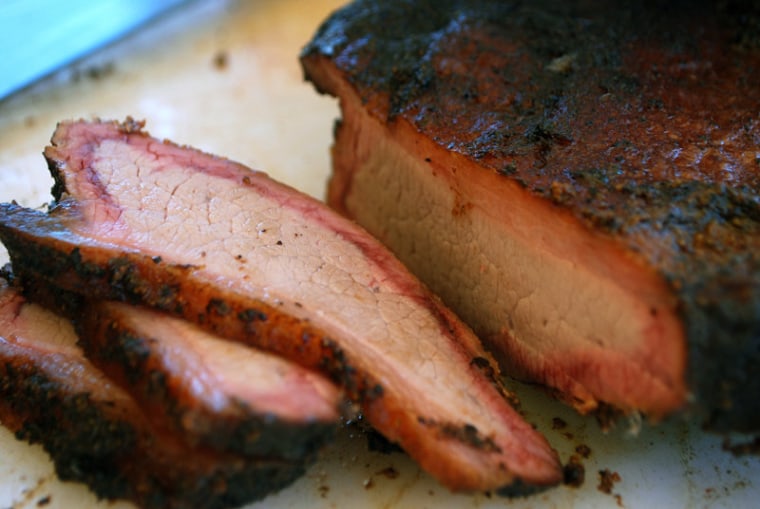 I asked several pit masters about it and they all said that they won't change their decades-old ways, even in the face of the gourmet local food movement that is sweeping the nation, because customers would simply refuse it.
Similarly, I asked Mr. Mueller of Louie Mueller Barbecue, in Taylor, Texas, why his homemade peach cobbler is made with canned peaches year-round, despite the fact that peaches grow nearly all year long in Texas. All he could offer was that his customers would recognize the change in taste and raise hell. We met one pit master at a place called Live Oak on the outskirts of Austin who seemed to be pushing it about as far as he could: quick-pickled cucumbers in place of jarred dill pickles, beer-braised beans and a lighter take on the sauce. The rest remains the same – all meats are smoked in the traditional indirect-heat, post oak-fired manner and served on butcher paper by the pound, accompanied by white bread and sliced onions.
We tasted all versions of the basic four meats as well as their sauces in places all over town, and drove out to The Salt Lick in Driftwood, Texas, which is arguably the state's most famous barbecue eatery. A Texas institution, thousands of pounds of smoked meats are cranked out here each day and even smoked turkey is on the menu. One entire day was devoted to the small town of Lockhart, an hour outside of Austin, which hosts three world-class barbecue joints within in a four-block radius: Smitty's Market, Black's and Kreuz's. If you have the time, venture out there; you will not be disappointed.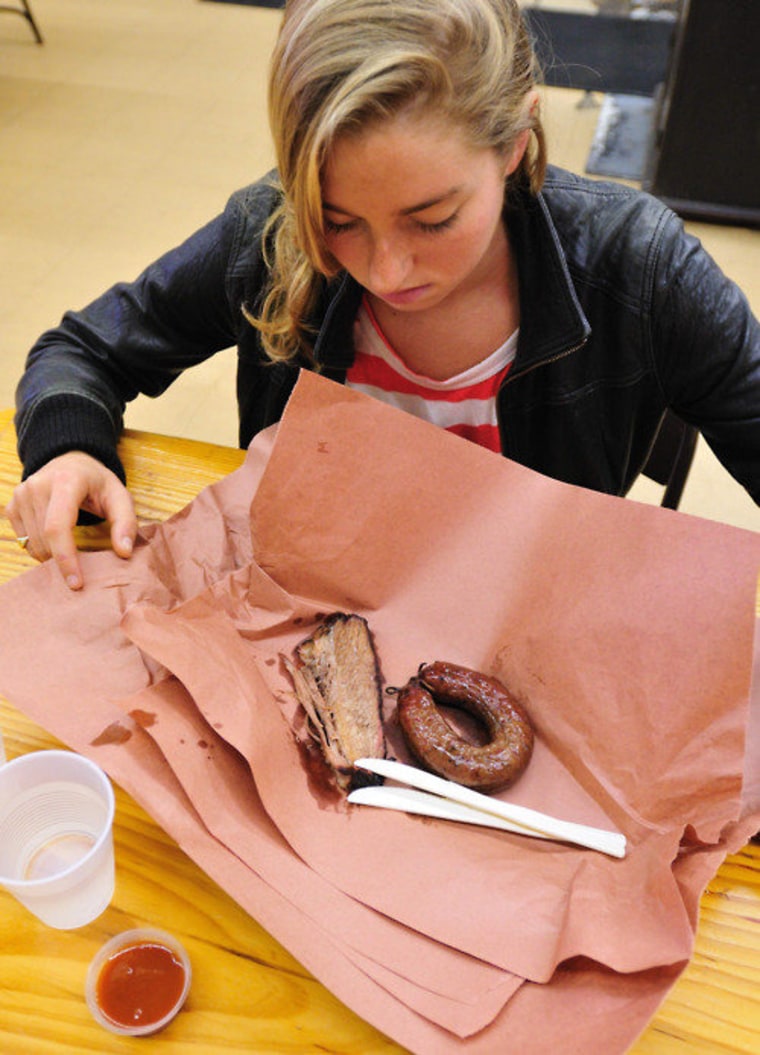 While most were excellent, nothing could touch what we ate one late afternoon at Louie Mueller Barbecue in the small town of Taylor, an hour northeast of Austin. This place had everything right, from the clean, dark brown-burnished interior, evidence of years of pit smoking, to the perfect ratio of salt-to-pepper seasoning on the bark of the brisket. The all-beef sausage was so juicy there was fat dripping down my arm.
I tried to investigate what sets this particular place apart from so many other excellent options, but could only conclude that it takes serious attention to detail and even more serious love to make food this delicious. The pit masters and workers were proud of their food in a way I haven't seen elsewhere – and there is a lot of pride flying around this state.
So we got a healthy taste of what makes Texans so proud, and I couldn't agree more – no one smokes meat like this up north. We grabbed ourselves an absurd amount of kale, spinach and edamame at the Whole Foods salad bar to compensate for the three days of gluttony we'd experienced and headed back east towards Texarkana. Mission accomplished.
Heading to Texas? Here are the barbecue joints not to be missed:
Eds note: We were getting bombarded by Texas BBQ fans for not including Franklin, which was closed during our writer's journey. By popular demand, the list has been amended! Call it the People's Choice. Thanks food fans!
Molly Lundquist-Baz is a line cook and aspiring chef. To read more about her trek, visit her blog, "Adventures in BBQ."