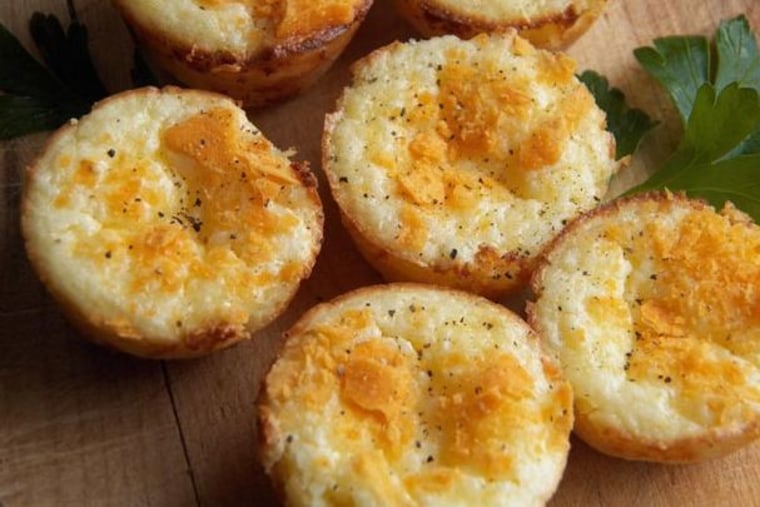 One of the best things about cooking is how it can surprise you. Combining sweet with savory flavors, adding a smooth texture to a crunchy one, or using a piece of equipment for something it wasn't designed for can yield results that will excite your taste buds and expand your cooking repertoire.
One of the best ways to let cooking amaze you is by using an unconventional ingredient in a recipe, like, for example, Cheez-Its. The endearing square crackers have been making their way into fans' hearts for more than 90 years now, but rarely do we see them as an ingredient in a recipe. Loved and craved by all for their crunchy texture and real cheese taste, they're mostly thought about as a light and satisfying snack (often eaten by the handful), and few have thought about the taste, texture, and flavor they could add to a meal.
Cheez-It cheesecake bites (makes 18)
Cheesecake doesn't always have to be considered a dessert. Switch up its role at your next dinner party and serve one as a savory appetizer, like with this recipe that uses Cheez-It crackers to create a crunchy and savory crust.
1 package store-bought pie crusts
1 1/2 cups crushed Cheez-Its
24 ounces cream cheese
1/2 cup sour cream
2 large eggs
3 tablespoons cornstarch
Salt and pepper, to taste
Cut 2-inch circles out of the pie crusts and add to a mini cupcake pan. Sprinkle ½ teaspoon of the crushed Cheez-Its in each one. Combine the cream cheese, sour cream, eggs, and cornstarch until light and fluffy. Season with salt and pepper to taste. Add to the mini cupcake tins. Bake for 15 minutes.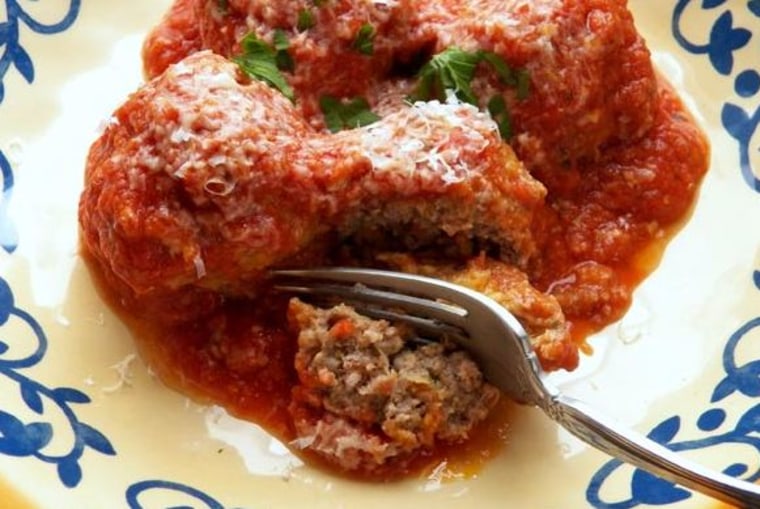 Cheez-It meatballs (makes 6 servings)
The reason for including breadcrumbs in a meatball recipe is for binding, but we decided to add a little flavor with them as well, using Cheez-Its. While they are a little more dense than fresh breadcrumbs, soaking the crushed crackers in milk adjusts their texture and lets them add the perfect amount of tangy, Cheddar cheese flavor to this classic recipe.
1 1/2 cups processed Cheez-Its
1 cup milk
1/2 cup cooked onions
5 eggs
1 tablespoon chopped garlic
3/4 cup Pecorino cheese, plus more for garnish
1/2 cup flat-leaf parsley, chopped, plus whole leaves for garnish
1 tablespoon salt
1/2 tablespoon black pepper
2 1/2 pounds ground beef
1 cup tomato sauce
In a medium-sized bowl, combine the Cheez-Its and the milk and let them soak for at least 20 minutes. In a large bowl, combine the eggs, onions, garlic, parsley, salt, and pepper. Add the ground beef and the milk-soaked Cheez-Its and mix by hand until just combined. Scoop approximately 2 ounces of the meat mixture to form each meatball and arrange in a baking dish. Chill in the refrigerator.
Preheat the oven to 500 degrees.
Bake for 12 minutes. Meanwhile, bring the tomato sauce to a simmer in a medium-sized pot. After 12 minutes, remove the meatballs from the oven, drain off any fat and liquids, and add the tomato sauce. Return to the oven and bake until a meat thermometer inserted into the center of a meatball reads 160 degrees. Serve meatballs with tomato sauce and garnish with cheese and parsley.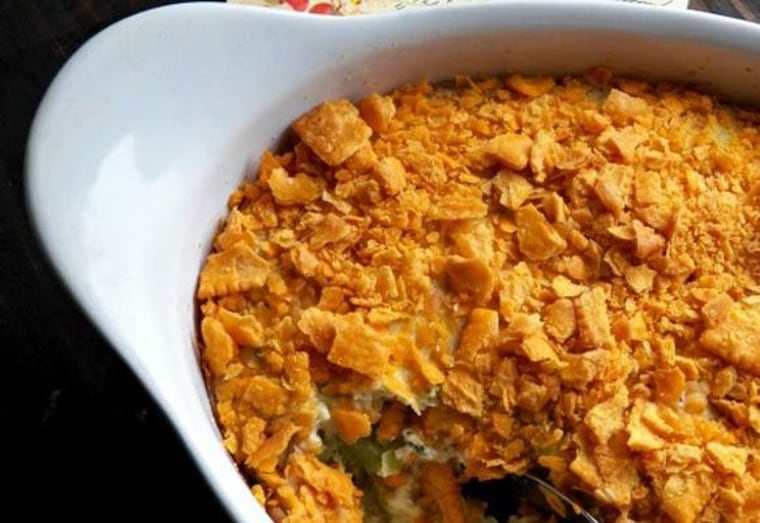 Broccoli Cheez-It soufflé (serves 8)
This recipe proves that all you need is a little imagination when it comes to Cheez-Its. For this casserole, they serve as a crunchy, cheesy crust to a creamy broccoli filling.
Two 10-ounce packages frozen chopped broccoli
1 can cream of mushroom soup
2 eggs, beaten
1 cup mayonnaise
2 tablespoons finely chopped onion
1 cup shredded Cheddar cheese
1 cup Cheez-It crackers, crushed
Salt and pepper, to taste
Preheat the oven 400 degrees.
Cook the broccoli as directed on package and drain.
Combine the soup, eggs, mayonnaise, onion, and cheese, and then season with salt and pepper to taste.
Stir in the broccoli. Spray a casserole dish with nonstick spray and add broccoli mixture. Top with the crushed Cheez-Its and bake for 25-30 minutes, until the mixture is bubbling and the Cheez-Its are lightly golden.
Get more Cheez-It recipes at The Daily Meal.
More from The Daily Meal:
How to make pantry staples at home
8 foods that are worth buying frozen
20 tips for how to be a better home cook