Turns out there may be a way to accurately predict the outcome of the presidential race — and the proof is quite literally in the pudding.
For the last five elections, Family Circle magazine has asked spouses of the candidates to share their favorite cookie recipes. Readers then do their patriotic duty: Bake, taste, vote. Only once has the cookie test not accurately predicted which leading lady has gone on to call the White House home. 
The cookie-off first took place in 1992, when Hillary Clinton's oatmeal chocolate chip cookies went head-to-head with Barbara Bush's classic chocolate chip recipe. Clinton won, and she was back at it again in 1996. She stuck to her guns with her oatmeal chocolate chip recipe, taking on Elizabeth Dole's pecan rolls. Clinton again had a winner.
Then, sweet-toothed voters baked up Tipper Gore's gingersnaps and Laura Bush's Texas Governor's Mansion Cowboy cookies and Teresa Heinz Kerry's pumpkin spice cookies. Since the contest began, more than 19 million readers have baked and taste-tested the recipes.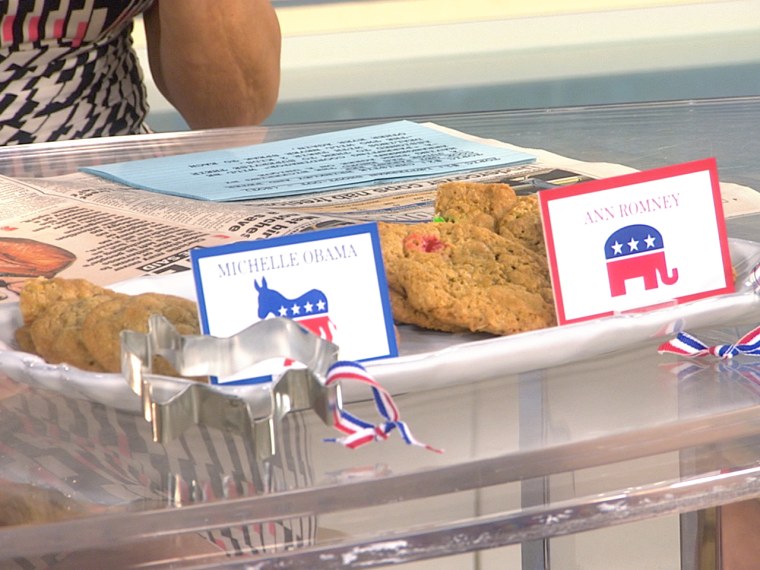 The contest hasn't been without controversy. In the 2008 election, Cindy McCain's oatmeal butterscotch cookie recipe faced accusations that it was copied. But cookie lovers don't stay accusatory for long, and hers received 54 percent of the vote. They beat out Michelle Obama's shortbread cookies, which had lemon zest for extra zing. McCain's cookie was not only deemed delicious but was also the anomaly — she was the only winner in Family Circle cookie contest history who didn't go on to become first lady.
In keeping with tradition, Michelle Obama and Ann Romney have submitted their recipes for the cookie election. Mrs. Obama submitted Mama Kaye's white and dark chocolate chip cookies. The Obama family counts these cookies, created by Sasha and Malia's godmother, as a splurge. 
Ann Romney, a baking enthusiast, submitted her M&M cookies. "They smell delicious coming out of the oven," she said. "Our grandkids can't resist them!"  
Kathie Lee Gifford and Hoda Kotb tried both cookies Tuesday on TODAY. Though Hoda assured Kathie Lee she wasn't trying to be non-partisan, she couldn't decide which one was best and said she liked the crunchiness of the Romney cookie and the "chunky, chocolate-y" flavors of the Obama cookie.
Kathie Lee, a practicing independent, went with the Romney cookie.
Family Circle has the recipes on Facebook; visit there (you have to like them) to try them out and vote.
And don't forget to like TODAY Food on Facebook! 
TODAY.com contributor Jillian Eugenios says she'll continue to show her non-partisanship by baking up both Romney and Obama cookies and turning them into mis-matched ice cream sandwiches.
Read more:
Mitt's meat loaf recipe and other finds on Ann Romney's Pinterest 
The Romneys' sweet tooth is getting them places
New book reveals how Mrs. O's garden grows 
Maybe she'll serve Mitt's meatloaf: Romney campaign offers dinner with Ann