You do your best to eat a balanced, healthy diet most days of the year (or maybe you don't). But if there's one time you should definitely feel entitled to give it a rest, it's National Greasy Foods Day on Oct. 25. Need convincing? Check out these phenomenally decadent dishes, which celebrate grease in all its crunchy, bacony, cheesy, buttery, not-so-good-for-you glory. Pick your favorite—or try them all and keep the celebration going on and on.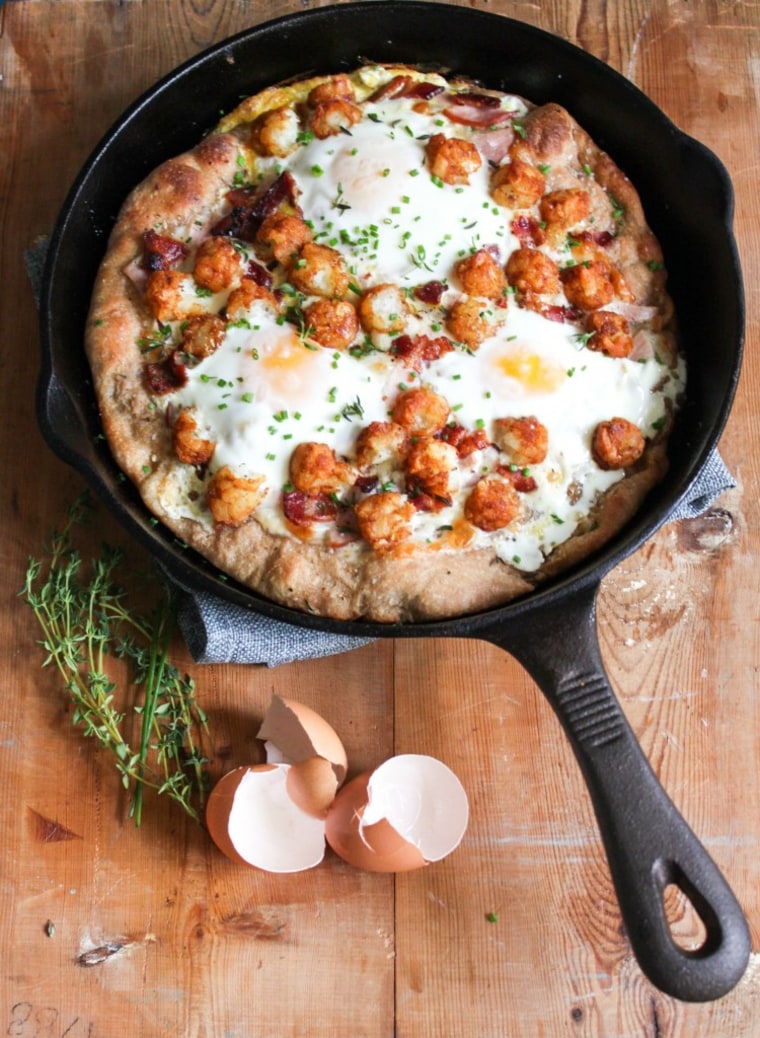 Sure, you could just eat cold pizza from the night before, but if you want to experience the true joy of pizza for breakfast, try this recipe. The pizza is topped with tater tots (you can choose fried or baked, but go with fried today, obviously)—plus two kinds of bacon. Oh, and there are eggs on top too. And cheese. Breakfast of champions? Yes indeed.  
Fried chicken and waffle sandwiches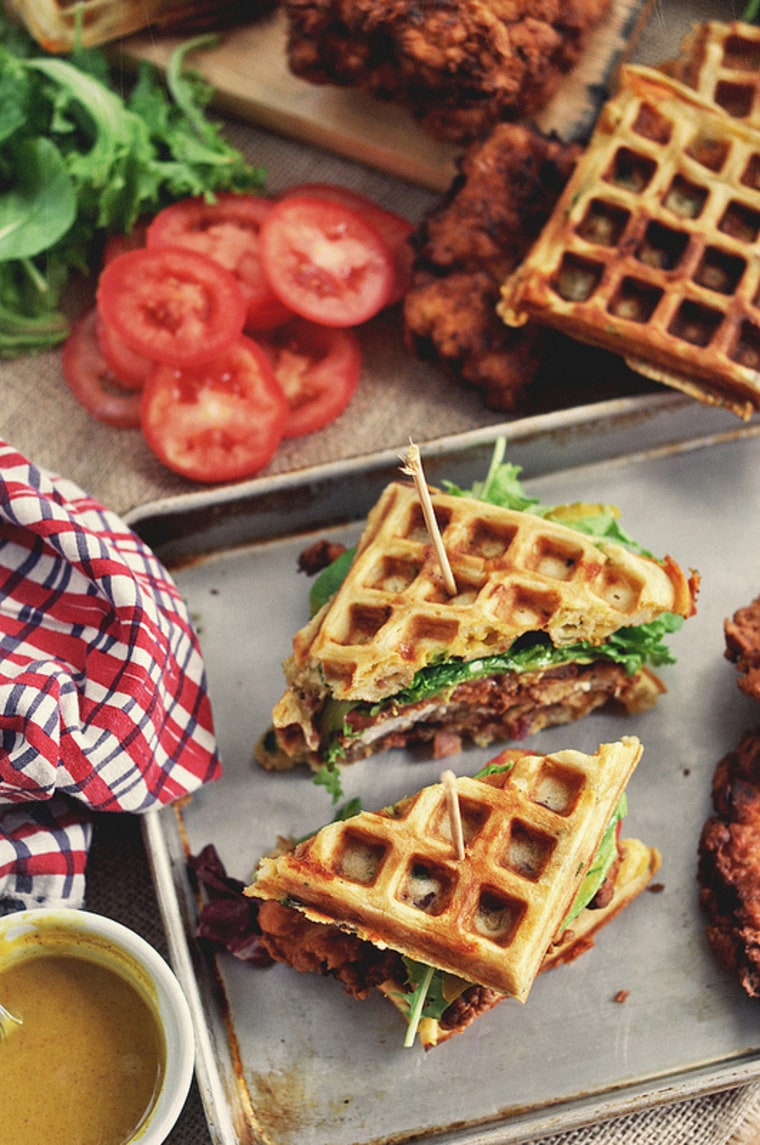 This sandwich involves waffles, but it's more of a lunch than a breakfast thing. Want it for breakfast? No judgments. The idea is basically this: Take some greasy fried chicken and turn it into a sandwich by stuffing it between two slices of bacon-and-cheese-spiked waffles. Hard to get greasier than that. PS: This recipe calls for homemade waffles and home-fried chicken, but you can easily adapt it by using storebought frozen wafles and picking up some fried chicken from your favorite local source.
French fry and bourbon burgers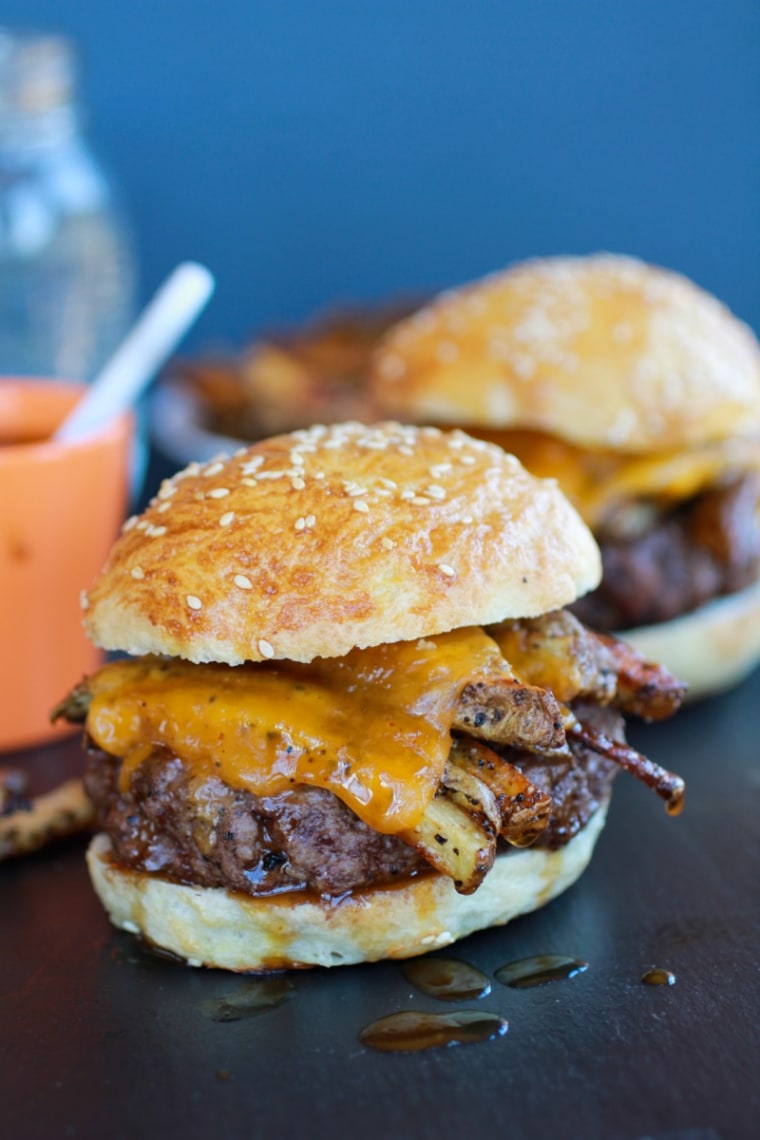 Burgers and fries: Two great tastes that taste great together. So why keep them separate? This burger is piled high with French fries, cheddar cheese and—why not throw some booze in there too?—a scrumptious, spicy-sweet bourbon sauce.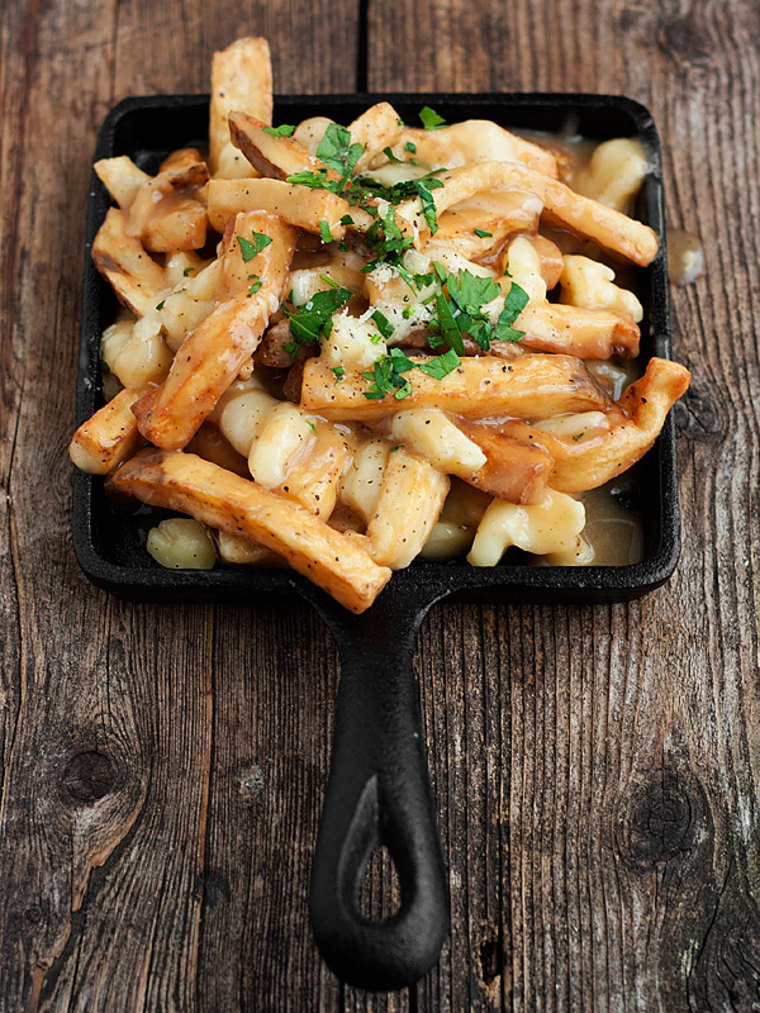 If you've never had the pleasure of eating fries covered in gravy and cheese curds, now's the time. This recipe shows you how to make the iconic Canadian snack food—and gives an easy substitution for cheese curds if you don't have any on hand (just tear up some mozzarella). Once you've mastered this traditional version of poutine, you can start piling on additional greasy toppings, like bacon (naturally). We've even seen poutine piled with fried eggs, short ribs, chopped corn dogs, and all kinds of greasy delights.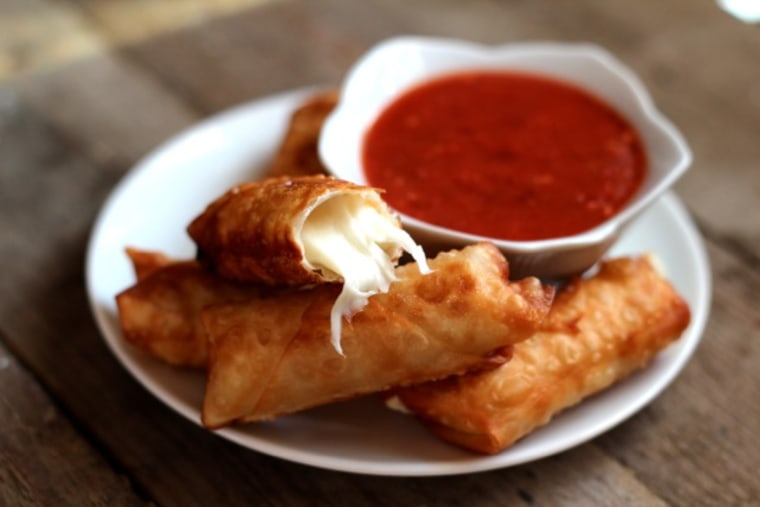 It doesn't get much greasier than deep-fried cheese—and it's even easier to make than it looks. This simple, four-ingredient recipe has you wrap your mozzarella (string cheese in this version) in wonton wrappers before frying, so you get that bonus crunch. Storebought marinara sauce makes an instant, perfect dip.
Sweet-potato fries wrapped in bacon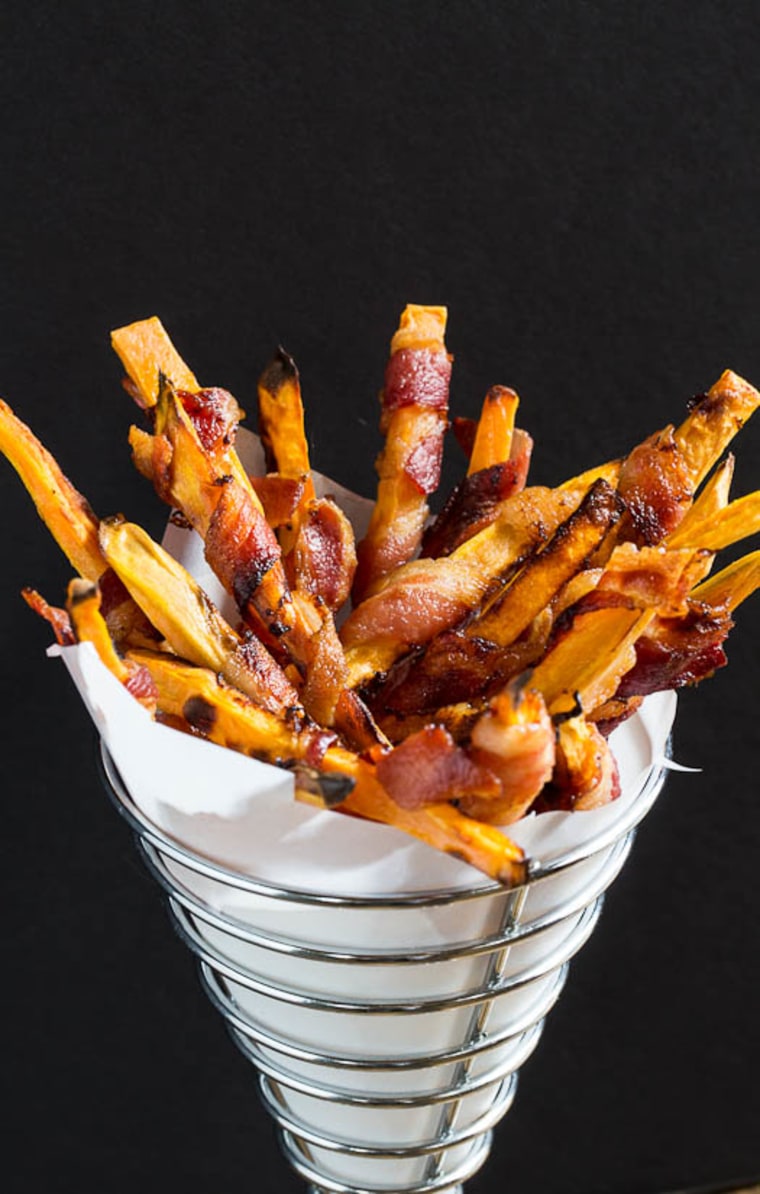 Why would you have plain old sweet-potato fries when you can wrap them in bacon? This recipe calls for just two ingredients: sweet potatoes and bacon. The only trick is twirling the bacon around the sweet potato fries, but it's pretty darn easy. What you end up with is a surprisingly attractive party hors d'oeuvre (if you don't devour them all yourself, of course).  
The ultimate breakfast hot dog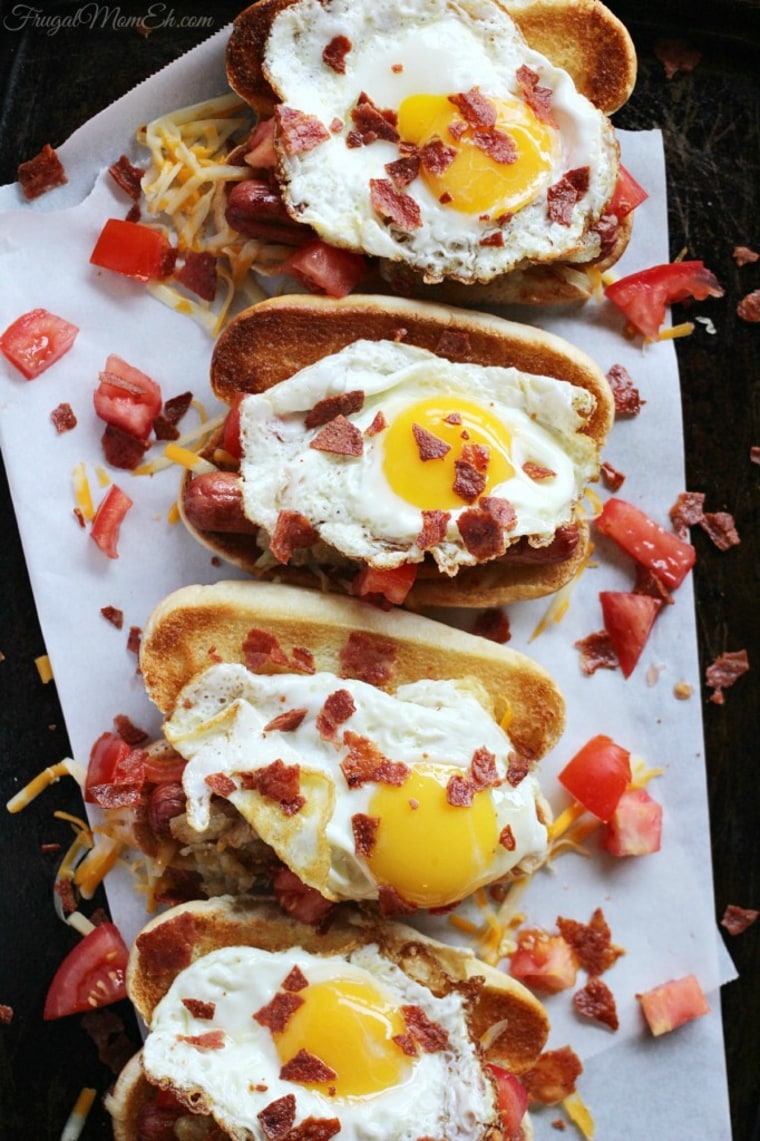 The old egg-and-bacon combo is too predictable, and hot dogs can be tasty but...boring on their own. So here's a genius solution: Combine them all to make this inventively delicious, super-greasy meal, and dig in at breakfast or any time of day. These hot dogs don't just stop at fried eggs and bacon, by the way; they're also topped with hash browns, and cheese, and some tomato to keep the dietitians at bay.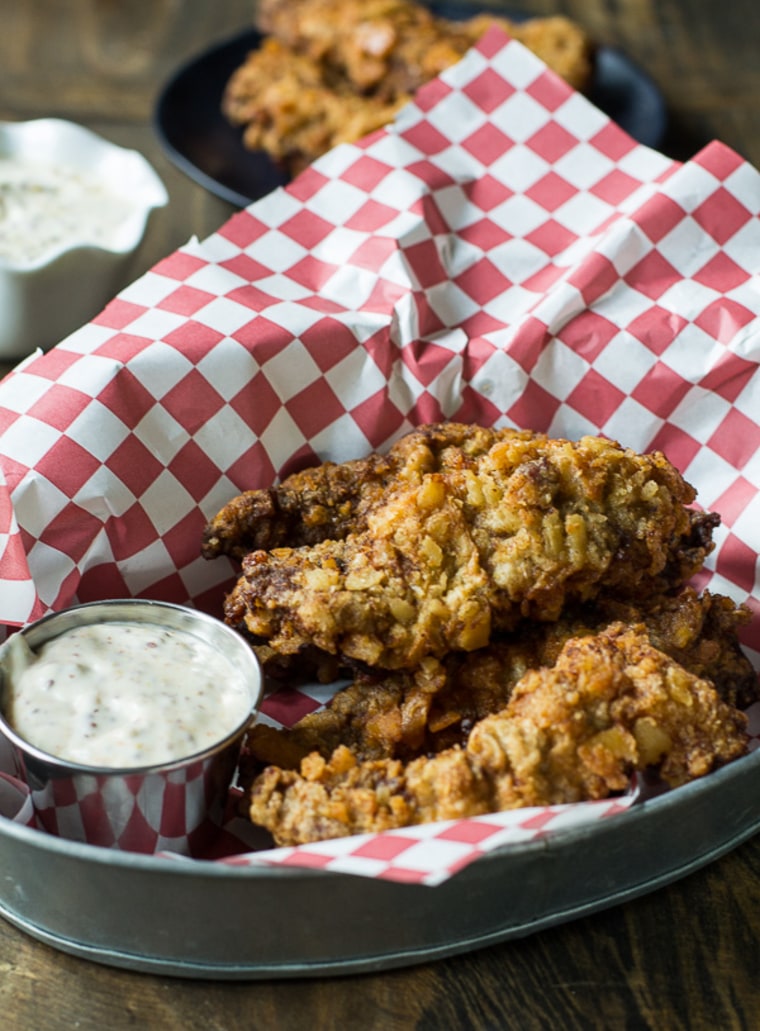 If you're from the South, you know all about chicken-fried steak: It's not chicken, it's steak—but it's deep-fried like fried chicken. Got it? Now make this brilliant version: Get some cube steak, cut it into fingers, and coat it in flour, saltine crackers and spices before giving it the deep-fry treatment. Make sure to dip the fingers in the mayo-mustard-sour cream mixture for extra decadence.
Forget the chips: These nachos start with sliced potatoes, for an irresistibly hearty version. Now comes the heavenly part: Top them with slow-cooker pork shoulder and smother them in cheese, bacon, barbecue sauce and sour cream. And don't even try to keep your attention on the game.