The hit HBO series "Game of Thrones" returns Sunday night for its fourth season, and travel companies are looking to cash in on the popularity of the medieval fantasy drama.
"We think there's a wonderful trend of fans of TV shows and series … to really immerse themselves in the history and culture of their favorite shows, " said Brian Tan, founder and CEO of Zicasso Travel, a luxury travel company that recently launched a weeklong guided tour of the show's key filming locations in Croatia.
The tour begins in the ancient metropolis of Split, a new filming location for Season 4, where visitors can follow in the footsteps of Daenerys Targaryen at places such as Diocletian's Palace and Klis Fortress. The journey includes a stop at Krka National Park, with its spectacular waterfalls, and concludes in the walled city of Dubrovnik on the Adriatic Sea, a UNESCO World Heritage Site and the current setting of King's Landing. Cost is $3,200 per person, airfare not included.
Much of "Game of Thrones" is filmed on location, and tourism bureaus and tour companies in Croatia, Northern Ireland and Iceland are looking to entice fans to visit the places where the show is brought to life — minus the gruesome battles, murderous plots and fire-breathing dragons, of course.

"Location is an important element in 'Game of Thrones,'" said Gabe Saglie, senior editor for Travelzoo. "Basically, the setting becomes another starring aspect."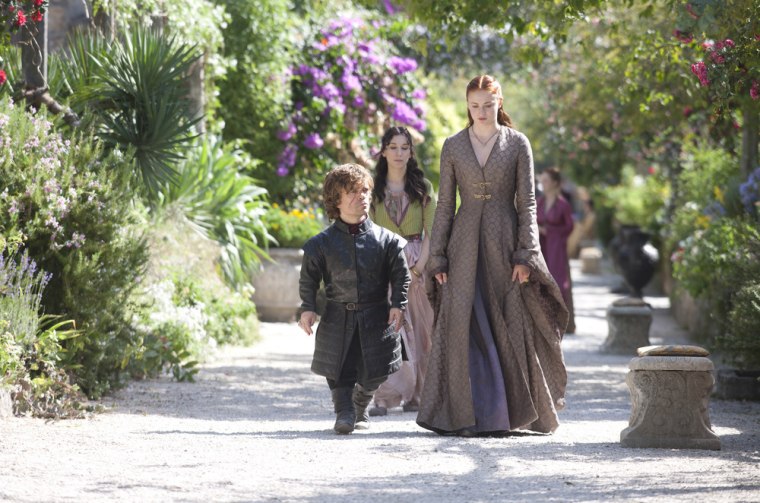 Iceland Travel now offers a four-night "Game of Thrones — Iceland: Beyond the Wall" tour that highlights some of the dramatic landscapes featured in the series and includes filming locations such as Lake Mývatn and in the Þingvellir area, the Gullfoss waterfall and the famous Geysir hot spring.
Each episode of "Game of Thrones" in Season 3 averaged 14.2 million viewers, up 20 percent compared to Season 2 and the second-highest viewership ever for an HBO series, behind only "The Sopranos."

There's big money at stake for companies hoping to capitalize on the show's popularity. In New Zealand, international tourist spending reached $6.7 billion at the end of 2013, thanks in part to the success of the "Lord of the Rings" and "Hobbit" movies. 
"With a show like 'Game of Thrones,' … it draws you in, you get connected," said Saglie. "That makes people want to go to these palaces and travel to these destinations even more."
Tourism Ireland this week announced a partnership with HBO to promote "Game of Thrones" tourism in Northern Ireland. Much of the fictitious land of Westeros is set in the country, including at Titanic Studios in Belfast, which will feature a Game of Thrones Exhibition June 11-15 on the Belfast waterfront, and Castle Ward, stand-in for the Stark family's home of Winterfell, where visitors can try their hand at archery. Causeway Coast and Glens Tourism offers maps of self-guided driving tours, currently being updated with Season 3 locations. 
"Northern Ireland has sweeping, rolling landscapes, and every so often, dotted in the landscape in the distance are these crumbling castles," Saglie said.
Jon Gray, a vice president for HomeAway, says the vacation-rental company has seen a doubling of demand for castles over last year.
"We think a ton of that has to do with the popularity of medieval sites and shows, like 'Game of Thrones,'" he said. "You can take what you're watching on TV and that fantasy life and take that into your vacation."
HomeAway now has 565 castles available for rent, an increase of 23 percent over last year. The majority are in European countries such as Ireland, Italy, England, Germany and France.
Castles also work well for group trips, such as family reunions or weddings, he said. "HomeAway caters to groups and families," he said. "Getting married in a castle is really cool."
Just try not to think of the infamous Red Wedding.