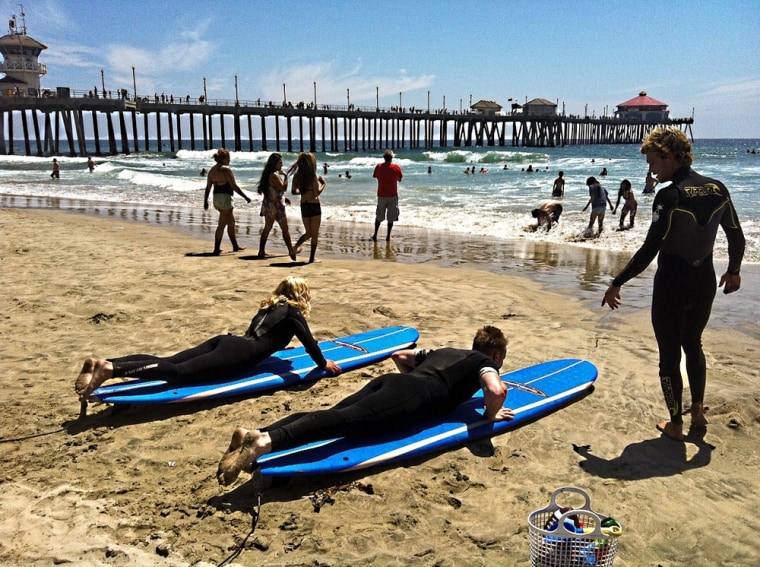 For the ultimate Southern California surf experience, take the kids to Huntington Beach. Also known as "Surf City," this destination was the inspiration for the Jan and Dean 1960s hit of the same name. Ocean lovers will dig the bodacious waves and mellow vibe of this town that celebrates all things surf.
Huntington Beach is regarded by many as the cradle of surfing civilization. It plays host to the US Open of Surfing, the largest professional surfing and lifestyle event in North America. It is home to the International Surfing Museum, the Surfing Walk of Fame, the iconic Huntington Beach Pier, and nearly 10 miles of surf-worthy beaches. It's the palm-lined, sunny spot you picture when you hear a Beach Boys surf tune.
Huntington Beach native Joseph Ali, 28, has been surfing since he was 8 years old and has been teaching surf lessons for half of his life. He says Huntington Beach is the ideal surf town for all of these reasons and because its shores hold "every single type of break," each of which creates a different wave and surf experience, with surfing conditions available year-round.
No trip to Huntington Beach would be complete without riding, or at least attempting to ride, a wave. There are plenty of surf schools to choose from including Toes on the Nose (where even an old lady like me learned how to surf), Corky Carroll's Surf School and Banzai Surf School.
Ali, the lead instructor at Zack's Surf Shop (owned by his father), boasts that he can get 95 percent of students to stand up on their first lesson. Families start with basic instructions, a safety talk and practice pop-ups (the motion a surfer uses to get from lying to standing on a board) on the sand before entering the water.
"Kids are the easiest and most fun to teach," according to Ali. Beginners start on 7- to 8-foot foam boards in waist-deep water. Ali pushes children into baby-sized waves so they can concentrate on popping up and enjoying the ride. Surfers-to-be can take lessons at Zack's as young as 4 1/2 years but Ali says, "I think 6 or 7 is the best age to start surfing because that's when their self-esteem kicks in." Young children are given extra supervision and sport wet suits padded with a floating material, which works much like a life jacket.
Sandra Foyt, a mom from New York and author of AlbanyKid.com, fulfilled her 15-year-old daughter Kayla's lifelong dream of surfing with a lesson in Huntington Beach during a recent visit to California. "I was impressed that my daughter was able to ride the board to shore in just one hour-long lesson," Foyt says.
"Surfing can be a dangerous sport, requiring vigilance," she says. "I highly recommend bringing a beach chair and umbrella, and watching over kids to ensure that they are following safety rules. Not so much during the lesson, but afterwards when they are on their own."
The surf culture of Huntington Beach is more than just riding waves, though. It's an easygoing attitude that permeates the town. It's ordering from menus laden with surf lingo at casual diners and taco shops. It's statues scattered around downtown of Duke Paoa Kahanamoku, an Olympic swimmer who is known as the Father of Surfing for bringing the sport from Hawaii to the mainland. It's bonfires on the beach. It's flip flops worn to the fanciest restaurant in town. It's a love of the ocean and protecting its shores.
More on TODAY Travel