ELBE, Wash. — Climb aboard a vintage steam train as it chugs through the foothills of Mount Rainer.

Sleep in a treehouse, a "beach'' cabin with a floor covered in sand or a bright yellow caboose.
Lunch on a "Scale Burger'' prepared inside a former roadside weigh station.
Getting there really is half the fun for those who take time to stop along the Road to Paradise, a 14-mile stretch of two-lane highway leading to the entrance of Washington state's Mount Rainier National Park.

Glacier-fed lakes, hiking trails and fields of wildflowers reward summer visitors who continue another 17 miles to the Paradise visitor center, elevation 5,400 feet.
Down below, the attractions are man-made by artists and entrepreneurs who depend on the mountain for their livelihood.
The journey begins in the blink-or-you'll-miss-it town of Elbe at the junction of State Routes 7 and 706.

First stop: Scale Burgers, 54106 Mountain Highway East (Route 706).
Cora Adams, hair pulled back in a waist-long braid and American-flag bandana, can be found most days working the grill inside a nine-by-11-foot former weigh station.

She and her husband, Gayle, first used the little green and white building to weigh logging trucks that stopped at their gas station. Later, they turned the building into a take-out burger bar, specializing in thick shakes and huge burgers with names such as "Overload' and "Legal Limit.''
Outdoor seating is simple — green picnic tables and old truck tires. Adams credits their success with "being on the right side of the road,'' meaning many of her customers are hungry hikers or skiers traveling home on their way back from Mount Rainier.
Railroads played an important role during Washington's logging heydays.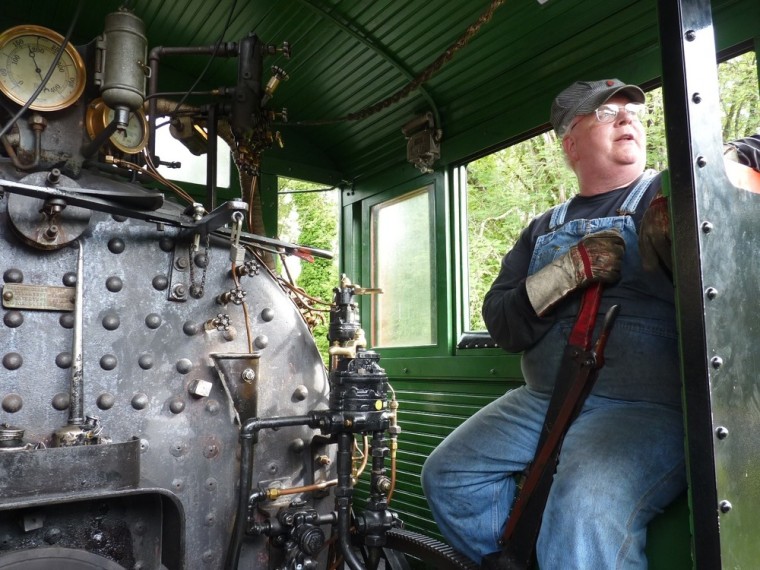 Sightseeing trains pulled by restored steam locomotives take visitors back in time on the Mt. Rainier Scenic Railroad, the longest continuously operating steam train railroad in the Pacific Northwest.
The engines pull passenger cars along seven miles of reclaimed track, rocking and rolling through forests and over wooden trestles to the town of Mineral where volunteers have opened a new museum filled with historic logging and railroad equipment.
Next door to the Scenic Railroad depot is a collection of vintage rail cars and cabooses, home to the Mount Rainier Railroad Dining Company; Pizza Express, a take-out pizza restaurant; and the Hobo Inn at 54106 Mountain Highway East. Prices start at $115 per night for refurbished cabooses furnished with jetted tubs, kitchens, bathrooms and double beds.
Three miles east of Elbe, artist and former Seattle mechanic Dan Klennert, 62, invites visitors to wander through his Recycled Sprits of Iron, an outdoor sculpture park filled with life-size horses, locomotives, dinosaurs and other figures fashioned from scrap iron, car parts and found objects.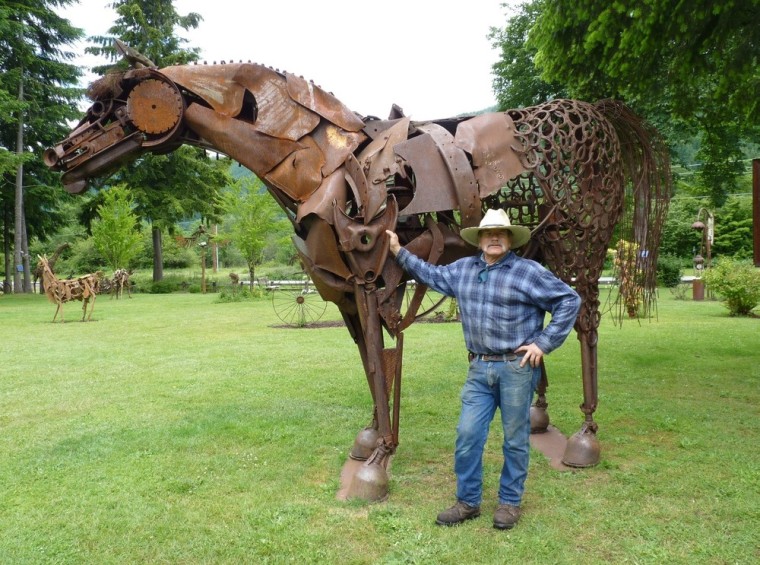 The park is free, but Klennert accepts donations in canisters marked "Democrat,'' "Republican'' and "Independent.''
Among 50 pieces on display is a 17-foot-tall giraffe with hoofs made from the teeth of a backhoe and horns fashioned from the drive line of a Model A.
An appaloosa stud has a backside fashioned from horseshoes, feet made from the tops of oxygen tanks and hair from the brushes of a street sweeper.
Klennert can usually be found working in his studio or his "Field of Dreams,'' a junkyard filled with rusty mattress springs, engine valves and salvaged parts. His pieces sell for thousands of dollars to individuals and commercial clients including a local McDonald's.
Unique among the many cabins, B&Bs and other types of lodging surrounding Mount Rainier is Wellspring, four miles from the park's Nisqually entrance at 54922 Kernahan Road East.
Owner Sunny Thompson started Wellspring 30 years ago as a spa with a single hot tub for rent by the hour. Over the years, she added cabins, a yurt and walking trails on 10 acres of pristine forest land.
Stop by for a quick soak or massage, or spend the night inside a log cabin decked out with river-rock fireplace, a tree house built for two, or a tropical-themed canvas-walled tent furnished with a water bed, faux palm trees and floor made of sand.
Tourism information: Visitor information: www.visitrainier.com or 877-270-7155. Park information: www.nps.gov/mora/index.htm or 360-569-2211.
Carol Pucci is a Seattle freelance writer. Contact her at travel@carolpucci.com.