Los Angeles puts a premium on beautiful people with perfect bodies, but one of the hottest tickets in town this weekend will have you admiring gaunt souls sporting large wounds with exposed bones and oozing blood.
Welcome to ScareLA, billed as Southern California's first Halloween convention and the latest in the many haunt-and-horror-themed attractions popping up as hunger for the genre grows — even as October still seems far away.
The wounds and the blood are fake, but the enthusiasm is not. The event is expected to draw some 3,000 people who can mingle with like-minded fans, hear from "scare entertainment pros" and perfect their haunt skills with classes boasting titles such as "Zombie Prosthetics 101" and the "Tombstone Carving Workshop."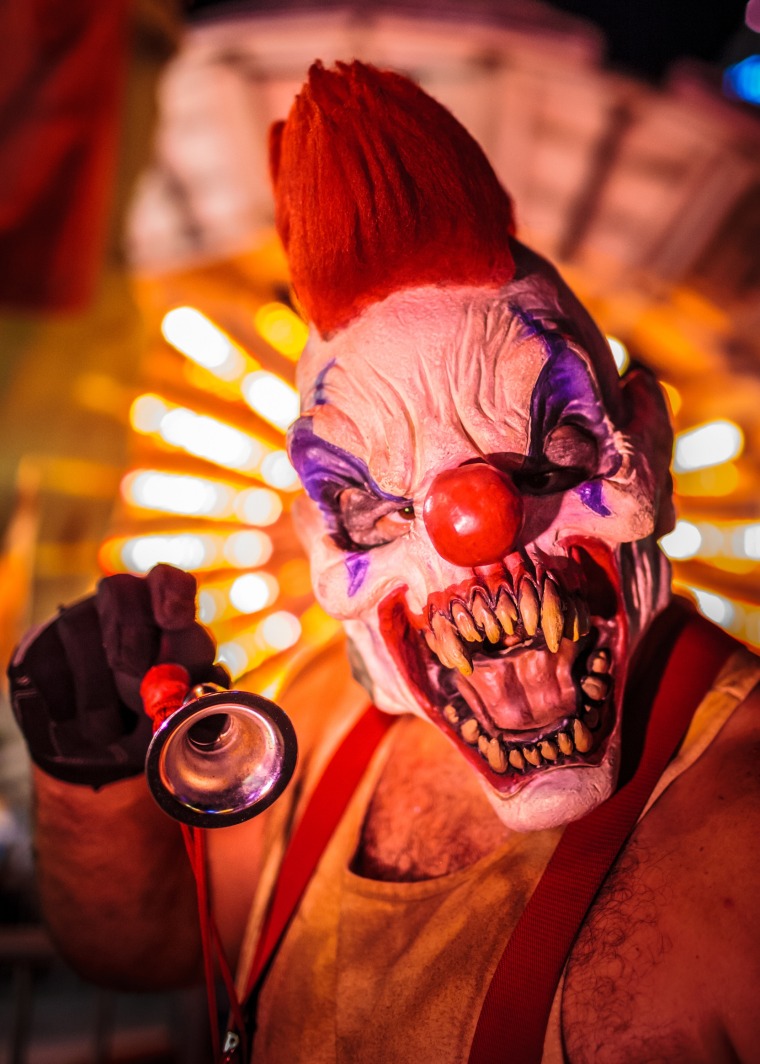 You may wonder why all this fascination with dread and gore, but ScareLA co-producers Lora Ivanova and David Markland said there's something fun in facing your darkest fears in this way.
"Fear is a powerful emotion and creates a lot of excitement. The feeling of being afraid in a safe environment and overcoming that is invigorating," Ivanova said.
"It's a carnival atmosphere: People get to go crazy a little bit," added Markland, who also runs the blog, CreepyLA.com.
This fall, you can go crazy in every corner of the country as theme parks and attractions once again go all out for the spooky season, many hiring hundreds of performers and offering mazes that promise horrifying sights.

Universal Studios Hollywood and Universal Orlando Resort are turning to "The Walking Dead" — the popular AMC series set in the aftermath of a zombie apocalypse — to offer scary thrills, including a prison "overrun by hordes of flesh-eating walkers." (Both parks are owned by NBCUniversal, the parent company of NBC News.)
"The moment you pass through our gate, you become a survivor fighting for your life," said Michael Aiello, creative development director for Universal Orlando's Entertainment team, of the park's "Halloween Horror Nights," which begin on Sept. 20.
Knott's Scary Farm in Buena Park, Calif., is hiring "over 1,000 monsters" for its Halloween Haunt, said spokeswoman Leidy Arévalo. Motto: "Nowhere to hide."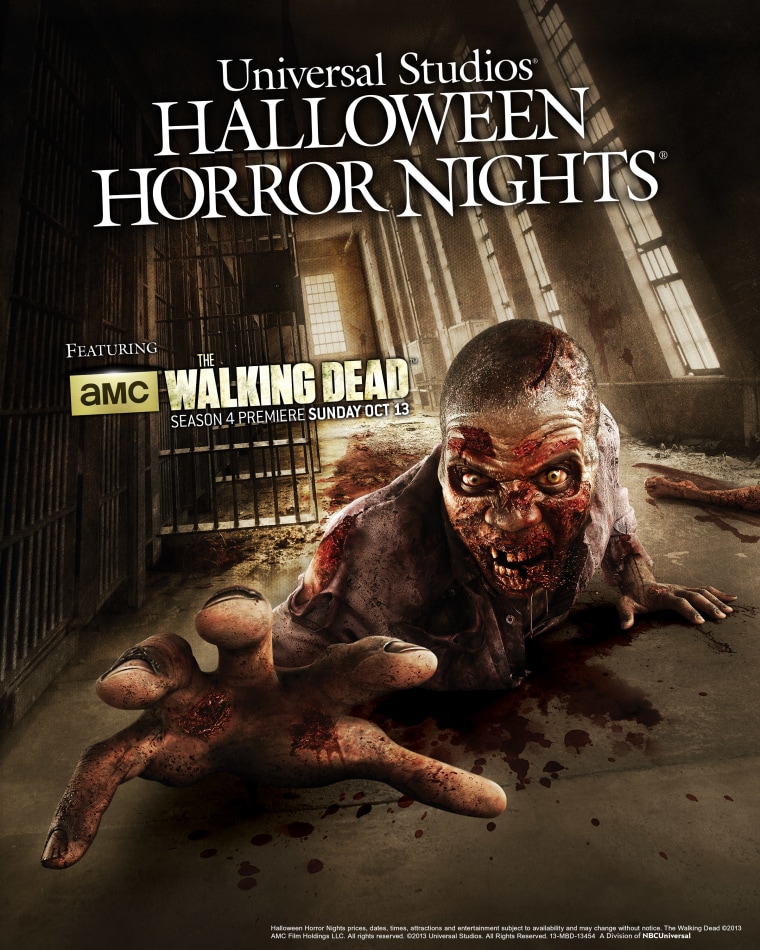 Busch gardens has Howl-O-Scream, an attraction that opens Sept. 27 and promises "unexpected terrors surrounding thirteen evils."

If you like gambling with your dose of horror, try the Fright Dome at Circus Circus in Las Vegas. It's adding an "isolation-style haunted house" this year that will force guests to enter alone, without any friends or guides. The attraction is expecting almost 100,000 visitors this year.
"Leave your nerves at the door. Wear a diaper. And watch your back," advised horror movie director Marcus Dunstan, who is taking part in the project.

Theme parks are making such a big investment in Halloween because they know they have an edge: they can provide intense thrills that can't be satisfied by video games or home theaters, said John Gerner, managing director of Leisure Business Advisors.
"What they've realized is that they have a little niche in the market in what I call visceral experiences," Gerner said.
"By really pushing it, they have a way of getting people out of the house to come visit even though they have all these other choices at home."
There are also hundreds of smaller fright sights. More than 1,200 haunted attractions attract fans around the country, according to Hauntworld.com, an industry website.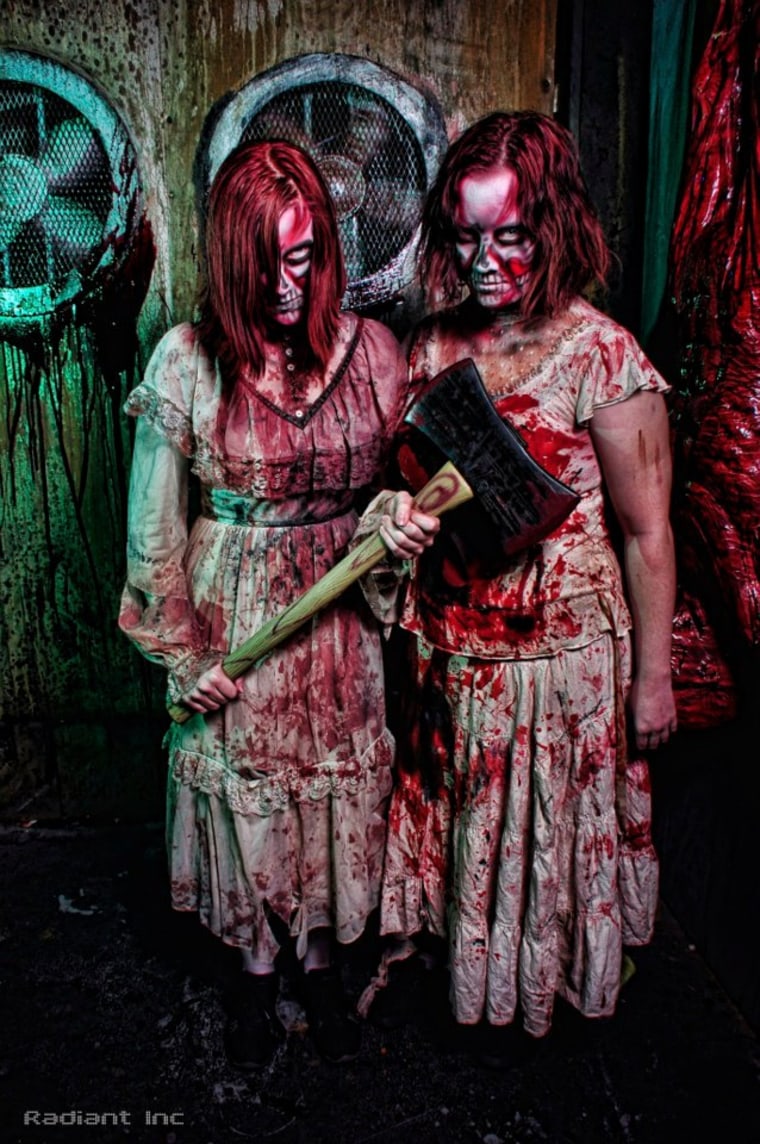 "Being scared is now a year-round business," said Larry Kirchner, president of Hauntworld.com. Haunted houses are particularly popular because they can offer real thrills, he added.

"The best seat in the house of a Broadway play would be in the front row, but it's not as good as being on the stage. In a haunted house, we're taking you out of the front row and we put you right in the play — you're now a star figure in the movie," Kirchner said.
To impress visitors jaded by ever-bloodier films and video games, the big buzz word in the industry is "interactive." Being scary means coming up with a good narrative, having participants go through the attraction alone or in small groups for a more intense experience, and allowing them to impact the story line.
It's a big business: Haunted houses and haunted attractions are now a $1 billion industry, Hauntworld.com estimates.
Last year, a record 170 million people celebrated Halloween, with the average person spending almost $80 on decorations, costumes and candy, according to the National Retail Federation. The group estimated total Halloween spending to reach $8 billion, calling the celebration of all things spooky "one of the fastest-growing and most widely-loved holidays of the year."
So why do we pay so much to be scared?

"Horror is primal. Fear is a basic instinct of people so anything that creates fear goes to the core of your psyche. You'll remember it," Gerner said. "Ultimately, you're safe and I think that's why it's appealing — because it's both primal and safe."