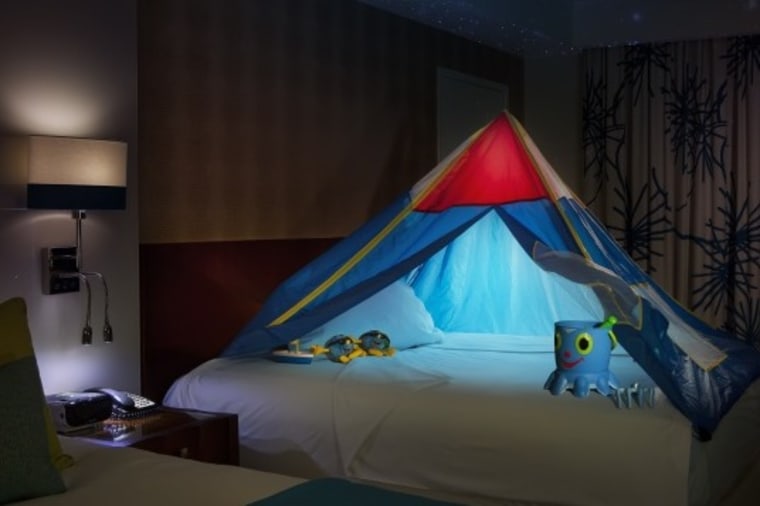 Hotels and resorts have realized the big impact their smallest guests can have on their bottom line. As such, many hotel brands don't merely tolerate parents and their broods; they welcome children with gift packs, bath toys and nightcaps of milk and cookies.
Here are five hotels that go to extremes to make sure kids are content during their stay.
Beaches Negril – Negril, Jamaica
Multi-colored kiddy cocktails with enticing names like Pink Boots, Superman and Chocolate Monkey are served poolside at this Jamaican resort. A lazy river, splash area for tots, two giant waterslides and a seven-mile beach provide oodles of fun for the whole family. The on-site kids' camp welcomes children through age 12, including newborns. Teens are kept busy with group water sports, dance parties and karaoke. Beaches Negril's Sesame Street program offers such options as character meet and greets, festive parades and the ultimate delight for youngsters: a tuck-in and bedtime story with Elmo, Zoe, Abby Cadabby or other character. (All-inclusive pricing starts at $677 per night for a family of four with a two-night minimum. Tuck-in pricing starts at $85.)
The Grand Del Mar – Del Mar, Calif.
Families seeking the royal treatment for their little princes and princesses will not be disappointed with a stay at this posh Southern California resort. For infants, The Grand Del Mar provides parents with a gift box filled with baby bath amenities as well as a door hanger that says, "Quiet Please, Baby Sleeping." Kids ages 3 to 8 receive a toy at check-in plus a child-sized bathrobe, slippers and travel neck pillow. Tweens and teens are not forgotten; they receive a coupon for a free scoop of handmade gelato at the resort's café. (Rooms start at $395.)
Trump International Beach Resort – Sunny Isles Beach, Fla.
Being a happy camper doesn't mean you have to rough it in the wild thanks to Trump's Starry-Night Turndown. Kids can nibble s'mores in a tent that fits right over their hotel bed and stare up at a twinkling cosmic galaxy thanks to a star projector (for an additional $50). Globie the mascot at Planet Kids, an educational kids' camp for ages 4 to 12, teaches children about marine life and protecting the environment. (Rooms start at $205.)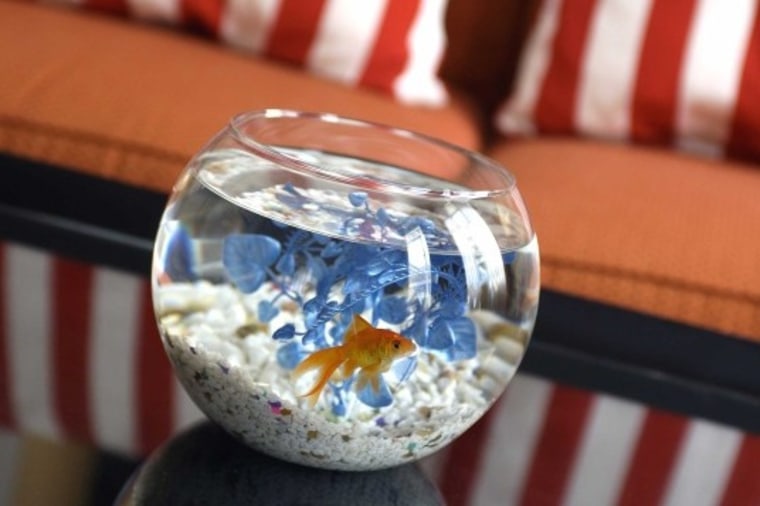 Hotel Monaco – Seattle
After picking a prize from a toy-filled treasure chest in this Kimpton hotel's lobby, children are greeted by a temporary pet – a goldfish swimming about in a bowl in their guest room. Parents will be pleased with a nightly complimentary wine hour while kiddos are entertained by a magician, Guitar Hero on Xbox, and free-flowing sodas. A delivery of cookies and milk top off an evening of fun. (Rates start at $189. Parents can arrange for goldfish delivery before their stay.)
The Benjamin – New York City
Located in New York's Midtown, this boutique hotel outdoes the sandman in ensuring young guests get a good night's sleep. Families can order as many pillows as desired from a 12-choice pillow menu, including a 5-foot body cushion and a hypoallergenic toddler pillow. There is no need to weigh down luggage with heavy bedtime books; a lending library of favorite stories can be delivered to the room. Children also receive a "Winks the Owl" stuffed animal for bedtime cuddling. Parents can purchase a Cereal Smorgasbord with an assortment of cereals, fresh fruits and milk to be delivered the night before so hungry mouths are easy to feed in the morning ($25). All rooms come equipped with a kitchenette that includes a fridge, making breakfast goodies easy to store. Kids who succeed at sleeping through the night are even awarded a special Winks Sleep Certificate upon checkout. (Rooms start at $279.)
All of these extreme perks are included with the price of stay unless otherwise noted.
Colleen Lanin is the founder/editor of TravelMamas.com, a site for anyone who wants to travel with children … and stay sane!
More articles you might like: